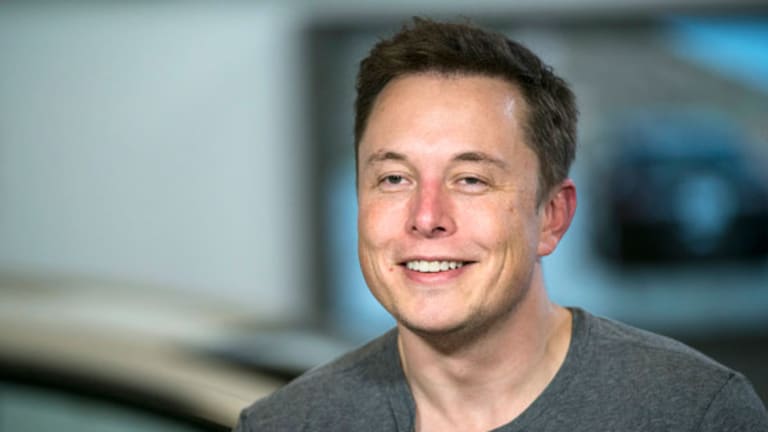 Tesla Continues Revving Up Ahead of Earnings on Anticipated Model 3 Guidance
Wall Street is expecting a loss from the electric car maker, but the bulls are still driving the stock's momentum as they eagerly await updates on the Model 3.
Tesla Motors (TSLA) - Get Tesla Inc Report will report fourth quarter earnings Wednesday after the closing bell, with analysts surveyed by FactSet calling for a 13 cents per share loss on $2.18 billion of revenues. 
In the third quarter, the electric automaker reported a surprise 71 cents per share profit on revenues of $2.3 billion, driving up its stock. But as Tesla investors are so often reminded, what's much more important for the company than a beat or miss in any given quarter is CEO Elon Musk's guidance.
TheStreet will be hosting a live blog discussing Tesla's earnings on Wednesday after the market closes. Please check our home page for more details.
Tesla's earnings calls are often a much more informal affair than that of your typical $45 billion company, largely dominated by Musk fielding various questions and occasionally discrediting recent headlines concerning his empire
But this quarter, Wall Street is expecting to hear very important guidance on the the timing of the widely anticipated, mass market Model 3. 
Earlier this month, Reuters reported that the automaker hoped to begin test builds of the Model 3 sedan by Feb. 20. Tesla's stated goal has been for the vehicle to enter production in mid-2017 and hit volume production by year's end, but analysts have questioned their ability to deliver on that goal. 
The automaker introduced the Model 3 last year, and as of May 2016, when it last updated the number, it had more than 370,000 customer deposits for the vehicle. Tesla has said it hopes to produce 500,000 Model 3s and other vehicles by 2018, a massive increase over the 76,230 vehicles it delivered in 2016.
Reuters also reported that Tesla hopes to announce the test building date during its fourth quarter earnings release. Reiterated confidence in a 2017 debut would certainly help further prop up Tesla's already soaring stock price. 
Tesla's shares have climbed nearly 30% this year and are up 42% since the Nov. 8 presidential election, while the S&P 500 has climbed less than 11% since the election. On Wednesday mid-morning, shares of Tesla were down 0.4% to $276.25, close to an all-time high. 

Morgan Stanley analyst Adam Jonas noted earlier this month that it's not as important how well the Model 3 improves profitability or cash flow in the short-term. Rather, hitting key production milestones and providing sufficient timing update on the Model 3 timing will provide further support for the company's stock simply because the market sees the Model 3 as a transformational component of the company's growth story. 
A product that could conceivably multiply annual revenues by as much as five times over a two-year period will have an impact on the market's perception of the company's addressable market, competitive position and fundamental sustainability, even if it doesn't immediately turn around the company's bottom line. 
But while all eyes may be on timing and shipment guidance, Oppenheimer's Colin Rusch suggests investors should keep Tesla's feet to the fire on manufacturing efficiency, changes to the company's reporting structure and its cash flow. 
"We continue to believe TSLA would be served well by raising capital at the current share price," Rusch wrote earlier this week.
Another thing investors should be concerned over, but might garner little page time from management: What's happening with SolarCity?
Ever since Tesla announced its plans to acquire the residential solar panel installer, CEO Elon Musk has boasted Solar City would return to cash flow neutral by 2017 after years of losing money. This quarter marks the first one in which Solar City has officially been part of Tesla for the entire quarter. 
But since the deal's close on Nov. 21, few announcements have been made regarding the company, which lost market share in one of the U.S.'s most critical markets in 2016 -- California. 
Barclays analyst Brian A. Johnson boldly predicted earlier this year that Tesla would scale back growth expectations at the struggling residential solar behemoth, perhaps blaming a harsh regulatory environment. 
Nevertheless, the bull case for Tesla has largely won out since December.