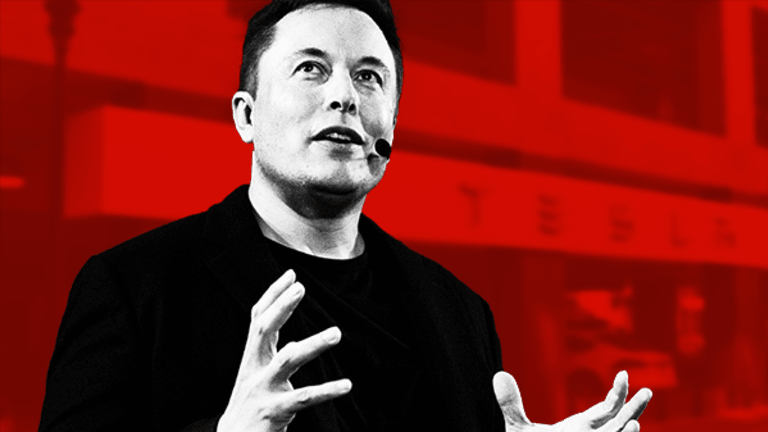 Tesla's Delayed Manufacturing Entry Into China Could Pay Off Handsomely
Some potential new rules governing foreign automakers could give Tesla a way to make much more money in China.
Lighter restrictions on foreign companies making electric vehicles in China could disproportionately benefit Tesla  (TSLA) , Piper Jaffray suggests.
Beijing is reportedly mulling plans that would let foreign manufacturers open their own electric vehicle plants in free trade zones. Under the new rules, a Chinese plant could be twice as profitable, Piper Jaffray analyst Alex Potter wrote, and China could become Tesla's largest revenue source. 
Shares of Tesla were down 0.6% to $343.23 Wednesday afternoon. In addition to Potter's note on China, the market is digesting a bullish report from Morgan Stanley suggesting that the number of Tesla vehicles on the road could triple globally by 2020.
Foreign automakers have faced a dilemma in China -- build cars locally through a 50/50 joint venture with a Chinese partner and split profits, or import vehicles and face a 25% tax. Big Detroit automakers such as Ford (F) and General Motors (GM) , European manufacturers Volkswagen (VLKAY) and BMW to Toyota (TM) and Nissan (NSANY)  all have partnerships with Chinese automakers. 
"If Tesla sidesteps these obstacles by making EVs locally, the company may be well-positioned to build on its recent successes," wrote Potter, who rates the stock overweight and has a $386 target price. Tesla could still have to pay import taxes under the new rules, but it wouldn't have to split profits with a partner.
Moreover, the analyst suggests Tesla would stand out in a large market for electric vehicles with growing demand for luxury. 
"In the luxury segment, Chinese demand is comparable to the U.S. (the top 11 brands sold about 2.2M units in 2016), but unlike in the U.S., China's demand for luxury vehicles will probably keep rising for the next several years," he added.
While China has a bustling electric car market, Potter suggested that many of the competitors are "chintzy" next to Tesla. Local startup NIO's upcoming SUV is an exception, he said, and the global players are "probably years away from releasing locally-built luxury" electric cars.  
If China really does lift the restrictions, Tesla could pocket 100% of the profits from its China ventures. Other foreign competitors have to split proceeds with their local partners. 
"The company was wise to delay investment, but once these JV-related policy details are finalized, we expect Tesla to announce its China strategy in relatively short order," Potter wrote.
Watch: Tesla's Elon Musk Is All Jokes as the Model 3 Accelerates Into 'Production Hell"
More of What's Trending on TheStreet: