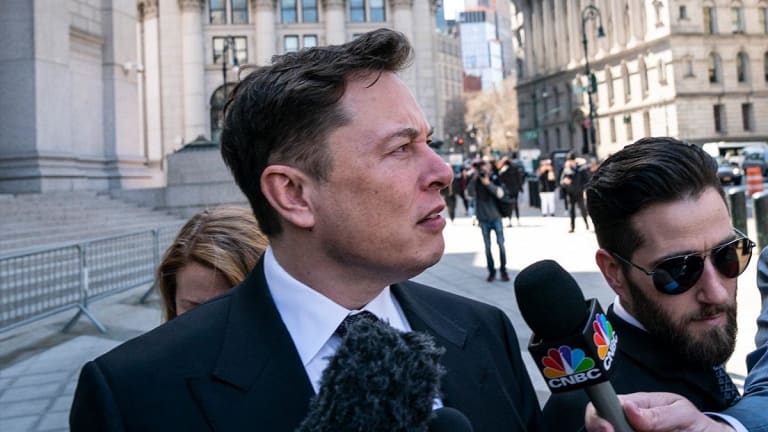 Tesla's Musk Faces New SEC Fines in Bid to Rein Him in on Twitter
A federal judge ordered the SEC and Elon Musk back to the negotiation table, giving the parties two weeks to settle their differences. Legal experts weigh in on where the case goes from here.
Tesla (TSLA) - Get Report CEO Elon Musk's battle with the SEC continued with a showdown in court on Thursday. 
Where does the fracas go from here?
At a federal courthouse in New York on Thursday, Judge Alison Nathan ordered both sides back to the negotiation table, giving attorneys for Musk and the SEC to two weeks to sort out their differences in the case.
Weeks ago, the regulator asked Nathan to hold Musk in contempt over a February tweet that misstated, and then clarified, a 2019 production forecast for Tesla vehicles. The agency argued that the tweets demonstrate that no one at Tesla is really keeping watch on Musk's communications, as was mandated by a 2018 settlement with the agency, while Musk's attorneys countered that the standard for what tweets must be reviewed isn't clear enough to charge Musk with contempt.
"Tesla still appears to be unwilling to exercise any meaningful control over the conduct of its CEO," said Cheryl Crumpton, the counsel representing the SEC. Crumpton did not recommend that Musk be required to step down as CEO or as a board of Tesla, but instead asked Nathan to impose a "series of escalating fines" for future violations.
Musk showed up in person to the hearing -- likely in a show of respect for the judge, said Harvey Pitt, former SEC chairman and CEO of Kalorama Partners.
"Mr. Musk's presence was probably intended to show that he is taking the issue seriously (despite his frivolous public comments about it), and was probably done at the suggestion of his attorneys," Pitt told TheStreet.
Indeed, while Musk has thumbed his nose at the SEC on multiple occasions, the CEO made a point of expressing regard for Judge Nathan in a comment to reporters after the hearing.
"I have great respect for Judge Nathan, and I'm pleased with her decision today. The tweet in question was true, immaterial to shareholders, and in no way a violation of my agreement with the SEC," Musk said.
Pitt added that the SEC's seeking escalating fines for future violations, rather than a harsher punishment like stripping his CEO title, may be an effective tack for the agency. Although Crumpton wasn't specific about the size of the fines, she said that they should be meaningful enough to make further Twitter mishaps "not worth it."
"The SEC's request for escalating fines is a way of trying to impose some semblance of order on Mr. Musk, an individual who seems not to abide by an ordered existence. I think it is smart, and is a way the Court can come down hard on Mr. Musk without yet terminating his position as an officer and director of the Company," Pitt said.
Elliot Lutzker, a corporate and securities partner at Davidoff Hutcher & Citron LLP, added that the SEC will need to drop the contempt argument, and ultimately the parties must negotiate an agreement that could include a hefty fine. In Musk's initial settlement with the SEC, he was required to pay a $20 million fine and step down as Tesla's chairman for at least three years, in addition to the Twitter monitoring provision. 
"At this point in time, Musk's attorneys want the SEC to drop the contempt proceedings, which they will need to do, as he is not a recidivist securities law violator, just a recidivist Tweeter," Lutzker wrote in an email. "If contempt and suspension or a bar as a corporate officer are dropped, Musk will need to pay a hefty fine -- substantially larger than $20M already paid."
Whether a fresh settlement will keep Musk from landing in hot water again is another question entirely. 
"They will work out a settlement again, which the court must approve. Whether Musk can follow it is doubtful, unless he gives up Twitter," Lutzker added. 
Tesla shares fell more than 8% Thursday, down $24.03 to close at $267.78, on news that the company missed expectations for first-quarter vehicle deliveries. Shares were up 0.5% in pre-market trading on Friday.
Will You Have Enough Money to Retire?
Want to learn about retirement planning from some of the nation's top experts? Join TheStreet's Robert "Mr. Retirement" Powell live in New York on April 6 for our Retirement Strategies Symposium. For a limited time, tickets are available for $99 for this full-day event. Check out the agenda, learn about the speakers and sign up here.