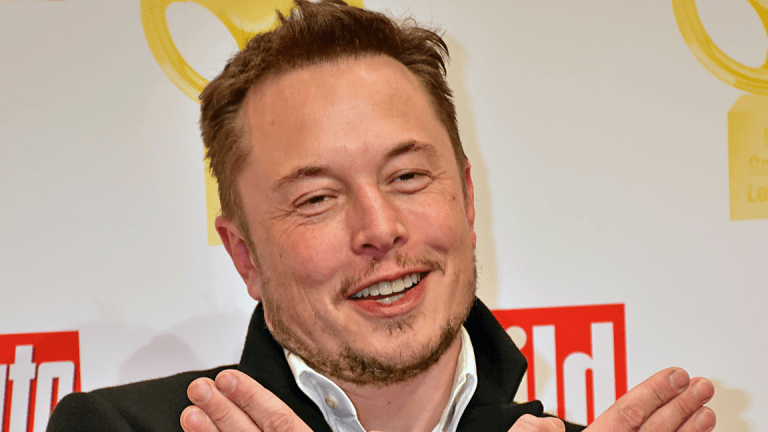 For the Sake of Investors, Tesla CEO Elon Musk Needs to Be Quiet on Twitter
While the world gets ready for another grilling of Facebook CEO Mark Zuckerberg from U.S. lawmakers, it's Tesla CEO Elon Musk that needs to get blasted.
Let's get after it.
Jolt Op-Ed
Please, please, PLEASE Elon Musk: Just pipe down on Twitter. When you feel the urge to tweet, simply swipe out of the Twitter app and go back to directing traffic on your fledgling production line at Tesla (TSLA) - Get Free Report . Because all your doing with tweets unbecoming of a public company CEO is showing why you shouldn't be a public company CEO, let alone one leading a $51 billion market-cap entity that hasn't made any money. Musk's latest tweet seems to take a shot at Goldman Sachs' uber bearish note on the company Tuesday. "I own Tesla stock, but this doesn't make me feel warm and fuzzy," an alleged Tesla shareholder tweeted at Musk on Tuesday afternoon about the analyst report. Musk responded, "Place your bets ..." You don't provoke the most important investment banking firm in the world. It's this influential group's network of people that at some point may help raise the money Tesla badly needs to survive that extra day. If these people aren't directly involved in the inevitable capital raise, it's Goldman's extensive network of clients that could be directed to move quickly to bet more against the stock during periods of duress. Doing so could crush shareholder Musk and his electric car startup. What trader doesn't like sticking it to a blowhard like Musk and getting paid handsomely in real-time for doing so? Says auto expert James Albertine of Consume Edge Research on Musk's tweeting, "We have said in that past that tweeting can be a double-edge sword. On the one hand, it is great to garner publicity and free advertising of sorts, but on the other, can often muddle the company's message. We think moderation is the best policy as it relates to CEO tweets, broadly speaking."
Instead of poking Goldman Sachs or joking around about a bankruptcy on the tweet stream, might we suggest Musk focuses on keeping overworked talent inside the building. Tesla has lost an astounding 55 key executives dating back to September 2009, according to a person familiar with the matter. Musk should also focus on extracting value from the bailout of SolarCity, as TheStreet's Bret Kenwell reported here. As always Elon, TheStreet awaits your reply to this ... on Twitter.
And Now ... Back to Our Regularly Scheduled Programming
And that regularly scheduled program includes the second day of testimony for Facebook (FB) - Get Free Report CEO Mark Zuckerberg. Notice we didn't add the word "embattled" in front of Facebook as Zuck is riding a bit of a hot streak right now. In a strange way, it looked like many lawmakers viewed the 33-year old Zuckerberg as their child on Tuesday. While lawmakers were quick to slam him in front of the camera so that he knows they mean business, the group went kind of easy on him. They have to go on easy him to an extent -- Zuck will be playing a key role in trying to clean up the beast that he created. Lawmakers have no clue about the inner workings of Facebook (that sure showed.) and therefore no clue on how to shape regulation. They need Zuck, and Zuck knows that. This is good news for Facebook's investors so long as the social media giant doesn't start seeing an exodus of advertisers, key talent and more privacy breaches. Also good news is Zuck's tease of a paid Facebook product. Most people I have chatted with aren't sure what a paid product for Facebook looks like or if it would chip away at the free business model. But what is universally accepted is that Zuck may have just teased a potentially new lucrative profit stream that Wall Street hasn't even played around yet in their financial models.
"This is a call option for Facebook over time...we expect the majority of the revenue to be driven by the traditional advertising business for quite some time," Jefferies analyst Brent Thill tells TheStreet. "But with 2 billion people on the platform, Facebook can look at new revenue sources driven by subscription regardless if users opt in or out. We believe this would be incremental to revenue, not cannibalize the business."
Be sure to check back on TheStreet at 10 a.m. ET for live analysis of Zuckerberg's testimony. Key Twitter follows from TheStreet's newsroom for the big event: @NelWang, @francesmarief, @EricJhonsa, @KinseyGrant, @TheStreet.  
What's Hot on TheStreet
Everything is hot, always: (1) Well-known bank analyst Mike Mayo told TheStreet's Scott Gamm that former Goldman exec (and Trump exec) Gary Cohn would be a good person to replace Citigroup's (C) - Get Free Report chairman; (2) TheStreet's May 5 "Investing Bootcamp" conference in New York is a MUST attend -- here is just a small sampling of what we will be discussing; (3) TheStreet's new "Retirement Daily' service is now live. Led by long-time retirement expert, aka "Mr. Retirement" Robert Powell, this is an amazing service. Trust me, I get to view all the content before it goes live ... there is nothing else like it out there. Check out more here; (4) RealMoney Pro's long-time columnist and money manager Doug Kass hops out briefly from behind the paywall with a new daily column called Kass Insider. First installment: Why Facebook's Stock Could Be 'Dead Money' for the Rest of 2018.
Subscribe to our Youtube Channel for more videos ' Listen our latest Podcasts on Soundcloud