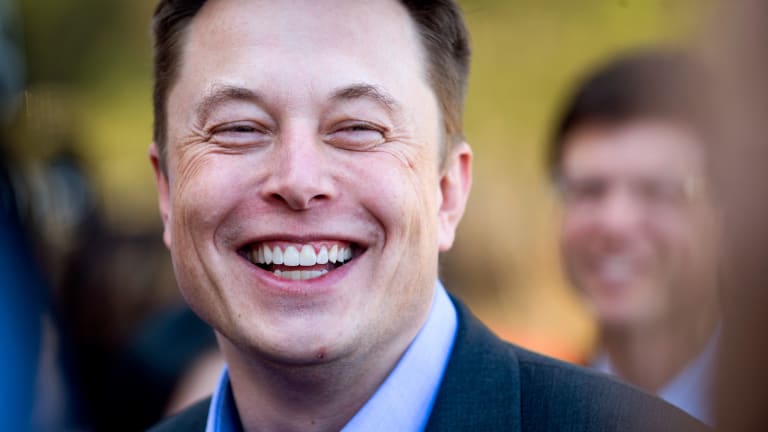 Tesla CEO Elon Musk Is Embarrassing the Short-Sellers
Good news: Turkey's currency crisis has cooled down a bit. Coca-Cola is taking aim at PepsiCo's leadership in the sports drink industry. Wall Street continues to watch Tesla and CEO Elon Musk like a hawk.
Love him or hate him, Tesla (TSLA) - Get Report CEO Elon Musk is making good on his promise to pummel short-sellers.
Musk's slow drip of news on his take private deal via Twitter is serving to keep Tesla's stock pumped up. It's as if he is following a carefully crafted playbook to ruin the shorts while also articulating the latest on the transaction. Fascinating stuff to watch, and I am sure the Securities and Exchange Commission would agree.
Musk's tweet in the middle of the night that he was working with Goldman Sachs and Silver Lake on the transaction puts more faces with the process. These are real companies and they finally add some credibility to the process. I anticipate being destroyed on Twitter for these thoughts. But I have to keep it real. Musk is showing that he could pull this off. 
Tesla is Real Money's 'Stock of the Day' on Tuesday.   
Free Stock Ideas
Having trouble finding stock ideas? The answer to that is "actually yes, I am always having trouble." Well then today is your lucky day. TheStreet gets mountains of Wall Street stock research shoveled into our inboxes each day. Read all of this stuff and there are certain stocks that just consistently appear on top ideas lists. Here are two that have stood out in our data mining this week.
Watch 'Morning Jolt' below. 
Look closely and you will slowly see a bullish case for DowDuPont's stock emerging after a 6.5% tumble this year. "DowDuPont is one of our top chemical stocks owing to: (1) optionality of revenue synergies, (2) projects ramping in Materials Co. (Dow Chemical) and strong product backlog in Ag Co. (Corteva), (3) CSe upside to current cost synergy targets; about $35 billion procurement opportunity underappreciated, and (4) portfolio optionality," said Credit Suisse analyst Christopher Parkinson, who put the industrial giant's stock on his "Top Pick" list on Monday. Also bullish: CEO Ed Breen recently spent $2 million to buy more stock.
Staying with industrials, after a stellar 2017 shares of airplane maker Boeing (BA) - Get Report have dropped 1.2% over the last six months on fears that a U.S. trade war with China would weigh on the company's results. Boeing didn't help its short-term investment case when it reported second-quarter results in July. The company cut its defense operating margins and its full-year earnings guidance didn't meet analysts' expectations, even though the company reported strong second-quarter results and raised revenue guidance. 
Around TheStreet
I had a nice chat with VF Corp. (VFC) - Get Report CEO Steve Rendle Monday afternoon following news he would be splitting the company up into two pieces. His response to me when I asked why the stock fell on the news: "I have no idea. I know we have been seeing a nice move over the last two or three weeks. It's probably a longer-term view as this settles in and people begin to understand the new model. We do think we are doing this as a value creation opportunity for our shareholders. We do feel there will be value created over time."
I have no idea either, but expect shares to climb higher into the split in early 2019. The questions VF Corp. shareholders should be asking now: (1) Who makes a play for the rest of VF Corp (North Face, Timberland, Vans)?; (2) How much will VF Corp. pay to add Under Armour (UAA) - Get Report or Lululemon (LULU) - Get Report to its stable of high quality active brands? Rendle hinted to me the company will have the financial firepower to do a big deal post spin.
As TheStreet hinted at in July, Coca-Cola (KO) - Get Report stepped up Tuesday and announced a stake in surging sports drink brand BodyArmor. Financial terms of the deal weren't disclosed. Big win for Coke here, and a big punch to the gut for Gatorade shepherd PepsiCo (PEP) - Get Report . Expect 2019 to be the year of the sports drink wars in terms of pricing and innovation.
Workhorse (WKHS) - Get Report may be a small-cap electric automaker, but it packs a big punch. TheStreet's @KatherineRoss chatted with Workhorse CEO Stephen Burns about the company's new electric pickup truck, which will beat Tesla's offering to market by years.