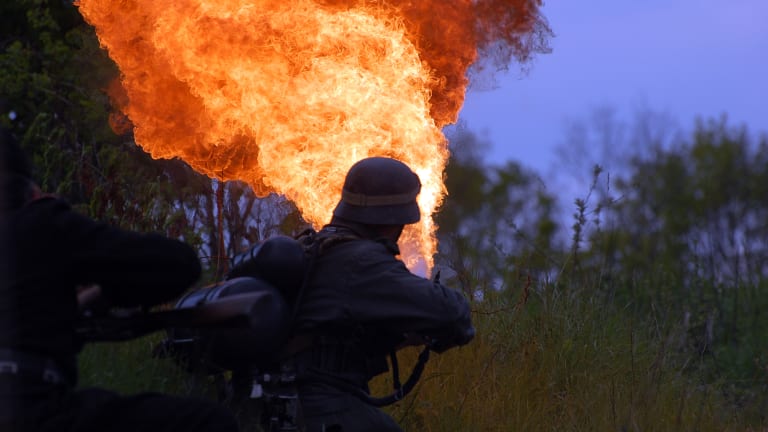 Why Every Tesla Investor Should Fear Elon Musk's New Flamethrower
Come on, Elon, a flamethrower? Wynn Resorts shares continue to plunge in the wake of sexual misconduct claims on Steve Wynn.
Wow.
Tesla Investor, This Is Your Nan 
When I caught a picture late Friday on Twitter of a flamethrower created by Elon Musk, I knew it would still be a hot topic come Monday. Musk's The Boring Company, which is keen on digging holes underground to build out super fast transport tubes, is now selling flamethrowers on its website. The cost for this action hero gadget: $500. Musk tweeted on Sunday that 2,000 flamethrowers have already been pre-ordered. While the millennial in me wants to think this is cool, the adult in me thinks it's better to slam Musk from two different perspectives. First, in this day and age, the last thing we need on the streets is an easy-to-use flamethrower. Just imagine a group of teens getting their hands on one of these and hatching a plan to film on Instagram a rampage through town. Come on, Elon. Another aspect to this is how it looks if one is an investor in Tesla (TSLA) - Get Report . The money-losing electric car company doesn't even have its own house in order (have you heard about the state of SolarCity of late? I bet you haven't) yet Musk is tinkering with flamethrowers (tunnels, rockets, etc.). Somehow I don't think a founder like Salesforce (CRM) - Get Report CEO Marc Benioff (high quality) will ever be toying around with flamethrowers. You didn't see Action Alerts Plus holding Apple (AAPL) - Get Report founder Steve Jobs messing around with a device on par with a flamethrower. That's why you should be hesitant in betting on founder Musk, his brain seems to be all over the place (like tweeting about demand for his flamethrower) instead of laser-focused on driving shareholder value for Tesla owners.
Wynn Shares Tank, Rightfully So
Wynn Resorts (WYNN) - Get Report shareholders look like they will continue to feel pain following The Wall Street Journal's story on sexual misconduct by Steve Wynn. Over the weekend, Wynn pulled out of the RNC while politicians started to take funds given to their campaigns from Wynn and donate them to charity. At this point stepping in to buy Wynn's stock makes zero sense. Where there is smoke there is fire with these types of accusations, and the news flow for Wynn over the next few weeks will unlikely be supportive to the stock. Nomura Instinet analyst Harry Curtis estimated the stock could easily lose another 17% based on: (1) Wynn either resigning or being suspened; (2) Massachusetts Gaming Commission forcing a sale of Wynn's license at face value or a lower-than-expected multiple; (3) demand in Las Vegas weakening as people protest Wynn's properties. Wynn shares have tanked about 19% since the news broke on Friday. 
Receive the free "Morning Jolt" newsletter here.
Monday Data Dump
Wall Street wants to badly call a market top but is too afraid to do so for fear of looking dumb. At least that was my assessment of zillions of sell-side notes on Monday jammed into my email inbox. A couple data points for investors to chew on ahead of a busy week of earnings: (1) It has been a record 398 days since a 5% pullback in the S&P 500; (2) weak U.S. dollar has churned out one remarkable feat -- 81% of companies that have reported fourth-quarter results so far have beaten revenue estimates, while 79% of companies have beaten earnings estimates; (3) earnings estimates for 2018 are surging -- currently, Wall Street is looking for 16.2% earnings growth this year, up from expectations for 10.8% in December 2017.
What's Hot
Mega Deals
If I am a PepsiCo (PEP) - Get Report or Coca-Cola (KO) - Get Report , I am fearing a world where aggressor JAB Holdings now owns Dr. Pepper Snapple Group (DPS) and Keurig. JAB struck another huge deal on Monday, one that is borne from the need to cut costs in the slow growth packaged food industry.
More from the Morning Jolt Archives:
More of What's Trending on TheStreet: