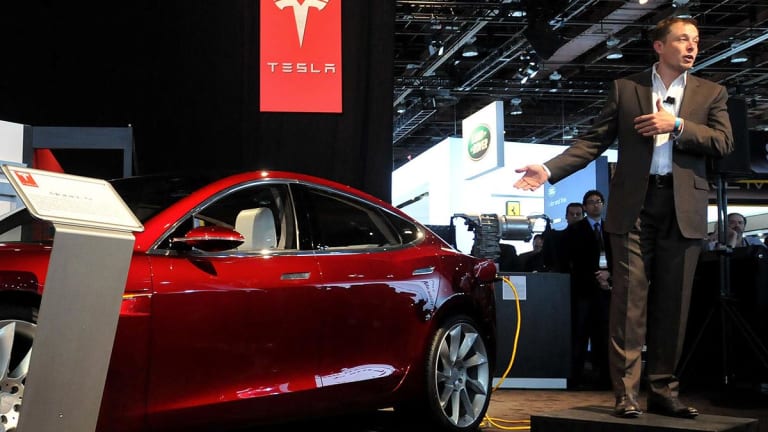 Tesla's $2.7-Billion Capital Raise Won't Cut It, Says Analyst
The capital is badly needed but may only offset losses for three to four quarters, according to Cowen analyst Jeffrey Osborne.
Tesla's (TSLA) planned capital raise may not be enough, wrote an analyst on Friday. 
This week, the electric carmaker disclosed plans to raise $2 billion in a combination of stock and convertible debt, and raised that amount to $2.7 billion the following day. As part of the new fundraising, Tesla CEO Elon Musk has indicated a "preliminary interest" in purchasing $25 million worth of common stock in the deal, according to paperwork filed with the SEC. Tesla shares rose 4.5% to $255.03 on Friday. 
The capital raise is a reversal of Musk's earlier resistance to raising capital, on the grounds that Tesla would be profitable going forward. In its recent earnings report, Tesla reported heavier-than-expected losses in the first quarter. 
In a note on Friday, Cowen analyst Jeffrey Osborne wrote that $2.7 billion is "badly needed," but insufficient to cover capital expenditures, meet debt obligations and offset cash burn associated with lower-than-planned volume and margins on the Model 3.  
"Our take is that ~$2.7 billion is sufficient for 3-4 quarters of offsetting operating losses if the sales and margin weakness we saw in Q1 continues, and even shorter if sufficient capex funding is used for the company's aggressive expansion plans and Tesla gets off the 'spartan diet,'" Osborne wrote, referring to a comment by Musk recently about enforcing fiscal discipline at Tesla. 
It's likely that a portion of the capital would be used to pay off $566 million in convertible debt from Tesla's 216 acquisition of Solar City, as well as a $500 million Chinese loan used to fund the Shanghai Gigafactory, Osborne added. Tesla has a total of $10.4 billion in loans due between now and 2025.
Year to date, Tesla's stock is down 21%.