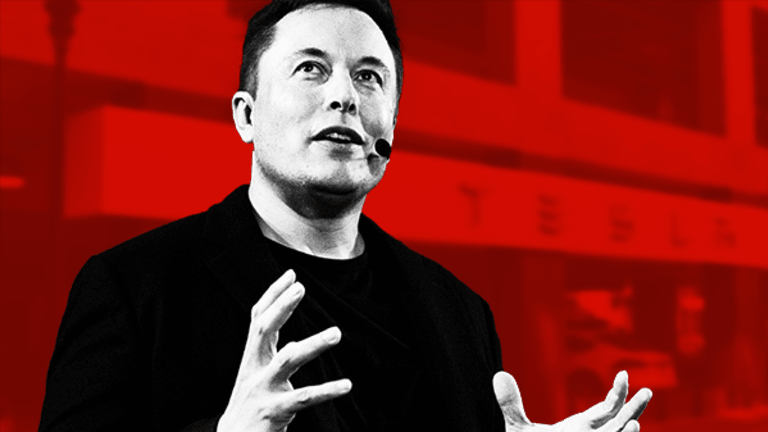 Tesla Bulls Should Take Comfort Knowing This is the Last Earnings Report Without Model 3 Deliveries
Tesla reports second-quarter results after Wednesday's market close. The company has beat revenue expectations in the past four quarters.
Tesla   (TSLA) - Get Tesla Inc Report  got a wave of positive reports about its Model 3 vehicle, which debuted at a lavish event on Friday, but that could come to a screeching halt after its 2017 second-quarter earnings report comes out after Wednesday's market close. 
The company's stock has climbed an impressive 50% to $319.25 year-to-date. The stock peaked in July at $383.45 in mid-July but fell after missing delivery expectations (again), getting a slew of bearish estimates, and performing worse-than-expected on a vehicle safety test. Despite the big event on Friday evening, Tesla's stock is down about 3.60% so far this week. 
Wall Street is expecting the electric car company to report a second-quarter adjusted loss of $1.88 per share, which is a wider loss than the adjusted loss of $1.06 per share the company reported in the same quarter last year. Revenue is expected to jump to $2.5 billion, up from $1.6 billion reported in the same period a year ago but a decrease from the previous quarter's revenue of $2.6 billion. 
Tesla has beat analysts' revenue expectations in the past fours quarters. However, its earnings have been hard to predict. The company reported an earnings miss in the past two quarters, but before that it was a yo-yo pattern of hits and misses. 
With the Model 3 starting to roll out of factories, this will be the last quarterly report without Model 3 deliveries included. Tesla bulls have long said that the Model 3 will be what makes the company worth investing in because the affordable $35,000 vehicle is designed to help electric cars go mainstream. 
Loup Ventures founder Gene Munster told TheStreet in July that he thinks Tesla will be one of the most impactful tech companies -- and that opinion was reinforced by Friday's event. "We continue to believe the Model 3 will be the most important catalyst to the world's adoption of EV and autonomous driving," he wrote in a note on Monday. "And we expect it to play a big role in commercializing and consumerizing AI and robotics technologies."
Investors will be looking for any clues about how the company is doing as it heads into a period of what CEO Elon Musk called "manufacturing hell." During Friday's event, Musk told select attendees that 500,000 people had reserved a Model 3, which is a significant jump from the 370,000 reservations reported over a year ago. Each of the reservations required a $1,000 deposit, which totals $500 million.
More of What's Trending on TheStreet:
"We believe the bulls will take this as a sign of strong demand, which is positive for the shares," KeyBanc Capital Markets analysts Brad Erickson and Elliot Arnson wrote in a note to investors on Sunday. 
In early July Tesla pre-announced deliveries for the second quarter, which covered the April through June period. Tesla said it delivered just over 22,000 vehicles, including 10,000 of the family-style SUV Model X vehicles and 12,000 of the premium and highly customizable sedan Model S vehicles. Tesla delivered 25,051 vehicles in the first quarter, meaning it delivered a total of 47,051 in the first half of 2017.  Previously, Tesla said it was expecting to deliver 47,000 to 50,000 vehicles in the first half of the year. After the first quarter results, it revised its estimate to "approximately 47,100." 
Tesla said deliveries came in at the lower end of estimates due to issues with producing enough batteries for its cars. The company said that when the problem was resolved, deliveries were "strong." 
In the same announcement, Tesla gave its forecast for the second half of 2017: about 50,000 combined deliveries of the Model S and Model X vehicles. 
But Tesla isn't a one-trick pony. The company is also working on solar panels and solar roof tiles, as well as battery storage. Investors will want to know how close these products are to going to market. However, the main focus will obviously be on the Model 3 and the company's expectations for the car that's expected to be a game-changer for the company that has struggled to meet deadlines. 
Of the 21 analysts covering Tesla that were surveyed by FactSet, seven have "buy" ratings, nine have "hold" ratings and five have "sell" ratings.
Tesla shares fell 1.2% to $319.59 on Tuesday afternoon.
Watch More with TheStreet: