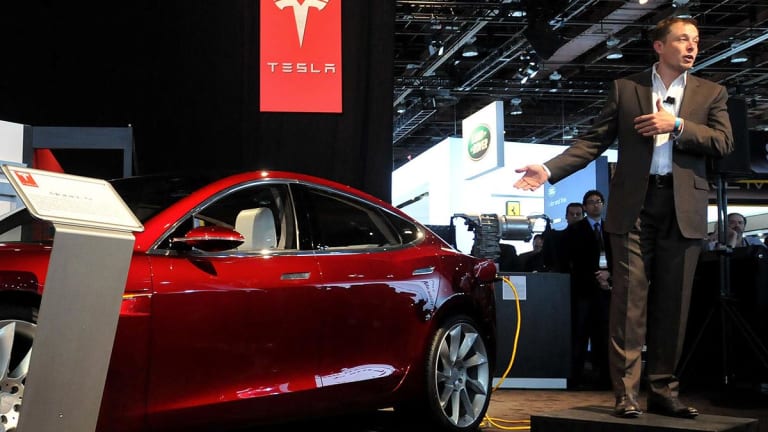 Long-Time Tesla Bull Throws in the Towel, Downgrades Stock to Neutral
The electric carmaker has lost its way, wrote Wedbush analyst Dan Ives.
Tesla's (TSLA) - Get Tesla Inc Report  first-quarter earnings report didn't inspire much confidence, even amongst Tesla believers.
The electric carmaker posted a loss of $702 million for the quarter, along with revenue and earnings per share results that missed estimates by a wide margin. In the meantime, its cash position dwindled to $2.2 billion, down from $3.7 billion at the end of  the previous quarter (as part of that, Tesla paid $920 billion worth of debt during the quarter.)
The disastrous results (which were also accompanied by a lengthy delay by Tesla (TSLA) - Get Tesla Inc Report in getting the report to investors) led Wedbush analyst Dan Ives to write that he's "throwing in the white towel" on the EV maker, downgrading it from buy to neutral after standing by the stock through its various troubles because of its "transformational EV opportunity."
"To this point, in our 20 years of covering tech stocks on the Street we view this quarter as one of the top debacles we have ever seen while Musk & Co. in an episode out of the Twilight Zone act as if demand and profitability will magically return to the Tesla story," he wrote.
Ives added that the demand picture at Tesla is changing quickly, and that the carmaker has not adjusted to the evolving landscape for EVs -- including more competition on the horizon and a phase-out of tax credits for the vehicles -- with a thoughtful plan to market and distribute its cars. Earlier this year, Tesla painted an unclear sales picture going forward, announcing various price cuts and a decision -- followed by a reversal -- that it would move to online-only sales.
Another question mark for Tesla investors: Its cash balance, and how it will pay off both its debt obligations and ambitious initiatives such as a Gigafactory in China to build car batteries. 
While CEO Elon Musk has insisted at several points that Tesla won't need to raise money on the grounds that it'll be profitable from here on out, he conceded that there is "some merit" to raising capital on a call with investors on Wednesday. 
It looks increasingly likely that they will need to do so, according to Ives. 
"At this point the writing is on the wall that Tesla will likely have to raise $3 billion+ of capital in the near term to sustain its capex and debt needs given its current profitability path, which is another black cloud over the name with an inexperienced CFO now at the helm," he added.
Shares of Tesla were trading down 4.1% to $248.03 and are down more than 25% year to date.