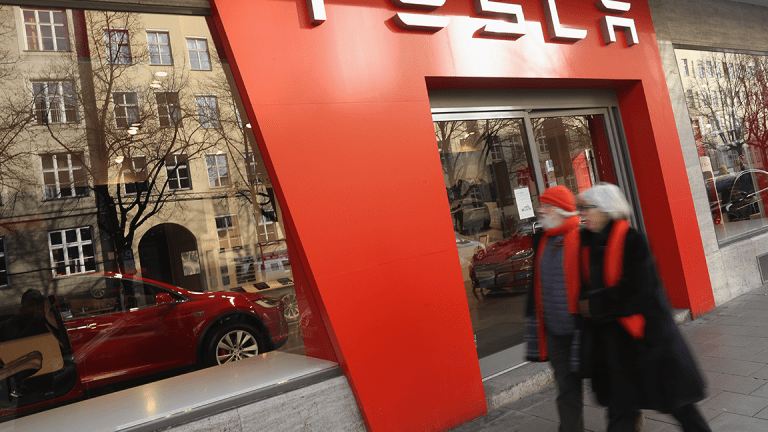 Tesla's Biggest Problem It Needs to Address for Earnings
Tesla's Model 3 and whether the automaker can profitably mass produce the sedan is a big concern. But Tesla's wallet may be an even larger worry.
Tesla Inc.  (TSLA) - Get Tesla Inc. Report is going to change the world....
Tesla is a fraud that's going to end in an epic collapse.
Depending on who's opinion investors take the queues from, these polar-opposite views are shared by many in the bull-bear community. Many either love Tesla or hate it. As CEO Elon Musk aims to change the world, he's doing so with a number of gambles at Tesla.
The results so far? Bumpy.
There have been definite positives. The Model S and Model X have done well, while Tesla's energy storage solutions like the Powerwall are very promising. However, Tesla's big plans have left a deepening hole in its pocket.
As of last quarter, it had total debt of $10.3 billion. At year-end 2016 (five quarters ago), Tesla carried total debt of just $7.12 billion and two years ago, Tesla's first-quarter 2016 debt stood at $3.1 billion. So it's not hard to see how much the company's debt load has ballooned, tripling over the last two years.
Granted, several billion dollars of that debt comes from its acquisition of SolarCity.
Still, on the back of the Model 3, Tesla's financials have become the No. 1 focal point among investors. Whether you hate the company or love it, it's hard to look at the financials and not find Tesla's situation a perilous one.
Tesla Model 3 and Its Financials
In Tesla's case, the financials tie in directly with the Model 3. The automaker's mass-market sedan was supposed to propel it to profitability and lay the groundwork for positive cash flow to fund other vehicles and ambitions. Namely, the Model Y, Roadster and Tesla's semi truck.
Then there's its energy storage solutions and the company's ambitious Solar Roof project.
But all of these products take money - and plenty of it. If Tesla could mass produce the Model 3 and whittle its costs down, it could fund those projects and many more. However, the current situation with the Model 3 is a dire one. Heck, it can't even make up for its own costs at this point, let alone fund the cost of others.
Tesla is burning cash hand over fist trying to build the Model 3. Musk recently admitted to relying too much on automation and it's now hiring 400 people a week for several weeks and going to a 24/7 production model. The hope is that Tesla will produce 5,000 Model 3 units per week by the end of calendar Q2.
But at what cost?
Musk said the company will be profitable (presumably on a non-GAAP basis) and cash-flow positive (presumably operating cash flow, not free-cash flow) in the third and fourth quarter. That's a tough call to buy at this point, though.
The Bottom Line
Let's back it up a bit here. The financials are the main concern for Tesla at this point. Right now, the Model 3 is the weight for most of those financial woes but it's also what can save Tesla from those problems. In that sense, it seems like the Model 3 - not the financials - is the biggest problem at Tesla right now. Investors can certainly argue that point. But ultimately it doesn't matter, because they go hand in hand.
Tesla would have more time and less worry about getting the Model 3 right if its financials were in better shape. Further, its financials are the ticking clock, not the Model 3. If the financials fail, Tesla fails. 
So when it comes to the company's May 2 earnings release, Musk & Co. will have to show investors that the situation is manageable and that production of the Model 3 is getting better. There will be worry over its gross margins, as well as its cash burn. Should management fail to ease investor concerns on this front, Tesla stock could fall back down to its recent lows near $250. 
The company will lose money this quarter and next without question. The question is whether investors will see enough improvement at Tesla to avoid selling the stock. If investors' faith takes a hit, so too will Tesla's stock. 
This article is commentary by an independent contributor. At the time of publication, the author had no positions in the stocks mentioned.