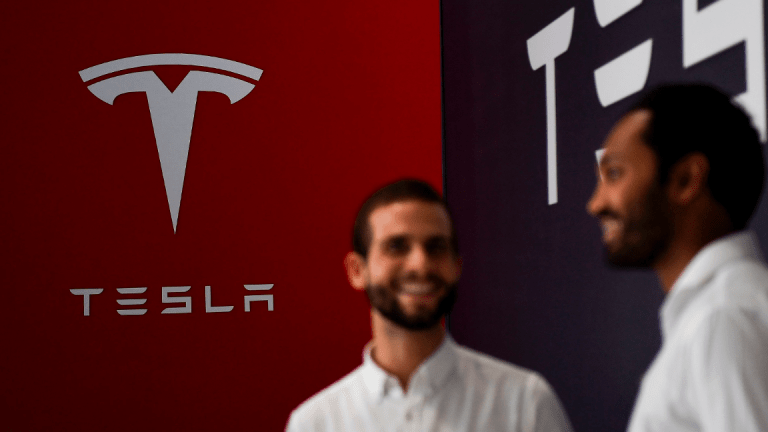 Tesla Analyst Musk Insulted Months Ago, Then Apologized Too, Now More Bullish
Tesla CEO Elon Musk was on a full-on charm offensive during the second quarter earnings call.
Like mom always said, it pays to be nice. 
Tesla (TSLA) - Get Report CEO Elon Musk is being rewarded Thursday for his newfound earnings call manners, as shares of the electric car maker skyrocketed 10% pre-market following upbeat commentary. Nowhere did a measured Musk (or somewhat normal) pay off more than in a post-earnings note from RBC Capital Markets analyst Joseph Spak. 
Recall that Musk quickly disimissed Spak's question on Tesla's bizarre first quarter earnings call in May. "We're going to go to YouTube. Sorry. These questions are so dry. They're killing me," Musk said after Spak's question.
Spak was one of two Wall Street analysts (the other Toni Sacconaghi of Bernstein) Musk apologized to on the call Wednesday, blaming a lack of sleep. The Tesla analyst responded by lifting his price target on Tesla's stock to $315 from $280. Spak also sounded more bullish in his assessment of Tesla, though he reiterated a sector perform rating.
"2Q18 results better than expected and we are more comfortable with 2H18 profitability/cash flow. Further, there seems to be more ammo for bulls than bears in commentary. Given stock's propensity to sentiment/momentum, we could see a rally, but remain Sector Perform rated believing a lot priced in," Spak said.
Spad added, "While Tesla is a very innovative and disruptive company with strong growth ahead via disrupting large addressable markets, it is also a classic story stock that is difficult to value given that the investment decision is often qualitative rather than quantitative. Thus, near- to medium-term performance is likely to be determined by expectations and delivering on targets."
The analyst made no mention of Musk's apology in the note. But, the words say it all.
More on Tesla's future from TheStreet here.