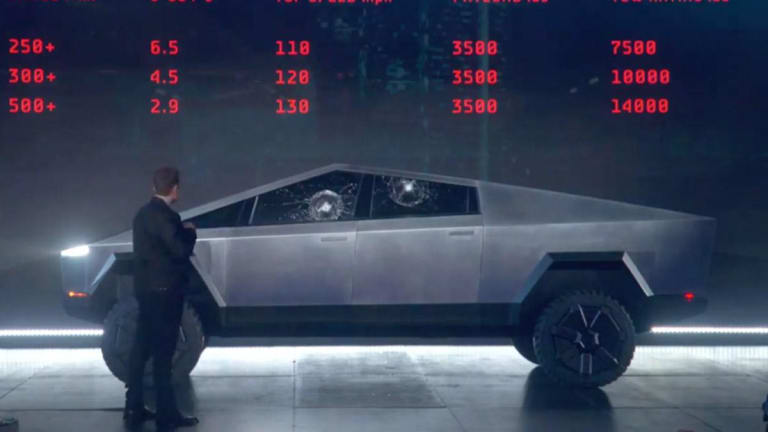 Tesla's 200,000 Cybertruck Reservations Don't Mean Much -- For Now
It's unclear how many of those Cybertruck reservations, which Elon Musk reported on Twitter, will convert into sales when the futuristic pickup enters production in late 2021.
Tesla's recently unveiled Cybertruck had a strong start out of the gate, according to Elon Musk. 
The Tesla CEO posted a tweet on Sunday suggesting that orders for the futuristic-looking pickup truck had reached 200,000, sparking questions about what that figure means for genuine demand when it ultimately rolls out in two years. Tesla (TSLA) - Get Report shares were up 1.43% on Monday to $337.80.
At $100 per deposit, which is fully refundable, the 200,000 figure could hypothetically translate to $20 million in customer deposits for the Cybertruck. But investors would be wise not to read too much into the reservation numbers yet, according to Wedbush analyst Dan Ives.
"It's a positive but ultimately we believe the pre-order activity with a $100 deposit overstates underlying core demand," he wrote in an email. "We believe only a fraction of these will ultimately convert to buying the car in 2022 and we are skeptical of Tesla gaining market share versus the likes of Ford (F) - Get Report and GM given the [Cybertruck's] Blade Runner-like design."
The Cybertruck's angular, militaristic design garnered largely negative reviews, and at the unveiling, a Tesla executive accidentally shattered a window with a metal ball in a demonstration of the purportedly bulletproof windows and exterior. 
Deliveries of the Cybertruck are a long ways off. Production of vehicle is slated to begin in late 2021, and customers who intend to purchase the vehicle can configure their models as the production kickoff draws closer. As with all other Tesla vehicles, Tesla will offer various upgrades, such as the $7000 "full self-driving," forthcoming software package.  
CFRA Research analyst Garrett Nelson added that the 200,000 reservations Musk reported is better than expected -- a probable reason for the upward stock move on Monday -- but overall, the Cybertruck represents a "missed opportunity." 
"If it was something a little more mainstream-looking, we think the sales would have been stronger," Nelson said.
Pickup trucks are a lucrative segment of the car market, with pickups consistently ranking in the top-selling vehicles in the U.S. General Motors, Ford and several other conventional automakers also plan to introduce electric pickups over the next couple of years.
The Cybertruck comes in three variations, priced at $39,900, $49,900, and $69,900 for the base model of each. In a tweet on Saturday, at which point he reported 146,000 orders for the truck, Musk said that 42% chose the mid-range version, 41% the top-range version and 14% the lowest range version.
Year to date, Tesla shares are up 8.8%.