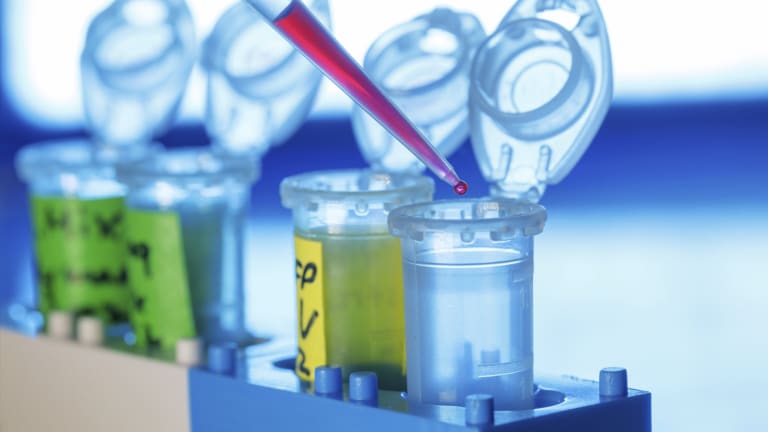 The addition of Tesaro's (TSRO) - Get TESARO, Inc. Report PARP inhibitor niraparib to standard chemotherapy significantly delayed the recurrence of tumors in patients with ovarian cancer compared to chemotherapy alone, according to results from a late-stage clinical trial presented and published Saturday.
A broad population of ovarian cancer patients benefited from maintenance therapy with niraparib. The Tesaro drug was expected to work best in patients born with a mutation to a tumor suppressor gene known as BRCA, and it did. But niraparib also demonstrated strong efficacy in patients not born with the BRCA mutation, along with tumors containing another tumor biomarker known as HRD.
Tesaro first announced top-line results from this niraparib study in June. On Saturday, researchers are presenting more detailed data from the study at a cancer meeting sponsored by the European Society of Medical Oncology. The niraparib study was also published Saturday in the New England Journal of Medicine.
"These landmark results are extremely encouraging for the ovarian cancer community," said Dr. Mansoor Raza Mirza, medical director of the Nordic Society of Gynecologic Oncology and principal investigator in Tesaro's niraparib study, in a statement.
The company expects to file a new drug application before the end of the year for niraparib as a maintenance therapy for ovarian cancer. This filing will be based on the study data presented Saturday.
Tesaro shares closed Friday at $99.26. The market value of the company has more than doubled to $5.1 billion since the June announcement of the niraparib study results because maintenance therapy in ovarian cancer -- helping responding patients remain cancer free as long as possible -- is a larger and more lucrative commercial opportunity compared to re-treating ovarian cancer patients no longer responding to multiple, prior lines of therapy.
Approximately 22,000 women are diagnosed each year with ovarian cancer in the U.S. and 65,000 are diagnosed annually in Europe. Tesaro estimates that 20,000 women annually spread equally across the U.S. and Europe would be eligible for maintenance therapy with niraparib, if approved.
The Tesaro phase III study enrolled 553 patients with ovarian cancer which relapsed following initial platinum chemotherapy but was successfully retreated with second-line platinum chemotherapy. The patients were randomized to receive maintenance therapy of niraparib or a placebo on top of their second-line platinum chemotherapy. The primary endpoint was progression-free survival (PFS), or the time (measured in months) before the ovarian cancer started to grow again.
Results were analyzed prospectively across three different patient populations:
In ovarian cancer patients born with (germline) BRCA mutation, niraparib reduced the risk of tumor progression by 73% compared to placebo. At the median, niraparib PFS was 21 months versus 5.5 months for placebo.
In ovarian cancer patients with non-germline BRCA mutations, niraparib reduced the risk of tumor progression by 55%. At the median, niraparib PFS was 9.3 months compared to 3.9 months for placebo.
"The results suggest that niraparib provides significant clinical benefit regardless of BRCA status," stated the authors of the NEJM article, including Mirza.
PARP inhibitors like niraparib are pills which work by blocking an enzyme, poly (ADP-ribose) polymerase, that cancer cells use to repair their DNA after being damaged by chemotherapy.
Mutations in the BRCA gene are correlated with a higher risk for breast and ovarian cancers. But BRCA mutations also inhibit DNA repair, which is why PARP inhibitors are thought to work better in these types of tumors.
Tesaro's study showed that niraparib is effective in ovarian cancer born with a BRCA mutation, those who develop BRCA mutations later and even in patients without a BRCA mutation (as long as their tumors are positive for the HRD biomarker.)
About that HRD biomarker. The third primary group of patients examined in the study had non-germline BRCA mutations but tumors that were positive for HRD, which also inhibits DNA repair. In this group, niraparib reduced the risk of tumor progression by 62%. At the median, niraparib PFS was 12.9 months compared to 3.8 months for placebo.
Even patients with HRD-negative tumors benefitted from treatment with niraparib, but by a smaller degree, according to the NEJM paper.
Myriad Genetics (MYGN) - Get Myriad Genetics, Inc. Report developed the diagnostic tests used to determine BRCA and HRD status for the ovarian cancer patients enrolled in the Tesaro study. If niraparib is approved, the same Myriad Genetics tests will be used commercially.
The most commonly reported serious side effects of niraparib was thrombocytopenia (34%), anemia (25%) and neutropenia (20%.) The discontinuation rate from the study was 15% for niraparib and 2% for placebo. The rates of myelodysplastic syndrome and acute myeloid leukemia were 1.4% for niraparib and 1.1% for placebo.
On Friday, Clovis Oncology (CLVS) - Get Clovis Oncology, Inc. Reportpresented updated data from a clinical trial of its PARP inhibitor rucaparib at the ESMO meeting. The Clovis study enrolled ovarian cancer patients no longer responding to two or more prior treatments, so the ruciparib data are not comparable to the Tesaro results.
Tesaro is conducting a phase II (but registrational quality) study of niraparib in ovarian cancer patients no longer responsive to three or more prior therapies. Results from this study, which is similar to the Clovis studies, are expected by the end of the year or in early 2017. The company is also conducting a phase III study of niraparib as a first-line maintenance therapy in ovarian cancer but results aren't expected until 2018. The drug is also being studied against breast and prostate cancer.
Adam Feuerstein writes regularly for TheStreet. In keeping with company editorial policy, he doesn't own or short individual stocks, although he owns stock in TheStreet. He also doesn't invest in hedge funds or other private investment partnerships. Feuerstein appreciates your feedback; click here to send him an email.