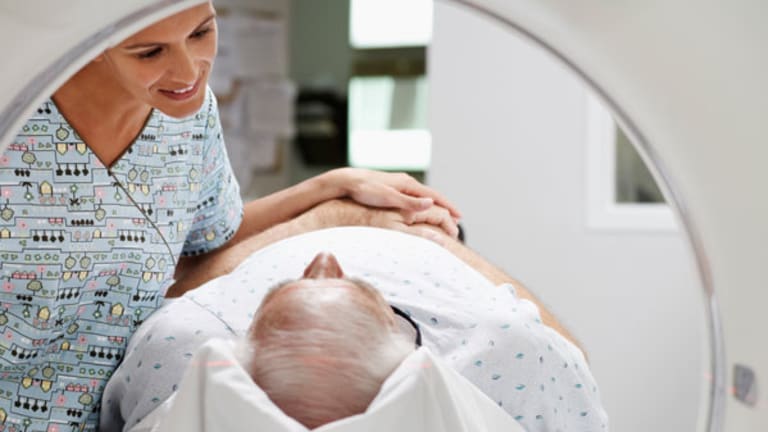 Tenet Turns It Around
The company could actually benefit from an industrywide push for performance.
After years of taking its hits,
Tenet
(THC) - Get Tenet Healthcare Corporation Report
could finally start playing offense, for a change.
The hospital chain, hurt by scandals and capital-starved facilities, has grown accustomed to losing patients to others. But with a long government probe behind it, the company now has the resources to upgrade its hospitals and lure those patients back.
The
current standoff between
HCA
(HCA) - Get HCA Healthcare Inc. Report
, a rival hospital chain, and managed care giant
UnitedHealth
(UNH) - Get UnitedHealth Group Incorporated (DE) Report
could help.
HCA wants UnitedHealth to pay higher rates for care provided at the company's hospitals in three major markets. But UnitedHealth has refused, dropping more than 30 HCA hospitals from its network and suggesting that policyholders seek treatment somewhere else.
In one of the affected markets, South Florida, Tenet operates competing hospitals that can now court former HCA patients. Moreover, four of those Tenet hospitals have been designated as official "Centers of Excellence" by UnitedHealth -- which favors such centers already.
"Tenet has noted on a number of occasions that, at those facilities that achieve 'Center of Excellence' designation from its managed care partners, volumes were up as much as 22% year over year in the second quarter," CRT Capital analyst Sheryl Skolnick wrote this month, when reiterating her buy recommendation on the company's stock. "The implication: Not only are managed care plans responding to the quality designation, managed care members and their doctors are responding by showing up at Tenet's Centers of Excellence -- and that is precisely where Tenet needs to change behavior in order to have higher admissions, profits and cash flows."
For its part, Tenet has stopped short of speculating about the HCA situation. Rather, the company says that it continues to reach out to physicians affiliated with all of its hospitals -- including those in South Florida -- and that individual market dynamics could, in fact, influence referral patterns.
In the meantime, Tenet's stock continues its steady march upward. The shares, which bottomed out at $5.77 early last month, climbed 2.4% to $8.47 on Friday.
Reason for Hope
Last week, Goldman Sachs officially dropped Tenet from its "Americas Sell List" -- where the stock had been stuck for 21 months.
The firm's hospital analyst, Christopher McFadden, now has some faith that Tenet could actually turn itself around. He felt reassured by the company's second-quarter results, which featured strong managed care pricing and new admissions from so-called splitter physicians who had previously sent their patients elsewhere. He even paid a visit to some Tenet hospitals in hopes of seeing the recent progress for himself.
To be sure, McFadden spotted signs of ongoing challenges. At one hospital, he noted, "several prime shaded physician parking spots (remained) notably empty during what should have been the busiest time of day." At another, he said, "a weathered transport van hinted at a need of a repair." He noticed overgrown shrubs and some unappealing department facilities as well.
Still, McFadden says he liked what he saw at another Tenet hospital that was bustling with activity and filled with excitement. That particular hospital is among 30 already included in a specialized company program designed to boost high-margin admissions going forward.
McFadden expects the entire company to turn the corner and become profitable next year. He has a neutral rating and a $7.50 price target on Tenet's stock in the meantime. His firm has an investment banking relationship with the company.
Cash Flow Story
When Skolnick looks at Tenet, she now sees a surprising cash flow story.
"The bear case is a cash flow story -- i.e., not enough of it," Skolnick says. "Our analysis suggests that Tenet is indeed a cash flow story, only we believe that there could be quite a bit more of it than the Street currently believes."
Importantly, Skolnick no longer sees any looming threat of a liquidity crisis or a bankruptcy filing for the company. She expects cash flow to remain negative this year, due to a costly government settlement, but predicts that the outflow will dwindle to just $16 million next year. After that, she forecasts, cash flow should come in positive -- for the first time in years -- at $165 million.
To be fair, Skolnick understands that Tenet must boost its admissions in order for the company to hit her targets. But she fully expects the company's improved relationship with managed care players -- and, increasingly, physicians -- to help out.
Indeed, Skolnick even suggests that Tenet could one day fill the big shoes worn by HCA in the past.
"We wonder whether it is the case that Tenet management understands its business better than any of the public companies," Skolnick mused this month. "Could Tenet end up being the best managed hospital company instead of the worst? We're beginning to think it isn't out of the realm of possibility."