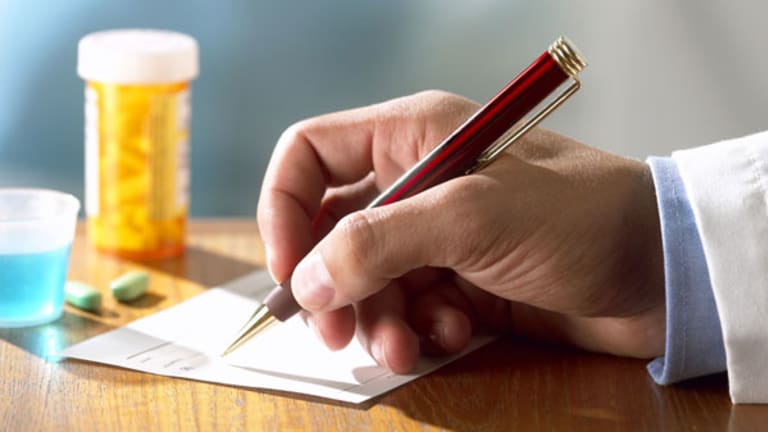 Tenet Ex-Lawyer Faces the Music
The government sues Christi Sulzbach.
OKLAHOMA CITY --
Tenet's
(THC) - Get Free Report
former general counsel, once credited with reviving the sick hospital chain, now has to worry about saving her own skin.
In a civil complaint filed this week, the Justice Department accuses Christi Sulzbach of allowing Tenet to bribe doctors for patient referrals and bilk Medicare out of millions of dollars in the process. The government claims that Sulzbach intentionally concealed the illegal payments -- violating a so-called corporate integrity agreement that she herself helped fashion -- and should be held personally accountable as a result.
All told, the DOJ says it has discovered "over 70,000 individual payments" that Tenet improperly pocketed because of Sulzbach's misconduct. Under the False Claims Act, the government can seek up to $10,000 per violation and triple the amount actually billed to Medicare for the services.
Tenet has already paid $22.5 million to settle its own portion of the case, which involved kickbacks to a dozen physicians in exchange for a surge in referrals to the company's North Ridge Medical Center in Florida. Even after deducting Tenet's payment, as allowed by law, Sulzbach could face massive penalties down the road.
"It's nice that, five years after the fact, the government is finally going after her for an obvious breach of duty," says James Moriarty, a Houston-based attorney who twice has won huge settlements on behalf of patients who suffered at the company's hospitals. "This couldn't happen to a better person."
Sulzbach could not be reached for comment.
Back in the mid-1990s, as Tenet struggled to overcome its first major scandal, Sulzbach pledged to keep the company in line. Tenet, then known as National Medical Enterprises, had just paid a then-record fine of $379 million -- including $33 million in criminal penalties -- for allegedly locking healthy patients in its psychiatric hospitals just to bilk their insurance policies. Sulzbach personally signed the integrity agreement that came along with that settlement.
Under that pact, Tenet made a number of promises. For starters, Tenet pledged to seek approval from outside lawyers for any financial agreements with physicians. The company also said that it would allow the government to review relevant documents about its compliance. Finally, if problems surfaced internally, the company said that it would promptly report those issues to authorities.
By the time that deal expired in 1999, on the surface at least, Tenet looked like a changed company. In a mid-2000 cover story, the trade publication
House Counsel
gave Sulzbach heavy credit for that transformation.
"It's a wonder that any health care company stays afloat," stated the article, entitled "Code Blue: GC Christi Sulzbach Applies ER Techniques to Help Revive Tenet Healthcare." But "somehow, Santa Barbara-based Tenet has thrived."
Based on the government's new complaint, bribes certainly helped. Back in the late 1990s -- while still operating under its agreement -- Tenet allegedly identified doctors who were admitting few, if any, of their patients to North Ridge. The company then offered those doctors generous contracts, doubling the salaries of some, and saw their referrals to North Ridge quickly explode.
Even after seeking an outside review of the contracts, which found the payments excessive, Tenet allegedly continued its scheme. Moreover, the government claims, Sulzbach intentionally covered up those actions -- even blocking subpoenas through use of attorney privilege -- in order to keep authorities in the dark.
Not until 2006, with Tenet inking a global settlement and Sulzbach long gone, did the government gain access to the information that helped build its current case. As part of last year's settlement, Tenet handed over documents that it had previously withheld as privileged -- including outside legal reports that found the North Ridge contracts improper. By then, the government claims, Sulzbach had twice issued sworn declarations stating that, "to the best of her knowledge and belief, Tenet was in material compliance with all federal program legal requirements."
For its part, Tenet stresses that the new federal complaint involves allegations that are more than a decade old. Tenet further insists that, in recent years, it has become "an entirely new and different company with a business strategy focusing on quality and transparency in everything it does."
Certainly, the government has already punished Tenet for its past transgressions. Now, it wants Sulzbach to pay a price as well.
"Sulzbach's false declarations allowed Tenet to bill Medicare for millions of dollars in claims that it was not legally entitled to receive," the complaint states. "This action seeks damages and penalties against defendant Sulzbach for her role in personally facilitating the false claims" submitted by the company.
Through a settlement announced earlier this year, the government has already secured payments from two other former Tenet executives. Interestingly, however, it has yet to punish former CEO Jeffrey Barbakow -- who, thanks to a well-timed $111 million stock sale, scored the biggest windfall of all before the company's collapse.
Tenet's stock, once a $50 highflier, inched up a penny to $3.40 Thursday. It is trading near lows unseen since Tenet's earliest days as a publicly traded company a quarter-century ago.