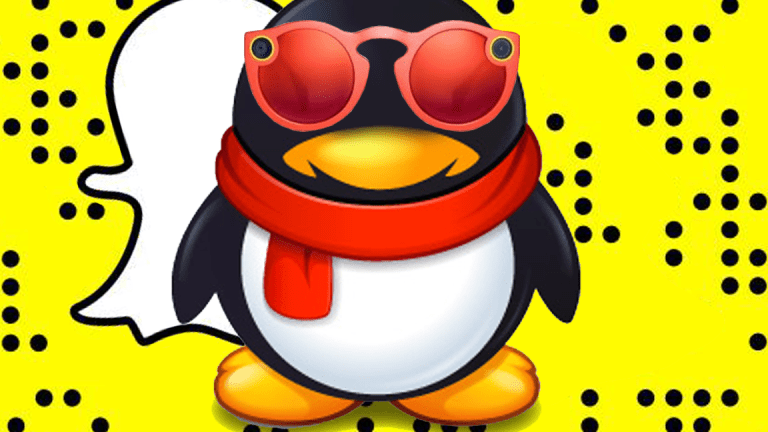 What Tencent Is Getting for Its Big Investment in Snap (It's Not Voting Rights)
The Chinese internet giant has just taken a 12% stake in the struggling social network. It comes with no voting rights, but several potential financial and strategic benefits.
It may not look like the most prescient investment right now, but Tencent Holdings Ltd.'s (TCEHY) just-disclosed stake in struggling social media start-up Snap Inc. (SNAP) - Get Free Report may still eventually pay off for the Chinese Internet giant. 
On Wednesday, Snap shares fell almost 15%to $12.91 following am extremely disappointing third-quarter earnings report in which Snapchat's parent missed on revenues and user growth estimates, although it beat expected losses by a penny per share. On Thursday late morning, shares of Snap were down an additional 3.8%.
Editor's note: This article was originally published by The Deal, a sister publication of TheStreet that offers sophisticated insight and analysis on all types of deals, from inception to integration. Click here for a free trial.
As Snap disclosed in its quarterly report with the Securities and Exchange Commission, Tencent bought 145,778,246  class A shares of Snap in November, representing 11.8% of the company's combined class A, B and C shares. Don't look for a 13-D filing with the Securities and Exchange Commission, however. Because Snap's Class A shares do not have any voting rights, the company said they do not require a 13-D filing or other disclosure to the Securities and Exchange Commission.
Besides an equity with a rapidly diminishing value and no say in governance, what else is Tencent getting for its investment? Here are 5 things: 
1. A learning opportunity.
"They like to learn; they like to see new innovations at different companies," Drexel Hamilton LLC analyst Brian White said of Tencent. "One of the ways they do that is make investments."
Earlier this year, the company bought a 5% stake in Tesla Inc. (TSLA) - Get Free Report for $1.5 billion, and last year paid $10.2 billion for up to 84% of Clash of Clans game producer Supercell Oy. The company also owns 20.5% of Gluu Mobile Inc. (GLUU) - Get Free Report , which makes games featuring Kim Kardashian and Taylor Swift, and has a less than 5% stake in Activision Blizzard Inc. (ATVI) - Get Free Report , the gaming studio behind blockbuster franchises Call of Duty and World of Warcraft. 
2. A potential partner in China.
"I could see Snap having a pretty big opportunity in China," White said. 
The Snapchat app is currently blocked in China, so this would be a longer-term bet on the country's growing base of both smart phones and advanced 4G and 5G networks. To operate in China, Snapchat would need a local partner; either Tencent or Alibaba Group Holding Inc. (BABA) - Get Free Report , which also holds a stake in Snap, would be viable candidates. 
"You've got almost a billion 4G subscribers by the end of this year in China," White said, noting the growing concentration of iPhones and Android devices that could run Snap's app. 
"[Snap's] lenses and filters and emojis would be a pretty big hit in China," he added.
3. A potential cloud customer in China.
If Snap does try to break into China, it will need local cloud computing help in addition to its huge $2 billion, five-year deal with Alphabet Inc.'s (GOOGL) - Get Free Report Google Cloud Platform. "One thing Snap will do as they enter China is they will have to partner with a cloud provider," White said. "They can't partner with Google Cloud." Google famously no longer operates in China, owing to clashes with the government over censorship.
Tencent isn't the only Snap investor that can offer help in that arena, however. Alibaba also has a large and growing cloud service. 
4. Access to a huge user base, although one that's growing more slowly than Wall Street would like.
While Snap has attractive technology and has a legitimate gripe that Facebook Inc.'s (FB) - Get Free Report Instagram ripped off its Stories feature, the app's daily active users grew 17% annually to 178 million in the third quarter, but undershot Wall Street's consensus prediction of 182 million. 
Instagram Stories and WhatsApp's similar Status feature may not be original, but they are eating Snap's lunch. "Facebook recently disclosed that Stories in Instagram and Status in WhatsApp have [each] reached more than 300m DAUs," UBS analyst Eric Sheridan noted in a Wednesday report. 
5. A non-voting, highly speculative investment in innovative social media models.
Unfortunately, we don't know how much Tencent paid for its 145,778,246 class A Snap shares. Based on Snap's high and low trades in November, the stake cost anywhere from just under $2.1 billion to $2.26 billion. After Wednesday's slide the stock is worth $1.8 billion or so. If Tencent still holds the entire stake, it could already be out $460 million in just the space of a few days. 
"I just don't think a 12% stake gives them access to anything," said Wedbush Securities Inc. analyst Michael Pachter about the strategic advantage of buying a large block of non-voting shares. "Snap can't give a 12% shareholder a glimpse into their tech without giving it to all shareholders."
If Pachter is correct, Tencent's investment is just that -- a financial position in a publicly traded company. "It just means that Tencent is generating a ton of cash and likes exposure to U.S. tech," he said.
Activision Blizzard, Facebook and Alphabet are holdings in Jim Cramer'sAction Alerts PLUS Charitable Trust Portfolio. Want to be alerted before Cramer buys or sells ATVI,FBor GOOGL? Learn more now.
More of What's Trending on TheStreet: