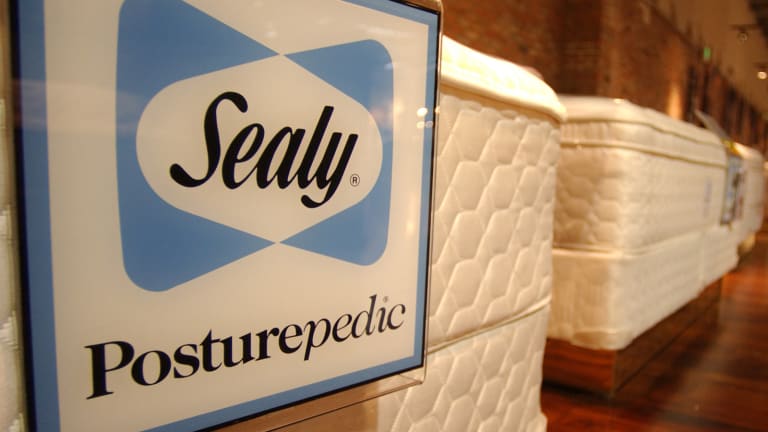 Tempur Sealy Stock Tanks After Ending Contracts With Biggest Customer
Not a good situation for either company.
Updated from 8:59 a.m. EST. 
Tempur Sealy Int'l (TPX) - Get Free Report on Monday said it terminated contracts with mattress seller Mattress Firm after not agreeing to changes, including "significant economic concessions."
Tempur Sealy shares plunged 27.92% to $45.55 in mid-morning trading. More than 10.12 million of the company's shares traded so far today vs. its average 30-day volume of 876,215 shares.
In 2016, Mattress Firm made up about 21% of Tempur Sealy's global sales. Mattress Firm is the company's largest customer.
Mattress Firm's senior management and representatives of its parent Steinhoff Int'l verbally notified the Lexington, KY-based company during the week of Jan. 23 of its intent to terminate all of their contracts if they did not agree to considerable changes, according to a statement.
The parties were unable to reach an agreement and Tempur Sealy issued formal termination notices for all of the company's brands to Mattress Firm on Jan. 27.
Tempur Sealy expects it will cease doing business with Mattress Firm during the 2017 first quarter.
"Over the course of the week, we conducted discussions with representatives of Mattress Firm and Steinhoff, and we considered their request for a significant change in economic terms. Ultimately, we concluded that it was in the long-term interest of all of our stakeholders to terminate our contracts with Mattress Firm," Tempur Sealy CEO Scott Thompson said.
Tempur Sealy now expects total 2016 sales to drop 1% to $3.13 billion over last year. Analysts surveyed by FactSet are modeling full-year sales of about $3.10 billion. The company is scheduled to post its 2016 fourth quarter and full year results on Feb. 16.
Tempur Sealy did not immediately respond to a request for comment. 
Shares of Tempur Sealy were downgraded by several firms following the announcement, including Instinet, Piper Jaffray, Raymond James and Stifel.
"We are extremely surprised by this development given the mutual importance of each company to the other," Instinet analysts said in a note.
While the analysts said there are long-term benefits to Tempur Sealy's decision to exit its largest customer, they believe there is significant lack of visibility going forward as the company manages around the loss of about 20% of its sales volume, roughly 3,500 points of distribution and adjusts its business model.
Instinet's most significant concern with today's announcement is the competitive effect of losing the visibility and support from the Mattress Firm relationship. "As the largest player in mattress retailing, we appreciate the importance this distribution channel and the competitive advantages offered by Mattress Firm's strategy, advertising investment and scale," the analysts added.
Piper Jaffray analysts Peter Keith and Jonathan Berg said the terminated contracts represent a "seismic event" that has negative near and medium-term implications for Tempur Sealy's fundamentals.
"What is concerning to us for TPX is that Steinhoff appears to have presented the 'take it or leave it' proposal. TPX chose to leave but we suspect it was not an outcome TPX was expecting one week ago," they said.
This is the second significant one-day selloff in less than five months, Piper noted and shares are becoming less attractive to long-term holders.
"While margins and cash flow remain impressive, the volatility around sales and now termination of its largest customer warrants increased transparency and communication with shareholders. We are again disappointed there is no conference call this morning," Keith and Berg said.