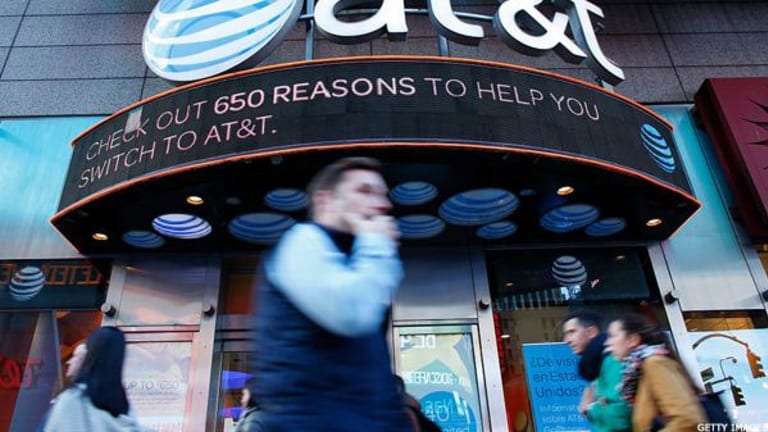 Telecom Sector Mergers: How to Separate the Wheat from the Chaff
AT&T wants Time Warner, and Verizon wants Yahoo! (sort of). But what should investors be looking for?
As the roller coaster that was 2016 approaches the end of the track, two portentous acquisitions are still looming over the telecommunication industry.
Although analysts are expecting different outcomes for these mega-deals, the results for investors could be very different and surprising.
First, the telecom behemoth AT&T's (T) - Get Report$85 billion offer for entertainment powerhouse Time Warner (TWX) has created a huge stir in the market. Since rumors of the deal started circulating, shares of Time Warner have risen and are up more than 20% in the past two months.
However, the stock's acquisition value might already be completely baked in.
On the other hand, Verizon Communications' (VZ) - Get Report$4.83 billion bid for troubled Yahoo! (YHOO) seems to have been completely discounted by the technology company's investors. Shares of the hack-ravaged Internet company are trading at levels close to where they were before Verizon Communications went public with its plans for a deal.
That means that were this deal to go through, investors could reap huge profits.
On Oct, 21, Bloombergreported that AT&T was considering a takeover of Time Warner, which owns uber-successful HBO, along with other cable networks and entertainment studios.
The blockbuster deal was unveiled a day later.
The purchase makes sense. AT&T needs Time Warner's content to become a media and telecom juggernaut in its own right.
The deal is expected to be accretive in year one to AT&T's adjusted earnings per share and free cash flow. And the telecom company expects $1 billion in annual run-rate cost synergies within three years of closing.
However, Time Warner's stock rise implies that the upside for the deal has probably already been captured and consumed by investors.
What remains are the possible challenges and risks of the integration. More often than not, deals of such magnitude and expanse offer delayed paybacks.
And while AT&T remains a solid dividend stock, the Time Warner acquisition, which would add additional debt to the company's giant $128 billion load, is definitely worrisome.
Obviously, these risks would have to tackled by AT&T once the deal was finalized. However, when it comes to these stocks, investors should tread carefully.
That isn't to say that there aren't big risks associated with Verizon Communications' bid for Yahoo!. In fact, the deal might not even happen, at least, not at the current price.
And following revelations about two major hacking attacks on Yahoo! that left millions of user accounts vulnerable, Wall Street expects Verizon Communications to "rewire" this deal.
Shares of Yahoo! have retreated back to where they were trading before the deal was announced, suggesting that investors are pricing in the worst.
Yahoo! has been in more hot water, thanks to its 15% stake in Chinese ecommerce company Alibaba, which has lost nearly 20% in the past three months.
That stake in Alibaba is worth $32.2 billion and when combined with the $4.83 billion Verizon Communications was supposed to pay for Yahoo!'s core business as well as its advertising tech tools, the composite figure is $37 billion.
That isn't too far below Yahoo!'s $36.9 billion valuation.
If Verizon Communications does indeed demand a price cut, shares of Yahoo! could tumble. However, if Verizon Communications goes through with the deal without any price adjustments, it could bring in massive profits for investors who aren't scared of a little risk.
---
85% Accurate Trader gives his Personal Guarantee: "Give Me 9 Minutes a Week and I Guarantee You $67,548 a Year."
What if I told you I know a way you can see a $67,548 per year - or more - in profitable trades just by following this simple step-by-step process? The trader who is sharing this secret has been right more than 8 out of 10 times, turning $5,000 into more than $5 million for himself. Click here to see how easy it is to follow his lead and collect thousands of dollars in "Free Money" every month.
The author is an independent contributor who at the time of publication owned none of the stocks mentioned.