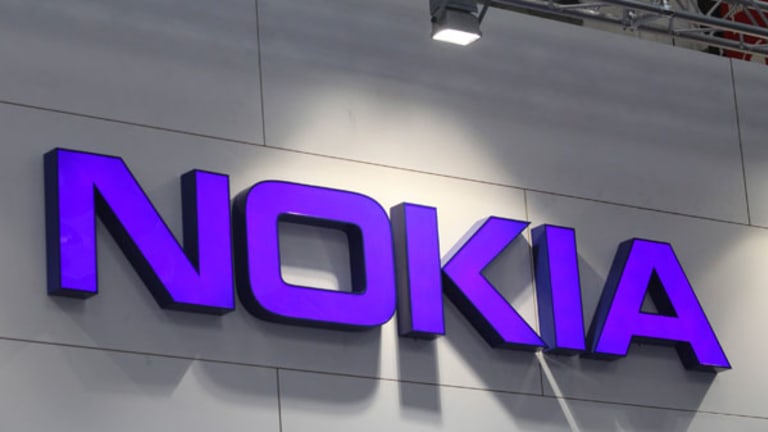 Telecom's Capex Tailspin Is Leaving Few Firms Unscathed
A string of downbeat earnings reports suggests weak telecom capital spending will take a toll on many companies. That includes some optical component high-flyers.
This article originally appeared on Real Money on Oct. 28, 2016.
That large swathes of the telecom equipment industry are having a rough time isn't exactly a new revelation. But the last couple of weeks have still done a lot to show that the downturn could be lengthier than many expected, as carriers seeing little or no revenue growth try hard to keep spending down.
They also suggest the optical component space, viewed as a safe haven due to strong demand from Chinese carriers and Internet giants, will feel some effects from the downturn as well.
Mobile infrastructure leader Ericsson (ERIC) - Get Telefonaktiebolaget LM Ericsson Sponsored ADR Class B Report, which had already issued a weak second-quarter report, got the ball rolling this month by warning its sales would fall 14% annually in the third quarter, thanks to a 19% drop in equipment revenue.
Since then, the company has released its earnings (as bad as advertised), made fresh remarks about mobile carriers cutting their investments -- North America, Europe and various emerging markets have all been impacted -- and named a new CEO.
Ericsson's results were followed by downbeat numbers from top rival Nokia (NOK) - Get Nokia Oyj Sponsored ADR Report, which earlier this year finished merging with Alcatel-Lucent. Nokia's core Networks unit saw revenue drop 12%, with large declines recorded for both the company's Ultra Broadband (mobile infrastructure and fixed broadband equipment) and IP Networks and Applications (routers, optical equipment and telecom software) businesses.
The company also forecast Networks revenue would drop at a similar rate in the fourth quarter, and that its "primary addressable market" would decline by a low-single digit percentage in 2017.
In addition, China's ZTE, which along with local peer Huawei has been taking share from Ericsson and Nokia, missed third-quarter sales estimates. The company also cautioned Chinese 4G infrastructure demand, which has been a strong point for the industry, would slow.
And optical networking equipment maker Infinera (INFN) - Get Infinera Corporation Report, which in July plunged on account of soft Q3 guidance, tumbled again this week in response to a weak fourth-quarter outlook. The company reported seeing tightened budgets at major clients, along with the delaying of purchases into 2017. The long-haul optical market was singled out as a weak spot.
A slew of optical component and telecom chip suppliers sold off on Thursday following the arrival of Nokia, ZTE and Infinera's numbers. The casualty list included Acacia Communications (ACIA) - Get Acacia Communications, Inc. Report, Finisar (FNSR) - Get Finisar Corporation Report, Fabrinet (FN) - Get Fabrinet Report, Cavium (CAVM) , Inphi (IPHI) - Get Inphi Corporation Report, Lumentum (LITE) - Get Lumentum Holdings, Inc. Report, Oclaro (OCLR) - Get Oclaro, Inc. Report and NeoPhotonics (NPTN) - Get NeoPhotonics Corporation Report. Infinera rival Ciena (CIEN) - Get Ciena Corporation Report and VoIP equipment supplier Sonus Networks (SONS) also went south.
The commentary provided by the reporting companies about secular demand trends is just as troubling as their sales figures and guidance. Spending on 4G equipment is declining in a hurry due to buildouts largely being complete in developed markets, and 5G buildouts aren't expected to start in earnest for at least three years. In addition, mobile traffic growth isn't sparking the kind of incremental spending that was once expected; growing smartphone Wi-Fi usage likely has something to do with that.
Investors in optical component names should keep this in mind. These companies have beThe wireline spending environment isn't much better, as Nokia and Infinera's numbers and comments show. While online video growth is driving upgrades, particularly for metro networks, the revenue pressures caused by declining voice revenue streams and (in developed markets) high broadband penetration rates are driving carriers to pare their budgets.
Investors in optical component names should keep this in mind. These companies have been some of the tech sector's best 2016 performers, fueled by a belief that strong demand related to Chinese network, 100-gig metro network and cloud data center buildouts would buffer them from telecom capex pressures.
While there is some merit to that argument -- the likes of Google, Facebook (FB) - Get Facebook, Inc. Class A Report and Amazon (AMZN) - Get Amazon.com, Inc. Report are still spending heavily on their data centers, 100-gig deployments are a growth driver and Chinese spending is comparatively healthy. But with many of these names having posted outsized gains this year, markets are already pricing in strong near-term growth.
And this month's earnings news provides reasons to think soft telecom capex will dampen this growth more than markets previously expected.