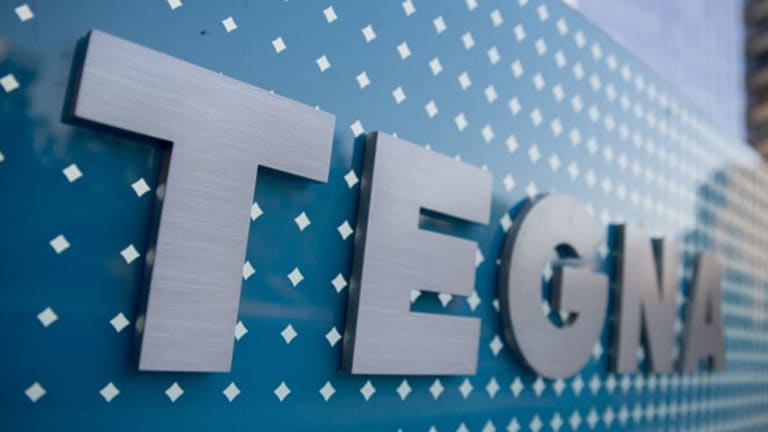 Tegna Shaping Up to Be Attractive Acquisition Target Following Court Ruling
As rules on station ownership have loosened, Tegna is the biggest potential target around.
The U.S. Court of Appeals for the D.C. Circuit's recent decision to deny an emergency stay of Federal Communications Commissions rules that would loosen broadcast TV M&A restrictions has clear benefits for Sinclair Broadcasting Group Inc. (SBGI) and Tribune Media Co. (TRCO) , and also puts broadcaster Tegna (TGNA) in a good position.
Sinclair and Tribune are combining in a $3.9 billion merger, and the court's decision strikes down a restriction on station ownership that would have put the deal at risk.
Editor's note: This article was originally published by The Deal, a sister publication of TheStreet that offers sophisticated insight and analysis on all types of deals, from inception to integration. Click here for a free trial.
After the deal, Tegna will be the "only real remaining target of size," said Benchmark analyst Daniel Kurnos. Even with Tuesday morning's 1.3% drop to $15.06, shares of the former Gannett broadcasting unit are up 3.5% since the ruling on Thursday.
E.W. Scripps Co. (SSP)  and Gray Television Inc. (GTN) have family ownership that protect them from a suitor, Kurnos said. 
Meanwhile, Meredith Corp. (MDP) owns magazines such as Better Homes & Gardens and Parents, and is not a likely target while it owns the publishing assets. And Nexstar Media Group inc.  (NXST)  is clearly a buyer rather than a seller, Kurnos suggested.
Tegna declined to comment on a potential deal. "However, it is important to reiterate that Tegna is now a pure play broadcaster pursuing an aggressive growth strategy based on its leading market position and strong balance sheet," a Tegna spokesman said in an emailed statement. "We expect to be a strategic and disciplined consolidator at this pivotal time of positive regulatory change."
Regulations prohibit a single broadcaster from owning stations that cover more than 39% of the U.S. However, the FCC recently decided that UHF stations would count less against the ownership cap than VHF stations, because they have weaker signals and cover less area, among other reasons. The change allows greater leeway for broadcasters such as Sinclair and Tribune to merge. On June 15 the D.C. appeals court denied a request for a stay that would have blocked the UHF discount.
Loosening the rules could give Gray or Nexstar greater leeway to bid for Tegna, Kurnos said. 
"Tegna has been adamant [that] 'we're not selling; we look to be a buyer,'" Benchmark's Kurnos said. However, investors could push for a sale, especially if a rival such as Gray or Nexstar came forward. Gray and Nexstar declined to comment. In a June 12 statement on share buybacks, Nexstar suggested it is looking for smaller "tuck-in" deals. 
Tegna's size presents a complication. The former broadcast unit of Gannett Co. Inc. (GCI)  has a $3.2 billion market cap. Gray has a $1 billion valuation, while Nexstar is worth about $3 billion. 
A merger with Gray could be akin to Meredith's failed 2015 merger with Media General Inc. Though Meredith's management would take the lead of the post-merger company, Media General shareholders would receive the majority of the shares. Nexstar trumped Meredith's bid.
A deal between Tegna and Nexstar could be a straight-up merger.
Tegna said Monday that it sold most of its stake in CareerBuilder.com to Apollo Global Management LLC (APO) for about $250 million, which makes it a more focused broadcast company.
"They just got a disappointing number for CareerBuilder, versus expectations, although it does clean up the story a little bit," Kurnos said of Tegna's position. "We're waiting to see the next quarter or two before somebody either decides to make a move -- or nothing happens at all."
The analyst does not see Tegna bulking up with an acquisition of Gray or Nexstar. Aside from former parent Gannett Co. Inc.'s 2014 acquisition of Dallas broadcaster Belo Corp. for $2.2 billion, the company has not been an aggressive acquirer.