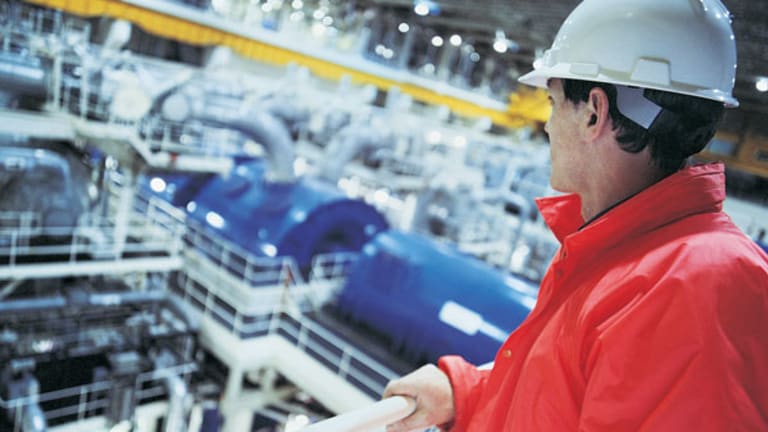 Publish date:
Technicals Support Rally for GE and Market
A technical read on the run-up in GE since March is bullish about both the stock and the broader market.
A technical read on the run-up in GE since March is bullish about both the stock and the broader market.
FAIRFIELD, Conn. (
)--
General Electric
(GE) - Get Report
is starting to look attractive on a technical basis, a development that could send the company's shares even higher and provide a boost to the broader market, according to analysis by securities dealer Auerbach Grayson.
Going into Tuesday's session, GE shares had rallied nearly 170% from their lowest close of the past year at $6.66 on March 6. A gain of more than 4% on Monday to finish at $15.35 put the stock above its 200-day moving average (in this instance, $14.56) for the first time since April 2008, according to Richard Ross, Global Technical Strategist at New York-based Auerbach Grayson. The shares were up another 3.7% in afternoon trading to $15.91.
"Many institutional money managers won't buy a stock unless it's above its 200-day moving average," he says.
Ross is also encouraged by what he calls a "double bottom," in GE's shares, where they sold off on two occasions in the last month before finally breaking the $15 mark on Sept. 9. He sees a similar pattern in shares of
Caterpillar
(CAT) - Get Report
.
"Once you break through that resistance level it kind of unlocks the door to higher prices," Ross says.
Caterpillar shares were up more than 5% Tuesday, in what Ross believes is a signal of strength in industrials overall.
Alcoa
(AA) - Get Report
was also up nearly 7%.
"The next leg of the rally is taking on sort of a different characteristic where you're starting to see these old-line industrial companies kind of reassert themselves," Ross says. "These aren't these speculative little, 'let's buy
Citigroup
(C) - Get Report
at $3, let's throw money at
AIG
(AIG) - Get Report
,' this is 'let's buy quality, let's buy companies that are going to benefit as the world repairs itself.' "
The GE rally will also support the broader market because GE makes up such a large part of the S&P 500, Ross says. The rally is less significant for the Dow, because it is a price-weighted index and GE's still low price means it doesn't impact the index as significantly.
OptionMonster, a partner of
TheStreet
, also sees bullish technical signals in the options market.
Further upside could come when GE meets with analysts on Thursday. According to its Web site, the company plans to showcase its technology development activities at the meeting, which is being held at its GE Global Research Center in Niskayuna, N.Y.
"We do not expect any formal updates to GE's 2009 or 2010 earnings "framework," but believe the meeting can nonetheless be a catalyst to refocus investor attention on the company's strong long-term organic growth prospects and core franchise in its industrial businesses," Goldman Sachs states in a report.
GE plans to release its third-quarter earnings report in mid-October. The current average estimate of analysts polled by Thomson Reuters is for a profit of 20 cents a share in the third quarter ending Sept. 30 on revenue of $40.6 billion.
--
Written by Dan Freed in New York