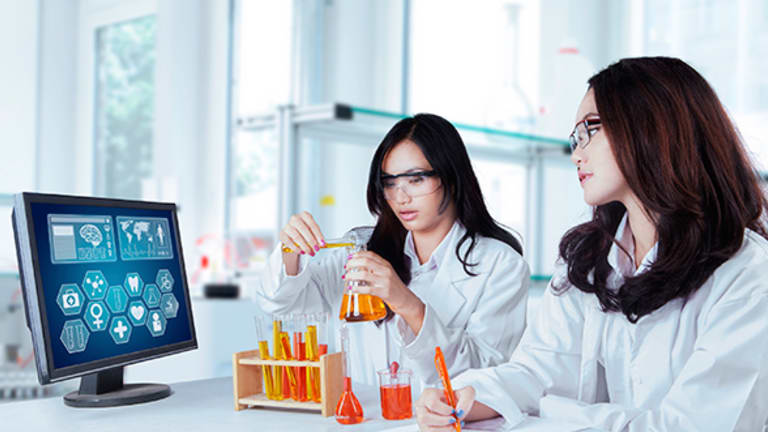 Technical Analysis Shows Trio of Healthcare Stocks May Not Be Buys Yet
The charts for Cerner, Eli Lilly and McKesson do not flash buy signals.
William Romov recently penned a story for TheStreet on three beaten-up healthcare stocks. While he made a compelling case for shares of Cerner (CERN) - Get Report , Eli Lilly (LLY) - Get Report and McKesson (MCK) - Get Report , he probably neglected to look at the charts and indicators. Hey, that's my job! Let's check 'em out.


In the 12-month daily chart of CERN above, we can see a steep downtrend from an early August zenith. Prices broke below the 50-day average in early September, and the slope of that average turned bearish in October. The 200-day average line was broken in early November with a large downside price gap and heavy volume. The on-balance volume, or OBV, line has been declining since early August and tells us that sellers have been more aggressive for months. There is a bullish divergence between the lower lows in price in November and December and the higher lows from the momentum study, but this is not sufficient to get me to recommend a stock still in a downtrend. I would rather pay a higher price and know that a bottom was in place instead of getting stuck with a "bargain."


The one-year chart of LLY above is interesting when we take a closer look. LLY traded sideways for much of the past 12 months, but things heated up in November. LLY gaped higher in early November, and after a week or so it gaped dramatically lower. Volume was not heavy on the upside gap, but it really surged when prices sank. There is a belated death cross of the 50-day and 200-day averages at the beginning of December. Now turn your attention to the OBV line. The OBV line began to weaken in early October ahead of the big price weakness. As prices made lower lows in November and then December, the 12-day momentum also made lower lows. If momentum had slowed from November to December, it would have helped the technical outlook. LLY will need a long rehab period to get the chart to look better.


In the daily chart of MCK above, we can see part of the decline from the mid-2015 peak. In this chart, MCK peaks in the summer months and began to cascade lower in October. A very large gap to the downside with some eye-popping volume can be seen in late October. There is a "reflex" rally for MCK in November that fills most of the gap. Recently, prices have traded sideways with a test of the underside of the declining 50-day simple moving average line. Volume has not expanded on the rebound, and the OBV line is fairly neutral. A break below $140 seems to be more likely than gains above $150, in my opinion.

While it might be tempting to buy a stock at a "bargain price," it may be more rewarding as investors to confine your shopping list to names that have already bottomed.
Employees of TheStreet are restricted from owning individual securities.