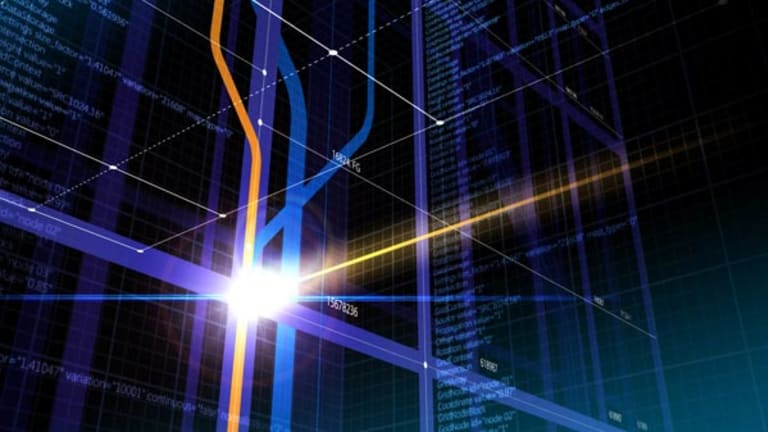 Tech Winners & Losers: Intel
The stock was gaining in trading today after an analyst issued a buy rating.
Tech stocks began their healing process on Tuesday, recovering some of their steep losses from the previous day's sell-off, which was prompted by Congress's failure to approve a $700 billion federal bailout package.
The Nasdaq clawed its way up by 69 points - or 3.5% -- to 2052 in afternoon trading.
Intel
(INTC) - Get Intel Corporation (INTC) Report
shares got a bump after Piper Jaffray upgraded the stock to buy from neutral as a result of its valuation and strong competitive positioning, as well as its solid balance sheet and cash flow. The firm believes the chipmaker's gross margin improvement could lead to better-than-expected earnings in the near term.
Intel was up 5.6% to $18.24.
Research In Motion
(RIMM)
was also climbing after JMP Securities raised its rating on the stock to market outperform from market perform.
The firm maintains that the recent sell-off in the Blackberry maker's shares offer a buying opportunity for investors. RIMM was up 10% to $67.92.
Apple
(AAPL) - Get Apple Inc. (AAPL) Report
rebounded Tuesday after Goldman Sachs asserted that its shares had been oversold.
On Monday, Apple slipped 18% as analysts offered cautious views on the company. Goldman, however, reiterated its buy rating and price target of $200, noting that Monday's decline more than captured concerns over Mac unit growth in a weakening consumer spending environment. The firm added that iPhone unit shipments will help Apple to outperform its peers in the fourth quarter.
Apple shares were up 5.9% to $111.03 in afternoon trading.
Goldman also maintained that
Amazon
(AMZN) - Get Amazon.com, Inc. Report
shares had been oversold, and reiterated its buy rating and price target of $98. Amazon got hammered on Monday, slipping 10% as part of the market meltdown.
Goldman noted that Amazon had finished its second quarter with $1.1 billion in cash, allowing it to continue to make investments while its rivals try not to buckle under economic pressures.
Amazon shares were up 9.1% to $69.12.
eBay
shares were also on the rise, despite Goldman cutting the online auction giant's price target to $26 from $30 in part because of weakening foreign currency conversions.
That was not enough to stymie eBay's recovery from Monday, when its shares tumbled 11.6%. On Tuesday, they were up 6.3% to $21.21 .
Where will the Dow Jones Industrial Average stand at the end of 2008?Above 10,0009000-10,0008000-90007000-8000Below 7000