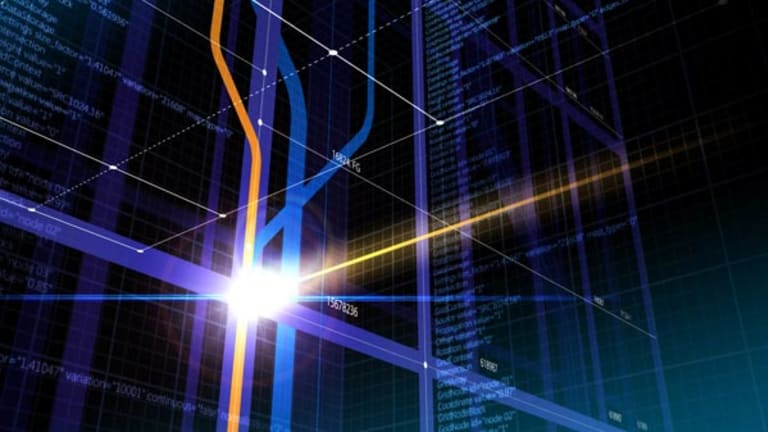 Tech Winners & Losers: Dell
Shares fall after the the company sees further softening in global demand.
Tech stocks were flat in volatile trading Monday, as investors in the broader market
continued to digest the unraveling of
Lehman Brothers
undefined
and
AIG
(AIG)
.
The Nasdaq was up 2.7 points to 2182.
Shares of
Dell
(DELL)
slumped Tuesday after the company said it was seeing further softening in global end-user demand in the current quarter, less than a month after saying it was experiencing continued conservatism in IT spending in the U.S., which had extended into Western Europe and several countries in Asia.
Dell expects to incur costs as it realigns its business to improve competitiveness, reduce headcount and invest in infrastructure and acquisitions. The stock was recently off $1.74, or 9.7%, to $16.25.
Dell's news also hit shares of
Microsoft
(MSFT)
, which fell 77 cents, or 2.9%, to $26.05. The stock is off about 10% in the past four weeks.
Shares of
Hewlett-Packard
(HPQ)
gained more than 6% a day after the company said it would cut more than 24,000 jobs as it looks to integrate its purchase of IT services firm EDS. Friedman Billings raised its profit estimates on the company for fiscal 2009 and 2010, saying the company's strategy is "mostly about accelerating EDS's labor offshoring plan." H-P was up $2.91 to $48.24.
Evergreen Solar
undefined
shares plunged after the company disclosed potential exposure related to a convertible offering underwritten by now-bankrupt Lehman. Evergeen would have a one-time writeoff of $39.5 million if related agreements aren't honored by Lehman. In addition, the company loaned 30.9 million shares to Lehman, and a failure to recall the shares would boost dilution by more than 20%. The stock was down 50 cents, or 11%, to $4.06.
eBay
(EBAY)
shares bounced after setting another 52-week low earlier in the session, as the downturn in the stock market and a continued sluggishness in housing has kept a lid on consumer spending. Last week, Stanford initiated coverage of the stock with a hold and a $26 price target, saying the company's growth rate has slowed meaningfully and the global economic slowdown may further hinder growth. eBay had gained $1.05, or 4.8%, to $23.05.
Micron
(MU)
fell more than 7% after JMP Securites downgraded the stock to market perform and lowered its earnings estimates on the company for fiscal 2008 and 2009. The firm sees softening PC and consumer electronics demand going into the second half of this year and continuing excess memory capacity.
Even though memory sector capital spending is down 40% over 2007, JMP hasn't seen any relief in DRAM and flash memory pricing yet based on their recent channel checks, likely due to slowing PC, server, and consumer electronics unit demand and the trend to lower-end price points. Micron was off 32 cents to $4.02.
This article was written by a staff member of TheStreet.com.