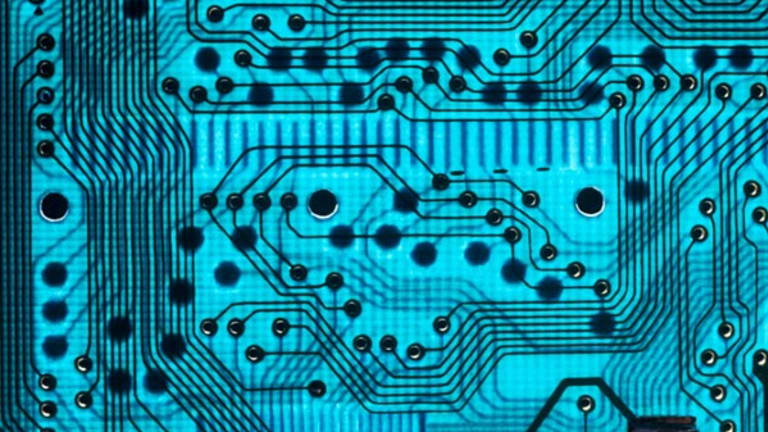 Tech Winners & Losers: Apple
A tech stalwart enjoys an up day -- all day.
The tech sector's downward slide finally let up Friday, with the
Nasdaq
rallying from another nasty tumble that lasted most of the day.
The
Nasdaq
gained 4 points, or 0.3%, to 1650.
Apple
(AAPL) - Get Report
was one of the few companies to remain in the green all day, with its stock climbing 9.8% to $97.43. Oppenheimer cut its price target on the company to $145 from $213, but added that the stock has value at its current levels.
Intel
(INTC) - Get Report
shares dipped as low as 9% after ThinkPanmure downgraded the stock to sell from buy, predicting that prior growth drivers were fading and that macro as well as company-specific headwinds would slow down growth. The firm lowered its price target to $12 from $24. The stock narrowed its losses by late afternoon, finishing down 2.6% to $15.20.
Research In Motion
(RIMM)
shares were also down, falling 6.2% to $55.39 on news that Orange U.K. has discontinued the sale of its Blackberry Bold due to concerns over software problems.
MobileTechAddicts.com posted an alleged internal memo from Orange on its site that states: "Following reports of software issues with the BlackBerry Bold handset across a variety of mobile operators, Orange has decided to act in the interest of its customers by suspending shipments of the device in the U.K."
Amazon
(AMZN) - Get Report
shares were up 0.7% to $56.41, recovering from a 9% drop earlier in the day, spurred by a series of analysts' reports offering caution on the company.
Goldman Sachs trimmed its price target to $93 from $98 due to weakness in the euro and the British pound, along with expected weakness in consumer spending. Piper Jaffray also cut its price target to $76 from $99, predicting that the economic environment will become more challenging beyond September.
Google
(GOOG) - Get Report
shares also recovered from a tumble resulting analyst concerns. Shares sank as much as 5.7% after RBC Capital slashed its price target on the Internet kingpin to $500 from $600 based on a deteriorating economic environment. Sanford Bernstein cut its price target to $560 from $660.
Google ended the day up slightly - 0.7% -- to $331.25.