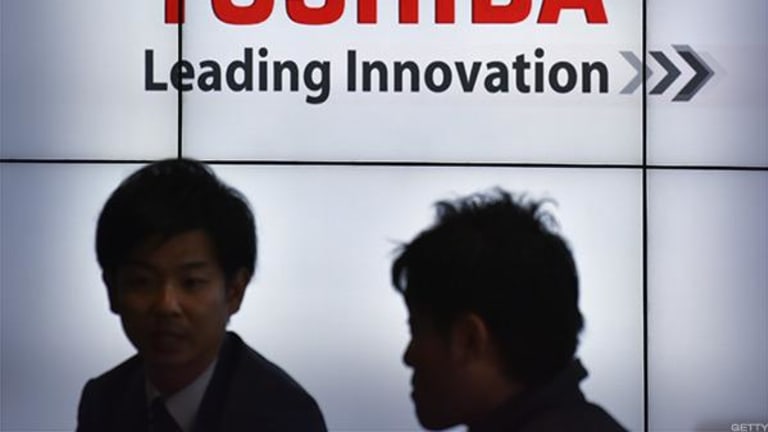 Tech War Heats Up, Toshiba Blocks Western Digital's Access to Joint Venture Data
Toshiba wants to sell its joint venture chip business without interference from Western Digital.
Toshiba Corp. (TOSYY) has resumed blocking Western Digital Corp.'s (WDC) - Get Free Report access to the data servers the two companies share from their micro chip joint venture, Reuters reported.
Toshiba has been seeking to sell the valuable unit, potentially for billions of dollars, to cover its own cost overruns, but Western Digital has been adamant that it needs to be part of the sales process. 
Toshiba allowed Western Digital access to the servers after the Superior Court of California granted a temporary restraining order. However, the California Court of Appeals issued a temporary stay, allowing Toshiba to resume blocking Western Digital's access. 
Western Digital plans to submit an opposition brief to that decision sometime in the coming days.
"The Court of Appeal issued this temporary stay based only on the brief submitted by Toshiba, and without consideration of SanDisk's opposition filing. SanDisk will file its opposition brief with the Court of Appeal in the coming days. Toshiba's petition for a stay of the TRO is separate from Toshiba's appeal of the merits of the TRO, and should not be interpreted to signal any potential outcome of the appeal," Western Digital said in an emailed statement. 
Editor's note: story has been updated since 7:52 AM EST. 
Watch More with TheStreet: Carly Fiorina's Advice to Young Women: Don't Let Other People Define You From Catalogs to Catastrophe: A Sears Timeline Chipotle May Not Recover Until 2019 After Latest Health Scare T-Mobile's John Legere Is Inarguably One of the More Colorful CEOs on Twitter Shark Tank Star Kevin O'Leary Just Revealed This One Way Entrepreneurs Are Getting Savvier