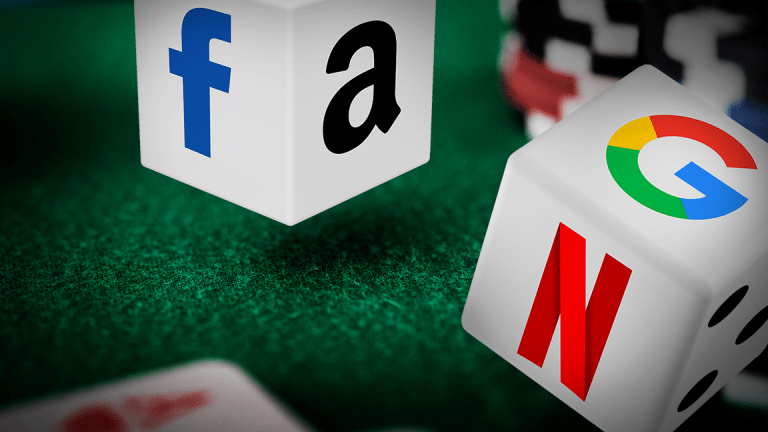 An Overlooked Reason the Big Tech Rally Might Still Have Legs
For guidance on where this market could go, look no further than the run-up and eventual collapse of tech stocks during the dotcom bubble.
After notching a 28% gain in 2017, the Nasdaq is already up another 5% this year as tech giants get set to deliver their fourth-quarter earnings reports.
Will the rally survive earnings season? Though multiples are getting stretched in some cases and a bout of "sell on the news" profit-taking certainly isn't out of the question, both news flow and investor psychology could help keep the broader tech run-up that started in mid-2016 going for a while longer.
We're less than three months removed from what was by any standard a stellar third-quarter tech earnings season -- one that not only saw high-flyers such as Amazon (AMZN) - Get Report, Netflix (NFLX) - Get Reportand Facebook (FB) - Get Reportknock the cover off the ball, but also saw early-2017 laggards such as IBM and Seagate pop in response to market-pleasing reports. October and November also yielded strong reports from Chinese tech giants Alibaba (BABA) - Get Report, Tencent (TCEHY) and Baidu (BIDU) - Get Report as well as from plenty of chipmakers and enterprise software firms.
Many have argued that a fear of missing out (FOMO) among investors who weren't sufficiently long on tech in 2016 and 2017 could drive a parabolic tech run-up in 2018, before the party finally ends. But less attention has been given to how a different kind of FOMO -- a fear among enterprises and perhaps also some small and mid-sized businesses that they "need" to make big investments in new technologies, lest they get left behind -- could add fuel to the fire.
This is an under-covered angle to the 1999-2000 tech bubble. While many remember the tales of uncles and aunts opening up E-Trade (ETFC) - Get Report accounts and cubicle workers quitting their jobs to become day traders, fewer remember how enterprises convinced that they needed to pursue major "e-business" investments bought far more servers, storage and software than they needed, and thus inflated the profits of enterprise tech firms. Or also, (though this is a little better-covered) how telecom carriers with easy access to cheap capital were sold on projections of exponential Internet traffic growth and subsequently badly over-invested in their networks.
Far more than the March/April 2000 crash, it was the end of this enterprise and telecom spending craze in late 2000 and early 2001 that truly spelled the collapse of the tech bubble. While it's true that many of the more dubious dot-com names peaked in March, quite a few enterprise/telecom equipment and chip suppliers didn't hit their apexes until late August or early September. It was only when it became clear that the spending surge that had propped up many of these companies wasn't sustainable that the music stopped.
The October/November earnings reports suggest we might be in the early stages of another FOMO-driven enterprise tech spending surge, one that could provide fresh motivation for retail and institutional investors who don't think they've participated enough in the tech rally to jump in. Enterprise giants that had been struggling lately (think IBM or Cisco (CSCO) - Get Report) joined those that had been faring better (think Microsoft  (MSFT) - Get Report or Salesforce.com (CRM) - Get Report) in posting market-pleasing numbers, and with the help of an Intel (INTC) - Get Report server CPU refresh, enterprise server and storage sales staged a major rebound.
Throw in a healthy macro environment, major capital spending growth among cloud giants such as Facebook, Google and Amazon, and the enthusiasm that enterprises are showing for investing in fields such as security, AI/machine learning and analytics, and you've got a recipe for enterprise tech earnings to get a lot better before they get worse, with some exceptions.
Meanwhile, when it comes to consumer-driven tech revenue streams, conditions for the most part still look healthy. Smartphone sales might be seeing a bit of pressure, given recent mixed signals about Apple (AAPL) - Get Report iPhone X demand and Samsung's (SSNLF) subdued Q4 outlook. But markets such as online ads, digital content and smart home/IoT hardware have continued to see strong growth, while chipmakers are still benefiting from favorable pricing and growing chip content in products such as phones and cars.
Another potential catalyst for further gains are decisions that companies make on account of the recently-signed tax reform bill. By cutting the U.S. corporate tax rate to 21%, letting companies repatriate current offshore cash holdings at a one-time rate of 15.5% and enacting a territorial tax system that features a 10.5% minimum tax rate on future foreign profits (foreign tax payments can be deducted against it), the bill sets the stage for tech giants with major offshore cash balances (Apple, Microsoft, Cisco, etc.) to announce massive new capital-return programs.
And as others have pointed out, all of that extra offshore cash could also drive a surge in tech M&A activity. As deals get announced, fresh M&A premiums could be baked into companies whose industries are seeing a lot of buyout activity; chips and enterprise software are two strong possibilities here.
Finally, although tech sales, earnings and cash-flow multiples have definitely gotten elevated in some cases, we're still a ways away from the levels seen in 1999 and 2000. Whereas many large-cap tech firms sported forward earnings multiples in the 40s and 50s back then, today most similar names only carry forward multiples in the teens and 20s. We might be seeing pockets of irrational exuberance, but (some cryptocurrencies notwithstanding) haven't yet witnessed a full-blown speculative mania.
Of course, history rhymes far more often than it repeats. It's quite possible that the current tech run-up peaks before ever reaching the nosebleed levels of the 1999-2000 bubble, particularly since memories of that bubble are still fresh in some investors' minds. But between them, investor psychology, corporate psychology, positive secular trends and a big influx of offshore cash could very well drive fresh multiple expansion in the short-term.
Jim Cramer and the AAP team hold positions in Apple, Facebook, Alphabet and Microsoft for their Action Alerts PLUS Charitable Trust Portfolio. Want to be alerted before Cramer buys or sells AAPL, FB, GOOGL or MSFT? Learn more now.
More of What's Trending on TheStreet: