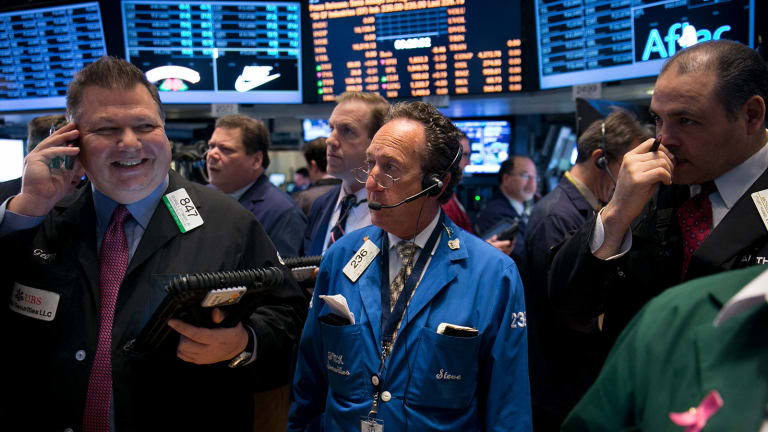 Tech, Energy and Financial Stocks Are Set to Reap Highest Returns for Investors in 2017
Investors seeking less volatility can reap better returns in 2017 by allocating funds in sectors such as technology, biotech, energy and financials, which should generate above average performance.
Investors seeking less volatility can reap better returns in 2017 by allocating funds in sectors such as technology, biotech, energy and financials, which should generate above average performance.
Tepid growth in earnings and the economy had led investors to chase higher yields, as uncertainty about the incoming Trump administration remains.
Energy Stocks
As oil prices face additional upside and could reach a high of $60 per barrel, the energy infrastructure sector appears strong, said Rob Thummel, a portfolio manager with Tortoise Capital in Leawood, Kan.
The current yield of MLPs is approximately 7% and appears attractive when compared to other yield-oriented securities such as REITs and utilities, he said. The largest MLP holdings based on their category in Tortoise's MLP & Pipeline Fund includes Enterprise Products Partners (EPD) - Get Enterprise Products Partners L.P. Report in the natural gas and natural gas liquids pipelines category, Magellan Midstream Partners (MMP) - Get Magellan Midstream Partners, L.P. Report in the crude oil and refined product pipelines category and MPLX LP (MPLX) - Get MPLX LP Report , the largest holding in natural gas gathering and processing.
Enterprise Products Partners generated a 6% yield as of January 11 and the company has a track record of steady distribution growth.
"We have increased distribution by 6.4% annually since 2004," Thummel said. "The company's diversified business model will benefit the growing U.S. supply of natural gas and natural gas liquids."
Magellan Midstream Partners generated operates a fee-based business model with strategic crude oil assets serving the growing Permian Basin.
MPLX generated its parent company, Marathon Petroleum (MPC) - Get Marathon Petroleum Corporation Report , announced a plan recently whereby MPC expects to sell midstream assets to MPLX, setting up the company's future distribution growth for many years, Thummel said.
The new administration's plans are likely to loosen up regulations in the energy industry and should benefit the sector, said Michael Berger, a former Raymond James energy analyst and founder of Technical420, a Miami-based company that conducts research on cannabis stocks. Production in the shale regions should also ramp up this year.
"We are bullish on the energy sector, specifically Permian-based energy producers like Concho Resources (CXO) - Get Concho Resources Inc. Report and Pioneer Natural Resources (PXD) - Get Pioneer Natural Resources Company Report ," he said.
The decline in capital expenditures for drilling new oil wells to replace depleted reserves also should help bolster U.S. oil and gas usage, said Yale Bock, a portfolio manager on Covestor, the online investing company and president of Y H & C Investments in Las Vegas. BP, the British integrated oil giant, will benefit from higher profit margins and Pac Pacific Holdings (PARR) - Get Par Pacific Holdings Inc Report , a Houston-based company which owns a refinery in Hawaii, could see gains because of an increase in cash flow and decline in capital expenditures.
Financial Sector
One of the top sectors for performance will be financials, which will benefit from rising interest rates, said Daniel Johnedis, a portfolio manager on Covestor, the online investing company, and chief investment officer of Cratus Capital in Savannah, Ga. While there remains a large amount of uncertainty surrounding the proposed policies from the Trump administration, the Federal Reserve could increase rates three times and inflation in the economy is likely to occur.
Berkshire Hathaway (BRK.A) - Get Berkshire Hathaway Inc. Class A Report is a "solid company which providers investors with exposure to a diversified portfolio of some of the top financial companies including insurers, like GEICO," he said.
Biotech Sector
Cannabis stocks listed on the Nasdaq made large gains after statewide elections last November increased the number of people in the U.S. who can use marijuana medically and recreationally.
Cara Therapeutics (CARA) - Get Cara Therapeutics Inc Report , a Shelton, Conn.-based clinical state biopharmaceutical company that develops and commercializes pain relief drugs, and Zynerba Pharmaceuticals (ZYNE) - Get Zynerba Pharmaceuticals Inc Report , a Devon, Pa.-based company focused on developing and commercializing synthetic cannabinoid therapeutics, have rallied and should continue to see additional upside, said Jason Spatafora, co-founder of Marijuanastocks.com and a Miami-based trader and investor known as @WolfofWeedST on Twitter.
The Canadian cannabis industry provides the most attractive opportunities for investors, said Berger.
"We are also bullish on privately-held Green Organic Dutchman and Canopy Growth (CVE: CGC), the largest Canadian medical cannabis producer," he said. "We have not seen growth opportunities like this since the tech boom."
Buybacks
President-elect Trump's proposed corporate tax rate cut could leave companies with a windfall in cash and while the majority of it will be utilized for mergers and acquisitions, higher dividends and to pay down debt, a significant portion of the cash may go toward share repurchases which can elevate stock prices, said Jon Ulin, a managing principal of Ulin & Co. Wealth Management in Boca Raton, Fla.
"PowerShare Buyback Achievers Fund (PKW) - Get Invesco Buyback Achievers ETF Report is a good example of an ETF that tracks the Nasdaq US Buyback Achievers Index which is comprised of U.S. securities issued by corporations that have effected a net reduction in shares outstanding of 5% or more in the trailing 12 months," he said.
Sin Stocks
The so-called sin stocks, which include gaming, tobacco, alcohol, weapons and adult services have produced superior returns, said K.C. Ma, director of the Roland George investments program at Stetson University in Deland, Fla. Between January 1970 and June 2007, the average sin stock produced an annual return over 19%, while the average stock market produced an average annual return of 7.9%.
Sin stocks are often considered recession proof. Since 1970, the cigarette maker, Altria (MO) - Get Altria Group Inc Report has returned 8,856% to their shareholders compared to the S&P 500's 2,419%. Similarly, for the last ten years, liquor producer Constellation Brands (STZ) - Get Constellation Brands, Inc. Class A Report has returned 537% to shareholders, compared to the S&P 500's 62%.
Technology Stocks
Technology suppliers such as Itron (ITRI) - Get Itron, Inc. Report and Silver Spring Networks (SSNI) assist companies such as regulated utilities with monitoring and managing thousands of network points of presence, said Barry Randall, manager of the Crabtree Technology portfolio on Covestor, the online investing company, and chief investment officer at Crabtree Asset Management in St. Paul, Minn.
Itron measures electricity, natural gas and other forms of energy and also sells advanced metering systems to collect and transmit data.
"This technology enables utilities to more cost-effectively manage their assets," he said.
Silver Spring Networks provides products that allow its customers such as Commonwealth Edison, Duke Energy and PG&E to communicate with devices connected to their power grids.
"We own both companies because they are each generating steady cash flow and is taking market share away from human-based monitoring solutions and have exceeded Street earnings expectations over the past four quarters," Randall said.