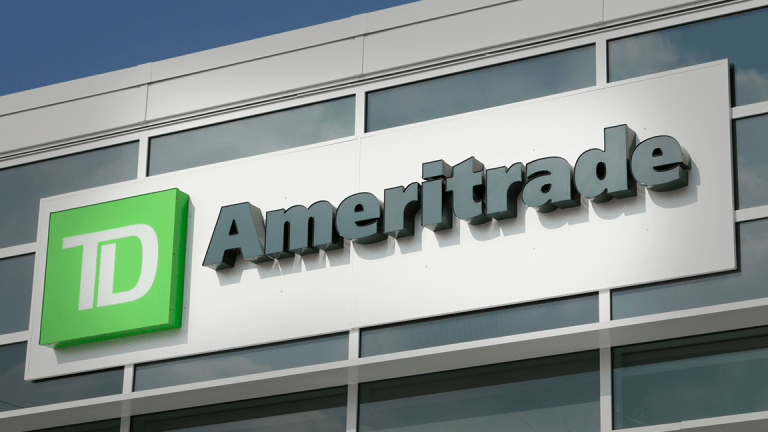 TD Ameritrade Stock Surges After Strong Quarterly Results
The Omaha, Neb.-based company reported adjusted earnings of 80 cents per share on revenue of $1.26 billion for the first quarter of fiscal 2018.
TD Ameritrade Holding Corp. (AMTD) - Get Report shares surged after reporting earnings and revenue for the first quarter of fiscal 2018 that beat analysts' expectations.
Shares of the brokerage firm rose by 2.5% in after-hours trading to $57.30 on Monday. Before the U.S. market close, the stock rose by about 1.3% to $55.88.
The Omaha, Neb.-based company reported earnings of 52 cents a share. Adjusted earnings of 80 cents a share handily topped estimates of 51 cents a share. Revenue of $1.26 billion also beat forecasts of $1.2 billion.
"It was an eventful quarter as major indices hit all-time highs, the Fed raised interest rates, and a sweeping tax overhaul was approved," Steve Boyle, executive vice president and chief financial officer, said in a statement. "These factors -- paired with our first full quarter of Scottrade earnings -- further boosted our growth, driving strong GAAP and Non-GAAP results for the quarter. Furthermore, with the new tax bill being signed into law before the end of the calendar year, we were able to realize additional significant benefits in the quarter, primarily due to a re-measurement of our deferred tax liability."
Chief Executive Tim Hockey added that trading was at record levels and noticed an "enhanced consumer interest in blockchain and cannabis-related securities."
TD Ameritrade expects full-year adjusted earnings in the range of $2.55 to $3.05 per share.
The company also announced on Monday that investors can now trade around the clock during the week. Qualified TD Ameritrade clients can now buy or sell select Exchange Traded Funds, or ETFs, from 8 p.m. ET Sunday to 8 p.m. ET Friday, the company said in a statement. TD Ameritrade noted that nearly 70% of its clients do research when the markets are closed.
"Market-moving news frequently breaks overnight," said Steve Quirk, executive vice president of Trading and Education for TD Ameritrade. "During events like Brexit or the U.S. election, futures were the only product available to investors looking to reposition their portfolios as the markets moved after hours. Investors today expect the same on-demand access and convenience they're used to with other online services."
TD Ameritrade's December quarter conference call is scheduled for Tuesday, Jan. 23, 2018, at 8:30 a.m. EST.
More of What's Trending on TheStreet: