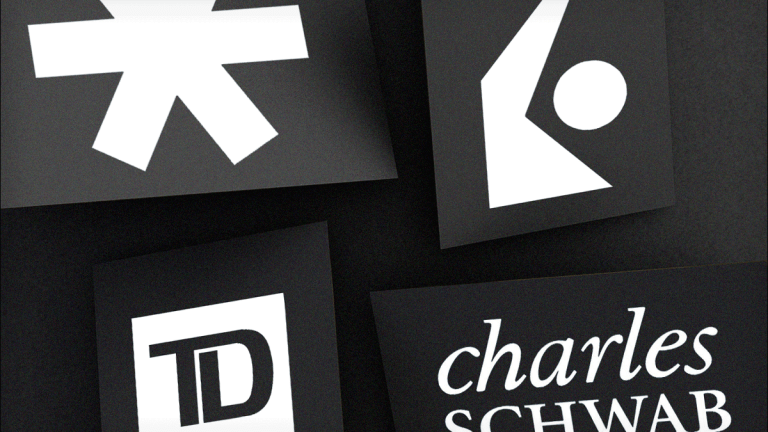 TD Ameritrade Shares Soar Amid Report of Potential Charles Schwab Takeover
TD Ameritrade shares higher Thursday following a report that discount brokerage rival Charles Schwab is eyeing the group for a takeover.
TD Ameritrade (AMTD) - Get Free Report shares surged higher Thursday following a report that discount brokerage rival Charles Schwab Corp. (SCHW) - Get Free Report is eyeing the group for a takeover.
CNBC reported that Schwab is in talks to buy TD Ameritrade, citing sources close to the transaction, noting that a deal could be announced later today. The takeover speculation follows last month's move by Schwab to eliminate commissions for its retail clients, setting off a so-called "zero commissions" war in the online brokerage space that hammered the sector and caused major changes to earnings forecasts.
A combined Schwab and TD Ameritrade would have assets nearing $5 trillion, more than 23 million clients and nearly 30,000 employees.
TD Ameritrade shares were marked 18.66% higher Thursday to change hands at $49.10 each, a move that would value the group at around $27 billion. Charles Schwab shares were seen 8.3% higher at $48.45 each.
E*Trade Financial (ETFC) - Get Free Report  shares traded 8.22% lower at $42.09 each while Interactive Brokers Group Inc. (IBKR) - Get Free Report was marked 0.6% lower at $46.96 each.
TD Ameritrade hosted an event earlier this week with analysts from around the industry, including JMP Securities, who noted management's answers to questions around mergers and consolidation as "consistent".
"While we do think that these developments have some implication on the game theory in the industry around consolidation, we are not surprised that management was not that interested in taking the conversation too far on the topic," said JMP's Devin Ryan.
Charles Schwab said on October 1 that it would cut its online commission fees on U.S. stocks, exchange-traded funds and options from $4.95 to zero, starting on October 7. Customers will still, however, pay a 65 cent "contract fee" for each trade.
Schwab had previously cut commissions twice in 2017, lowering costs from $8.95 to the current level. The group said today's move would mean a loss of between $90 million and $100 million in quarterly revenues, a figure that translates to around 3% to 4% of total group revenues.
"Price should never be a barrier to investing for anyone, whether an experienced investor or someone just starting on the investing path," CEO Walter Bettinger said at the time. "We're proud to provide clients with a full-service, modern investing experience that delivers on our no trade-offs combination of service, simplicity and superior value - backed by a satisfaction guarantee."
Schwab earns around 8% of it revenues from trading commissions -- compared to around 23% for TD Ameritrade -- with the bulk coming from the net interest margin it gleans from cash held in customer accounts. Its second quarter net interest margin was 2.5%, the company said earlier this summer, down 6 basis points from the previous three month period.