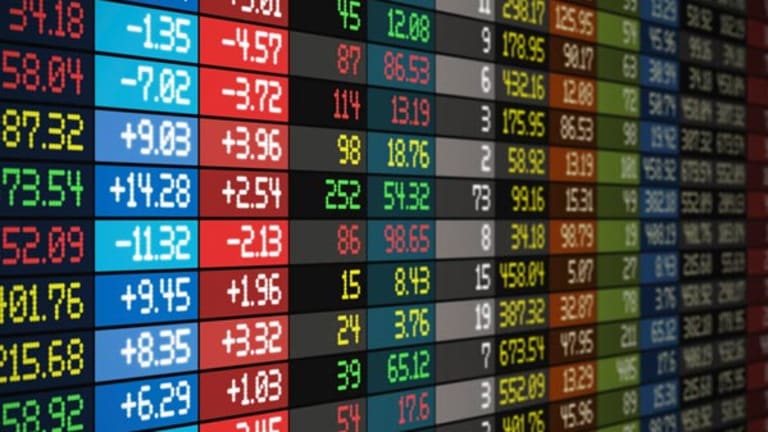 Taxes 101: Beginner's Guide to Filing Your 1040
We walk you through the tax-filing process and explain the deadlines, refunds and terminology.
NEW YORK (
) -- Filing your taxes can certainly seem daunting at first, but the process is fairly straightforward when you're adequately prepared.
To help taxpayers file their returns without a hitch before the April 17 deadline (thanks to Emancipation Day and the fact 2012 is a leap year,
the deadline has been pushed back three days
), we asked tax experts to break down the basics of what you should know.
Taxes can certainly seem daunting at first, but the process is fairly straightforward when you're adequately prepared.
What Documents You'll Need:
The first thing you'll need on hand is a copy of all your W-2 or earning statements from each employer you worked with throughout 2011. The good news is that these forms should be mailed to you, so you don't have to worry about hunting them down unless you have moved and an old employer may not have your new address. Federal law stipulates that employers must send out your copy of a W-2 by Jan. 31, so now's the time to keep a close eye on your mailbox, especially since the W-2 isn't the only form you should on the lookout for.
Depending on your current portfolio, you may also get a 1099, which is issued for all additional income that has not yet been taxed. This can include dividends from stocks or mutual funds or interest earned on savings or other bank accounts. (According to Bob Meighan, vice president at
Intuit's
(INTU) - Get Report
TurboTax, first-time filers typically need to know how much interest they paid on their student loans, which should also be on mailed to them on a Form 1098-E around this time of year.)
Basically, you'll need to check your mail for "anything that comes in January that says 'important tax information' on it," says Daniel Morris, senior partner at
Morris + D'Angelo
, a certified public accounting firm. These forms are essential when you sit down to do your taxes.
You can find a more in-depth look at all the forms you should bring to your tax preparer in
this roundup
.
What you'll need to fill out
All taxpayers are going to fill out a version of the Internal Revenue Service's 1040 Form.
Meighan says that most first-time filers will be eligible to file either the 1040EZ, reserved for taxpayers with no dependents or itemized deductions, or the 1040A form, which allows for dependents but no itemized deductions. Those who need to itemize deductions (either a single person who is eligible for deductions totaling more than $5,800 or a married couple eligible for deductions totaling more than $11,600) need to fill out the 1040 long form. Otherwise, all taxpayers get a standard deduction of those two amounts depending on their filing status.
>>Most Commonly-Asked Tax Questions
Mark Steber, chief tax officer with
Jackson Hewitt Tax Service
, says that those who typically qualify for itemizing have something large, such as a mortgage payment, on the books.
Many deductions require significant record-keeping. Charitable donations, for instance, can't be deducted unless you have the receipts to prove funds were contributed. Admittedly, first-time filers may have not have the foresight to save such receipts, but Amy Miller, director of the Tax Institute at
H&R Block
(HRB) - Get Report
, says taking the time review tax forms carefully during your initial filing will help you learn what you need to collect for next year.
"The people that do the better job of record-keeping get a bigger refund," Steber agrees. He says step one to better record-keeping involves printing a copy of your completed tax return this year and storing it in a safe place so you can use it as a reference next year.
How to file
Taxpayers have several options when it comes to preparing and filing their taxes, Morris says.
They can hire an attorney, a certified public accountant, an enrolled agent (who can represent individual taxpayers when dealing with the IRS) or a licensed tax preparer. They can also use online software to prepare state and federal returns.The best resource ultimately hinges on how complicated your tax returns are. Morris says first-time filers with fairly straightforward returns (for instance, those with a single W-2 form and a simple bank account) should take advantage of online resources, especially since many
tax tools are free for low-income individuals.
"If it gets too complicated, then go out and seek outside help," he says.
Regardless of the resources used to prepare your return, it's always a good idea to file electronically, as e-filing typically results in a faster refund.
Meighan says e-filers who elect to get their refund checks via direct deposit should expect to get it seven to 14 days after they have sent in their federal returns. Those requesting paper checks can wait up to three weeks, while those mailing in their returns could wait up to six weeks, though two to four weeks is more typical.
Getting a refund is largely contingent on whether you had a sufficient amount of your income -- based on the tax bracket you fall into -- withheld during the course of the year.
"If you had more withheld, you'll get a refund," Morris says. "If you didn't pay enough, you will owe money."
But even those who think they might eventually be sending the government a check for unpaid taxes should file early since they still won't have to pay the outstanding balance until April 17, Steber says, and knowing what you owe can help you get the funds together in time.
Or course, if you are due a refund, "the sooner you file, the sooner you will get your refund," Meighan says. He points out that last year the average refund check was
close to $3,000.
Looking for even more tax tips? Check out this list of common tax mistakes to avoid as you prepare your returns this year!
>To submit a news tip, email:
.
Follow
TheStreet
on
and become a fan on