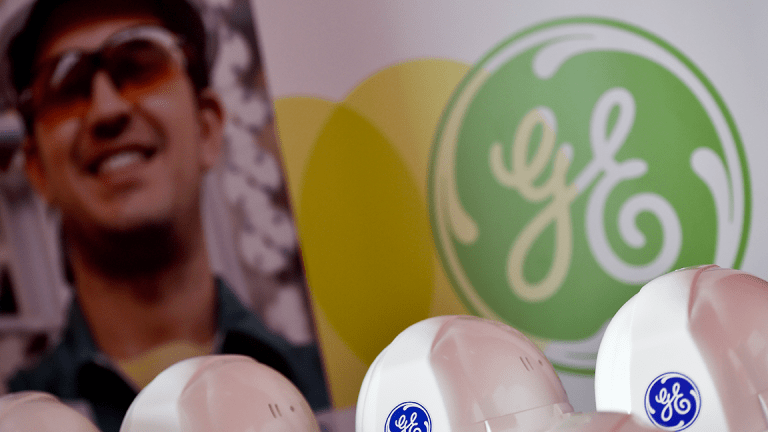 General Electric Has Seen Almost $70 Billion of Its Value Disappear in 2017
The new tax reform bill could cost GE billions of dollars, according to a Deutsche Bank analyst.
General Electric (GE) - Get Report has surely had enough of 2017. 
Shares of the industrial giant are poised to close the year down 45%, badly lagging the Dow's 25% gain, as it tries to work through a major restructuring under new CEO John Flannery.
To be sure, GE isn't poised to end the year with much in the way of positive news.
General Electric, which has paid a net negative federal corporate income tax rate since at least 2008, may find itself on the hook for as much as $9 billion in new taxes because of the Republican tax bill, making the legislation less of a holiday present than investors expected.
GE was one of 18 Fortune 500 companies that paid no net federal income taxes between 2008 and 2015, a study by the Institute on Taxation and Economic Policy found. Though GE did report paying some federal taxes in 2010, its overall rate during the period has been negative. In 2016, the company earned $10 billion but recorded a tax benefit of $400 million for a 12-month tax rate of -4.5%, according to Forbes.
Indeed there's nothing illegal or unethical in paying as little tax as the law permits, and no reader should understand the term tax avoidance as implying that GE has done anything other than seek to benefit its shareholders by lowering its corporate tax rate.
Still, the company's tax bill is likely to go up under the new legislation, a Deutsche Bank analyst said.
"Near term, it appears that GE will owe a sizable tax bill from one-time mandatory deemed repatriation on GE's overseas reinvested profits (15.5% on liquid assets and 8% on non-liquid assets, payable progressively over eight years)," analyst John Inch wrote in a Dec. 20 research note. "At the end of last year, GE's foreign earnings that are indefinitely reinvested overseas amounted to $82 billion, of which $31.9 billion comprised cash and equivalents (at the end of the third quarter of 2017)."
"Based on that blend, GE could therefore owe up to $9 billion in new taxes, or an average of $1.1 billion a year for the next eight years," Inch wrote. Deutsche Bank rates GE shares a "sell."
The House and the Senate finally pushed their tax reform legislation over the line. The bill reduces the corporate tax rate to 21% from 35%, meaning domestically-geared companies are poised to benefit from the lower tax rate.
The Boston-based industrial conglomerate commended the White House and Congress on passing the tax reform legislation.
"GE supports the tax reform plan because it would upgrade the U.S. to a territorial tax system for the first time in history, bring rates in line with other countries, and allow U.S. businesses and workers to compete fairly around the world, so it's the quality of our products that determine whether we win global deals, and not tax differences," a GE spokesperson said in a statement via email.
GE, which has a market cap of $152 billion, could take some time before it understands the effects of the new tax law, said analyst Nick Heymann at William Blair, which rates the shares "outperform."
"Using our approach, GE seems to have one of the lower benefits from tax reform as it relates to benefiting from lower rates and incremental US sales of Qualified Capital Expenditures (QCE)," Heymann said via email. "However, these are just two factors - GE has about 14% of its enterprise value in cash overseas, so the deemed repatriation tax could enable them materially more enhanced financial flexibility, but it's too early to know how much might be coming back to the US and how it will be utilized."
Separately, Inch suggested that GE could exit its 62.5% ownership of Baker Hughes (BHGE) - Get Report sometime in 2018.
Baker Hughes Chief Financial Officer Brian Worrell said at a Dec. 4 investor conference that the company will unwind its factoring program in the fourth quarter with GE Capital that will result in a one-time cash flow hit of $1.3 billion and an interest rate savings of $70 million, paid primarily to GE Capital. Because of the termination of the factoring arrangement, GE may exit the oilfield services company, the analyst said. Under the factoring program, GE Capital performs a risk analysis and allocates a nonrecourse credit limit, according to a filing with the U.S. Securities and Exchange Commission.
"The eventual monetization/separation of GE's entire oil and gas portfolio would be consistent with (old and new) management's signaling regarding its investment in BHGE," wrote Inch in a Dec. 21 research note. "If GE were to exit Baker Hughes in 2018, it would be doing so after previously promised EBITDA of $5.5 billion in 2018 has since downshifted toward $3 billion."
"Is this giving up too soon on Baker Hughes and does that imply that the cash flow may not be there?" TheStreet's Jim Cramer asked on the "Daily Rundown" for his charitable trust Action Alerts PLUS. "This is a worry for us."
"I don't want them to sell it yet," Cramer continued.
General Electric is holding in Jim Cramer's Action Alerts PLUS Charitable Trust Portfolio. Want to be alerted before Jim Cramer buys or sells GE? Learn more now.
More of What's Trending on TheStreet: