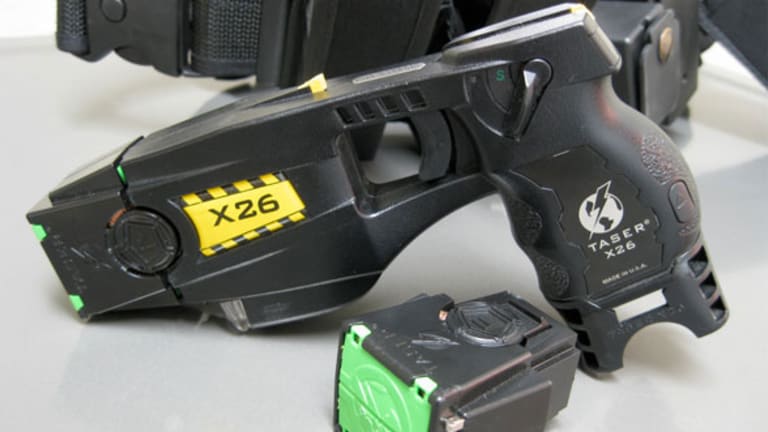 Taser Receives Multiple Body Camera Orders
Taser's Axon unit has been asked to supply body cameras to a number of police departments.
Taser's (TASR) Axon business unit has received orders from multiple police departments for body cameras and its cloud-based data storage system Evidence.com, signaling that the segment will continue to be a strong point for the company in 2017.
Axon had $302 million of contracted backlog in the third quarter. 
Shares of the maker of Tasers and body cameras were up 1.59% to $24.95 in early Thursday afternoon trading, and have gained nearly 45% so far this year.
The orders were received in the 2016 fourth quarter and will be shipped in the current and following quarter, the company said today in a statement.
Some of the bigger purchases came from the Chesterfield County Police Department for 450 Flex 2 cameras with five years of Evidence.com and 450 Taser X2 Smart Weapons, as well as from the Chattanooga Police Department for 360 Axon Body 2 cameras with five years of Evidence.com.
"Customers value the Axon network we have created, which now connects over half of the major cities in the United States, bringing the criminal justice system online with advanced technology and enhanced transparency," CEO Rick Smith said in Taser's most recent earnings report.
The Axon unit saw a 56% increase in bookings to $57.5 million during the period.
The segment's revenue grew 75% year-over-year to $18.9 million, with 35 of the 68 U.S. major city law enforcement agencies having purchased body-worn cameras from Axon.