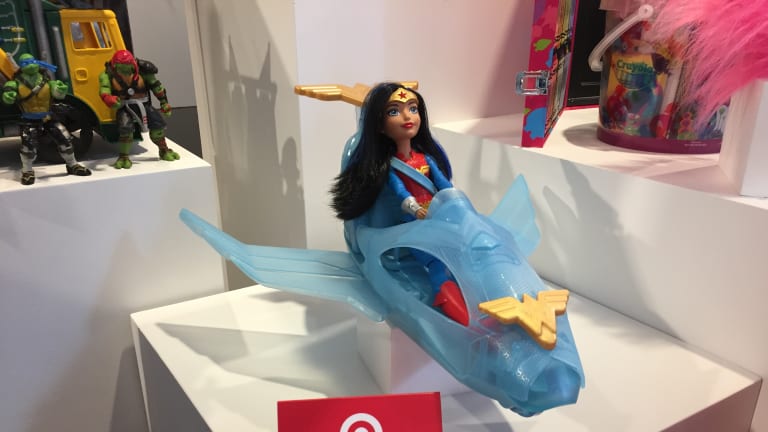 Target Unleashes 'Record-Setting' Toy Exclusives to Battle Amazon This Holiday Season
Target plans more product exclusives this holiday season in an effort to better compete with online rivals such as Amazon.
Target (TGT) - Get Target Corporation Report has found a clever way to better compete with the likes of digital foe Amazon (AMZN) - Get Amazon.com, Inc. Report  in the important toy category this holiday season: unleash the power of the product exclusive. 
The Minneapolis-based retailer will have have 1,800 exclusive toys this holiday season alone, Target executives said at an event on Tuesday.
"Toys are a real big part of the show. We have to win in this category. So we will have a record-setting number of toy exclusives this holiday season," said Target Chairman and CEO Brian Cornell.
Target estimates that it gets about 50% of its annual toy sales during the fourth-quarter holiday shopping season alone, so stuffing shelves with products unavailable at competing retailers and online is critical to winning the battle for customers. 
Target has also increased the number of product exclusives in categories such as food, which were also showcased at the event.
Here are holiday toy exclusives at Target -- and only at Target.
Dolls
Target is doubling the number of dolls it offers this holiday season, with a particular emphasis on selling more ethnically diverse dolls with more skin tones, eye colors and so on.
That exclusive brown horse would be a great friend for any doll. 
Superhero Toys
With all the hype around the release of Star Wars: Rogue One in theaters in December, Target is once again betting big on the popular franchise with numerous exclusives.
And yes, that is an exclusive Wonder Woman toy set in the bottom right-hand corner. A new Wonder Woman movie is scheduled for release in June 2017.  
Spotted: Star Wars drone.
Retro Games
Target is going after families who want to stay home to play board games -- notably retro games -- a trend that has fueled the results for Hasbro (HAS) - Get Hasbro, Inc. Report this year.
Below, Target shows off a board game based on 1980s computer classic Oregon Trail.
What Millennial didn't play any of these board games while a kid?
Food
Target's toy aisles won't be the only area for holiday-season product exclusives.
Food is also getting attention. From an exclusive bag of Hershey's (HSY) - Get Hershey Company Report chocolate, using Target's red and white colors, to holiday themed coffee cups, the retailer has it covered.
Here comes a food review of these Hershey's Kisses.