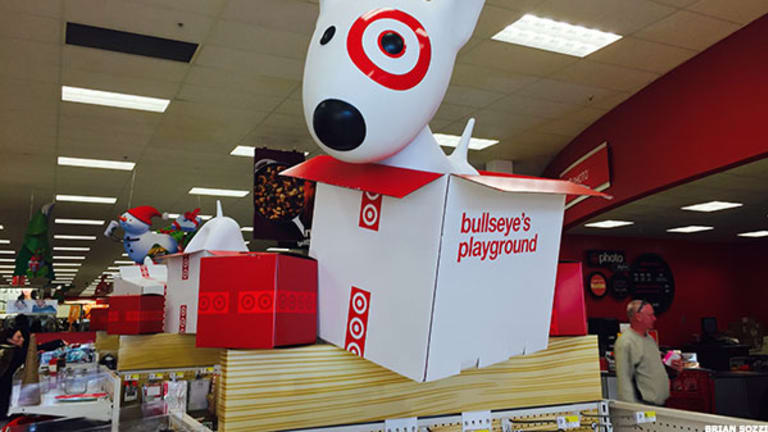 Target Just Made Some Tough Choices on Its Future
The retailer reportedly squashes some pet projects.
Updated from 2:42 p.m. with comments from Target
It looks like Target (TGT) - Get Report will join the growing list of retailers opting to slim down a bit after a tepid holiday shopping season. 
Target has canceled Goldfish, an e-commerce start-up launched a year ago, and has killed a prototype for a robot infested store of the future that was scheduled to soon be constructed in Silicon Valley, according to report Wednesday afternoon by Star Tribune. Other smaller projects from Target's innovation team also have been eliminated or reduced recently, says the report.
"At Target, we regularly pause to evaluate our business and have to make tough choices about where our company is best served to invest our time and resources. We recently made some changes to the innovation portfolio to refocus our efforts on supporting our core business, both in stores and online, and delivering against our strategic priorities," a Target spokeswoman said via email to TheStreet. 
"Target remains absolutely committed to pursuing what's next. We see a tremendous opportunity to drive innovation in areas that will fuel our growth both in the short and long-term in areas such as digital, technology, supply chain and merchandising." she added.
Shares fell about 1.3% to $63.867 on Wednesday.  
The need for cutbacks make sense.
Target's same-store sales for November and December decreased a disappointing 1.3%. Sales in Target's stores dived 3%, while sales online rose more than 30%. Target saw sales declines in most of its product categories, led by a high-single-digit drop in electronics and entertainment.
"While we significantly outpaced the industry's digital performance, the costs associated with the accelerated mix shift between our stores and digital channels and a highly promotional competitive environment had a negative impact on our fourth-quarter margins and earnings per share," Target Chairman and CEO Brian Cornell said.
Target slashed its fourth-quarter same-store sales estimate, saying it expects a decline of 1% to 1.5% compared with an outlook for as much as 1% growth. 
For Target, how its holiday season shook out is especially disappointing given investments it made in several attention-grabbing post Election Day TV ads and better selections in the apparel and electronics departments. Further, Target got off to one of the strongest starts to the shopping season in the retail space.
The discounter said in late November that its holiday season got off to a "strong" start, with a record-breaking day for its website on Thanksgiving. Traffic and sales beat Cyber Monday last year, according to Target. 
Several of Target's competitors have taken more aggressive actions following their sluggish holidays. 
Macy's (M) - Get Report said recently it will close 68 stores by early spring and dive into a deeper reorganization, leading to roughly 10,100 employees being displaced. Executives reiterated that Macy's plans to close 100 stores over the next few years.
Sears Holdings (SHLD) , which unlike rival Macy's is in dire financial straits, will shut down 108 Kmart stores and 42 Sears stores by April, or about 10% of its store base.
Meanwhile, J.C. Penney (JCP) - Get Report CEO Marvin Ellison said at a real estate conference in January the company would move to close more stores -- after shuttering only seven last year -- following a weak holiday season.
"We have certain locations that we readily admit we have to downsize," Ellison said, adding, "There are some smaller market locations where we have to decide, does the mall or our store meet our brand standards?"