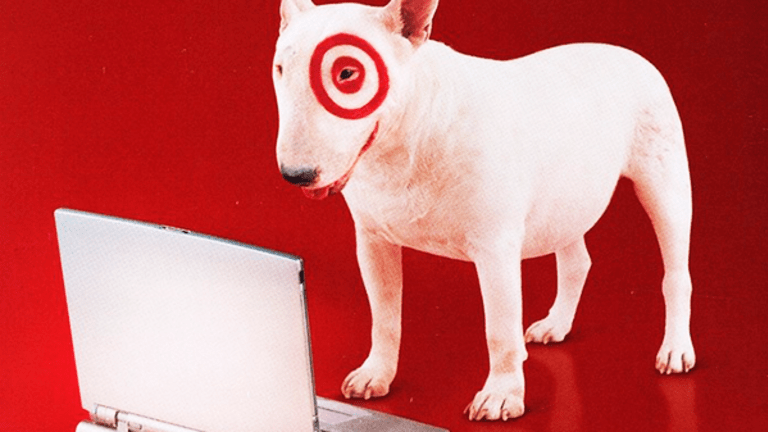 Target Ups Minimum Wage and That's Good for Business, Jim Cramer Reveals
Target is raising its minimum wage from $10 to $11 in October. Its goal is to raise its minimum wage to $15 by 2020 and these higher payouts can actually be good for business, Cramer reasoned.
Shares of Target Corporation (TGT) started off on the wrong foot Monday, opening at $58 per share and falling slightly from there. However, TGT stock has recovered, now climbing into the green by 0.3% on the day and trading at $59.18.
So what got the stock moving in the first place? Target announced it's raising its minimum wage to $11 from $10 in October. The increase applies to the seasonal workforce it will bring on board for the holidays and management reiterated its committed to raise its minimum wage to $15 per hour by 2020.
Surprisingly, the company also reaffirmed its guidance. "I thought that was the most important thing," TheStreet's Jim Cramer said on CNBC's "Mad Dash" segment, "because everyone is so worried about retail sales."
Costco Wholesale (COST) is arguably the leader when it comes to employee compensation in the retail industry. As a result, it has kept employee turnover low and that lack of churn has been a benefit to its bottom line. It's pointed out that up to one-third of Walmart's (WMT) costs are attributed to training new employees, Cramer noted.
Retainment is a hard part of certain industries, particularly restaurants and retail. That's why higher compensation on the surface may seem like a costly idea, but it may actually lower a company's costs over the long term.
"I thought this was good news" for Target when it made the announcement for higher minimum wage, Cramer argued. But the market didn't see that at first, only looking at it being a higher cost despite the reaffirmed guidance. Too many investors are "short-term oriented," he reasoned, pointing out that Walmart also raised wages and at first saw its stock selloff. However, not only did employee retention go up, but it was actually better for customers and the business as well, Cramer concluded.
More of What's Trending on TheStreet:
At the time of publication, Cramer's Action Alerts PLUS had no position in any companies mentioned.