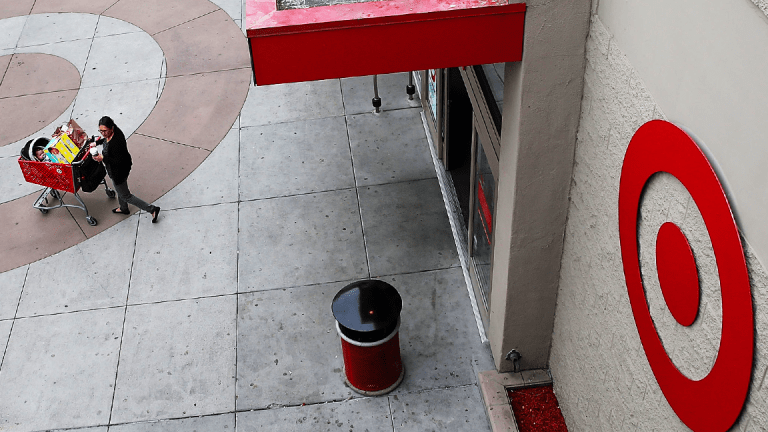 Remember Target? It Also Had a Good Holiday Season
Comparable-store sales increase 3.4% in November and December.
It looks like Christmas cheer spread far and wide this year among retailers. 
Target Corp. (TGT) - Get Report joined a handful of retailers early January to report positive comparable-store sales growth in the holiday period between November and December, driven by strong traffic and e-commerce sales. The big box chain reported on Tuesday, Jan. 9, comp growth of 3.4% and an expected 25% growth in digital sales. 
Comp sales improved in all five of Target's product categories, including home, apparel, hardline, essentials and food & beverage. Target now expects a low single-digit comp sales increase for the full year in 2018 as well as higher guidance for 2017 earnings per share, thanks to stronger-than-expected sales and the recently passed U.S. tax reform package. 
Target also raised its fourth-quarter comp sales growth to 3.4%, in line with the holiday sales results, and 1% for 2017 overall. Target's total sales are expected to grow more than 9% in the fourth quarter, while earnings per share is projected to be in the range of $1.30 and $1.40, up from the prior range of $1.05 and $1.25. For full year 2017, Target said it expects EPS to reach between $4.64 and $4.74, as opposed to the prior guidance of $4.40 to $4.60. 
"We've positioned our stores at the center of a continually expanding suite of convenient fulfillment options and made significant investments in our team," CEO Brian Cornell said in a statement, highlighting Target's previously announced plans of opening about 30 small-format stores in 2018 and expanding its remodel program to encompass more than 325 stores. 
"We will also remain focused on rapidly scaling up new fulfillment options including Same Day Delivery, which will be enabled by our acquisition of Shipt, and our recently launched Drive Up service," he added. 
Last week, Macy's Inc. (M) - Get Report and J. C. Penney Co. (JCP) - Get Reportreported positive comp sales for the holiday period, with Macy's posting a 1.1% uptick and Penney a whopping 3.4%. Meanwhile, Kohl's Corp.  (KSS) - Get Report saw sale-store sales climb 6.9% during the holiday period, sending its stock to a 52-week high on Monday, Jan. 8. Lululemon Athletica Inc.  (LULU) - Get Report  also had good news to report on Monday, raising its fourth-quarter earnings guidance to be between $1.25 and $1.27 a share, above its previous forecast of $1.18 to $1.21.
More of What's Trending on TheStreet: