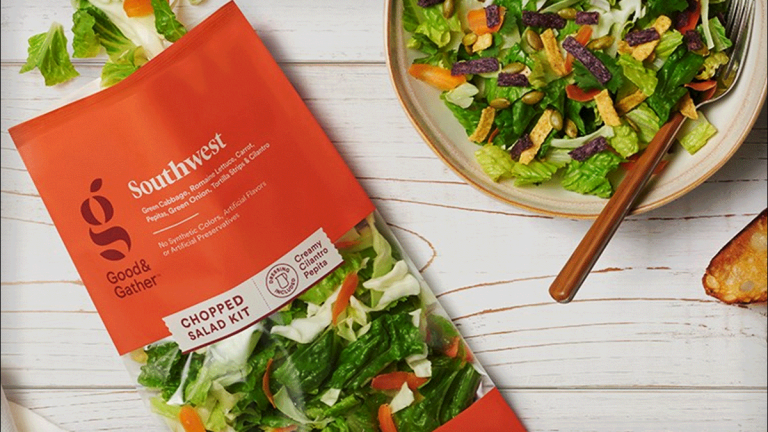 Target Launches Good & Gather Food Selection, Its Largest Owned Brand
The new brand extends the Minneapolis retailer's investments in food and beverage, including better presentation in stores and same-day delivery.
Target (TGT) launched its largest owned brand, lines of food and beverages under the name Good & Gather.
More than 2,000 products will be marketed under the brand, including staples like milk, eggs and cheese as well as what the company calls trend-forward products like avocado toast salad kits and beet hummus.
The Minneapolis retailer said in a statement Monday that the move was based on customer research. The new brand extends its investments in food and beverages, including better presentation in stores and same-day delivery of groceries.
Target is launching the new brand into an intensely competitive grocery market, reflecting, for example, Amazon's (AMZN) quick delivery of groceries plus enormous e-commerce investments by Walmart (WMT) , Kroger (KR) and others.
In launching the new brand, Target is phasing out two brands, Archer Farms and Simply Balanced, and reducing the number of its products that it markets under the name Market Pantry.
The company said that the Good & Gather brand will be affordable but won't "cut corners on quality or taste." The products won't have artificial flavors or sweeteners, synthetic colors or high-fructose corn syrup.