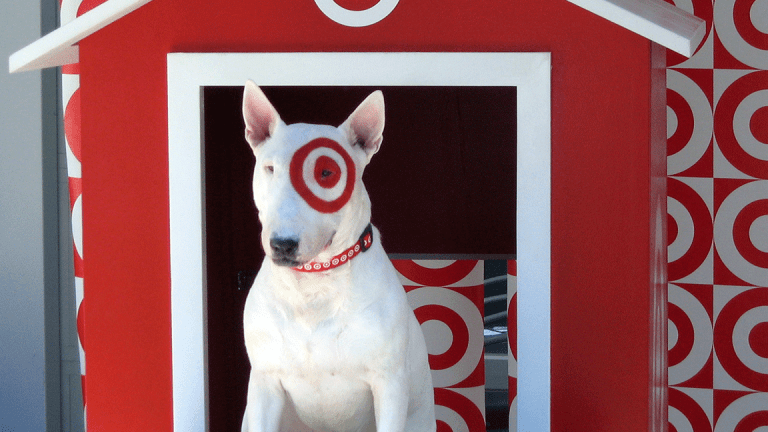 Target CEO: This Is How We Will Beat Walmart
Some 40,000 pedestrians pass through New York City's Herald Square daily. Now, Target is counting on its reputation for style and price to lure them in with its brand-new store.
Target Corp.  (TGT)  CEO Brian Cornell came home again (take that, Thomas Wolfe) on Thursday to christen the company's brand-new Herald Square store that opens on Friday, and he's glad he did. 
The Queens, N.Y., native said he was "excited to be at the epicenter of retail in America." And truly it is: the new store is directly across from Macy's Inc. (M) flagship store and it's surrounded by outposts for Gap  (GPS) , H&M, Uniqlo, Foot Locker  (FL) and Sephora (owned by LMVH). It's also not far from a hulking J.C. Penney (JCP) store, and a borderline dilapidated Kmart location (owned by Sears (SHLD) ). 
Location is a major plus for the new Target store. Yet location, considering the fierce competition, could also be one major drawback. Cornell is ready for the challenge.
The CEO sat down with TheStreet on Thursday to discuss the new store, the company's plans and why Herald Square and its revamped bricks-and-mortar presence in the age of Amazon  (AMZN) are just the right moves.
The interview has been edited for length and clarity.
TheStreet: We're at Herald Square, which is really the crossroads of so much commerce. How can you beat Macy's, H&M, and all the other stores that are around here?
Cornell: It's an important day for our company. If you were to talk to our teams here, I think, incredible pride, excitement to serve guests [customers] that we're going to see each and every day here. So we're excited about the fact that there's going to be over 40,000 people walking past our store every day. We'll invite them in. We win by being Target, by doing what we do so uniquely well. We think we are very unique in the fact that we can bring both style and the household essentials that guests are looking for. And that we can bring the best of our mass merchandising appeal with the right touch of specialty. We create a great experience but also deliver value that we think that consumers in this market are going to be looking for. So we're going to do what we do best, and that's deliver on our brand promise of expect more and pay less.
TheStreet: Speaking of paying less, how do you beat Walmart Stores Inc. (WMT) ? 
Cornell: We win by combining both a great experience and value. If you think about our history, I'll go back to that "expect more, pay less" promise. We delight our guests when they walk in and they find a new item from Target, one of our new brands like Goodfellow for men or A New Day for women, and say, "Wow, great quality. Amazing style." Then they look at the price and they say, "Only at Target."  
TheStreet: The death of bricks-and-mortar retail has been talked about quite a bit. Yet, you've recommitted to your stores. What's the thinking behind that strategy?
Cornell: I'll start with the fact that while digital is increasingly important and a big part of our future, we recognize that the winners in retail are going to combine both physical assets and digital. Despite all the discussion around e-commerce and digital, approximately 90% of all the retail dollars spent in the United States are spent in a physical store. We're following the consumer, and they are still voting with their feet and their wallets inside of stores. There's a place for physical stores, and that's why we are investing there, to make sure we provide a great experience, that we re-imagine our stores, and when you stop in one of our stores, it's a delightful experience. We want to make sure we have a great digital connection that allows you to shop either in our stores or shop online and we'll deliver the way you are looking to be serviced.
TheStreet: You've been in a turnaround. Can you talk about how that's going, and maybe what you've learned and had to unlearn?
Cornell: We announced some bold new plans back in February. The fact that we are going to invest $7 billion to continue to enhance and modernize our company. And we're investing to remodel hundreds of stores over the next few years. Again, improving that in-store experience. We are moving into great new neighborhoods like the one here in Herald Square, where we've never participated before. We're investing in digital. We're investing in enhancing our supply chain capabilities. But importantly, we're also investing in brands and in our team. We're trying to make sure that we evolve the company to be incredibly competitive in this new era of retail and position ourselves to be one of the long-term market share winners in retail.
More of What's Trending on TheStreet:
Editors' pick: Originally published Oct. 19.