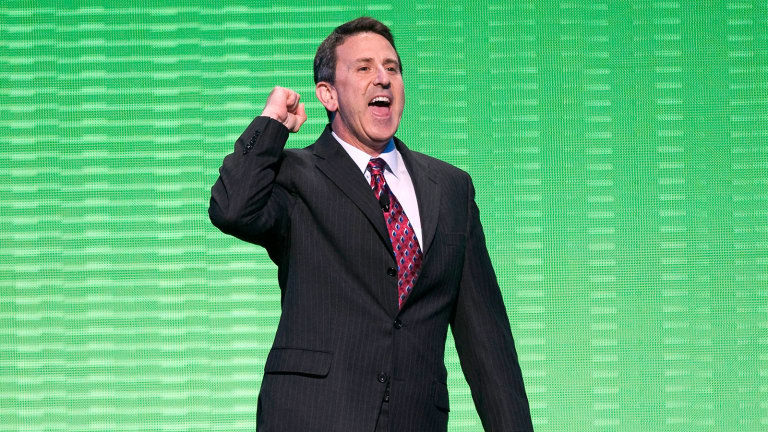 Publish date:
As Shares Drop, Target Announces Capital Investment Expansion
'Tar-zhay' will expand its delivery services and remodel more stores this year.
'Tar-zhay' will expand its delivery services and remodel more stores this year.
Target Corporation (TGT) - Get Report is joining the two-day shipping club and will remodel 300 additional stores in 2018, the company announced Tuesday, March 6, at its annual financial community meeting.
The Minneapolis-based big box chain said it's making progress on its $7 billion turnaround plan announced last year, growing its capital investment to over $3 billion this year. Imminent updates include an expanded curbside pickup service from 50 to 1,000 stores, same-day delivery of in-store purchases through its latest acquisition Shipt, free two-day shipping on "hundreds of thousands" of items, more store remodels and a higher minimum hourly wage of $12 for store associates.
The announcement follows Target's fourth-quarter earnings, in which it posted a 2.6% comparable sales uptick and exceeded Wall Street's forecasts for total sales. The strong top line growth, however, comes with a price: the profit margin. The Ebit (earnings before income and taxes) margin slipped from 6.5% to 5.1% in Q4 compared to the previous year, due to higher fulfillment costs and price investments, the company said.
Unhappy investors
Investors are not pleased — shares are down nearly 4% Tuesday afternoon, trading at $72.26.
"Right now, Target expects flat or positive gross margins this year," said CFRA analyst Efraim Levy, "but that's only part of the puzzle. Other retailers in the industry are facing margin pressure, too, and they're all spending their capital to invest in promotions and omnichannel."
Levy added that Target's earnings per share guidance for 2018 may also have been lower than Wall Street expectations. "You have to remember that the shares have rallied in the past few months, so there was an anticipation of some things," he told TheStreet. 
Target maintains that its slimmer margins are no cause for concern. "We don't believe margin rates are going to unsustainably low levels," Chief Financial Officer Cathy Smith told analysts during the financial community meeting.
The company instead highlighted its turnaround efforts, which are either on track or ahead of schedule, according to Target CEO Brian Cornell. "While 2017 was all about putting down a plan," he said, "2018 is about acceleration, leveraging our greatest assets and leaning in to our competitive strength."
By 2020, Target wants to have remodeled more than 1,000 stores, including 325 in 2018. The company announced earlier that it will be opening 30 small-format stores, among them, one each in Washington, D.C., Boston and Chicago this week.
Delivery options
The expanded two-day shipping will qualify for online orders of $35 or more. Meanwhile, the curbside pickup service, called Drive Up, will begin rolling out in April and be available at 1,000 stores at year's end. Customers can access the service through online orders on the Target app, and a store associate will deliver the purchases to the customer's car in the store's parking lot.
Through its December acquisition of Shipt, Target will also offer same-day delivery of groceries and other products to the majority of Target stores by the upcoming holiday season in December, it said. The service is now available at 440 stores in the Southeast and the Minneapolis area. Target Restock, its next-day delivery service, will also be expanded to three-fourths of the market by the end of 2018.
Last year, Target announced that it would raise the minimum hourly wage to $15 for new hires by the end of 2020,; by the end of this year, it will be set at $12 for new hires.
Lastly, Target had another small but joyous announcement Tuesday. Its store associates can now wear jeans on the weekends because the store posited positive comp sales growth in 2018, as it had promised last year. 
"Sure enough," Cornell said, "if you are in a Target store on Sunday, you saw a lot of denim."