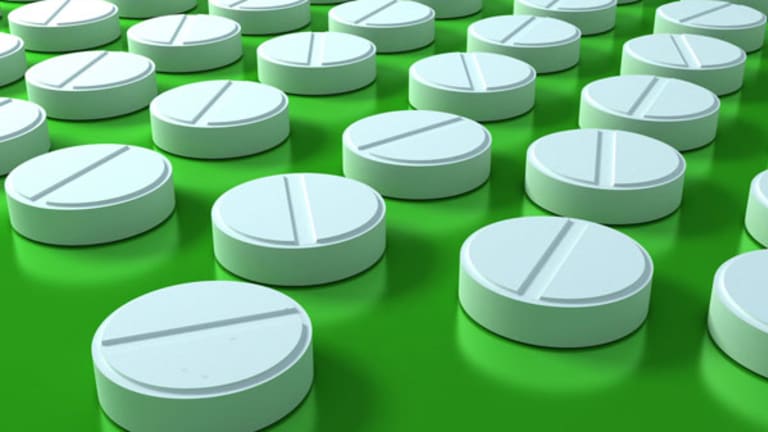 Targacept Unveils Depression Drug Data Next Week: BioBuzz
Stock price rises going into Oct. 15 presentation of TC-5214 data.
Updated with Targacept stock offering
WINSTON-SALEM, N.C. (
) -- Investor expectations for
Targacept's
(TRGT)
experimental depression drug are moving higher in lockstep with the company's stock price as a key data presentation nears.
On Oct. 15, researchers will be releasing detailed findings from a phase II study of Targacept's depression drug TC-5214 at a neuroscience conference in Chicago.
Targacept announced July 15 that TC-5214 was able to
improve the symptoms of depression
in patients who don't respond well to Celexa, a currently prescribed antidepressant marketed by
Forest Labs
(FRX)
. Since that announcement, Targacept shares have soared 633%, closing Wednesday at $22.50.
The details of the TC-5214 depression augmentation study were left undisclosed for the Oct. 15 presentation. The key data to watch for is the difference in effect size for patients treated with TC-5214 plus Celexa compared to patients treated with a placebo plus Celexa.
The magic number here is at least a two-point improvement in the Hamilton Rating Scale for Depression, or HAM-D, in favor of the TC-5214 arm of the study, according to a biotech hedge fund analyst whose been doing a lot of work on TC-5214. His firm owns Targacept shares.
A two-point improvement for TC-5214 on this widely recognized depression scale is important because that's the same effect size seen with
Bristol-Myers Squibb's
(BMY) - Get Bristol-Myers Squibb Company Report
Abilify, which received an expanded FDA approval as an add-on treatment to anti-depressant therapy in late 2007.
The bulk of Abilify's $2 billion-plus in sales in 2008 were for schizophrenia, but a Needham analyst estimates that $500 million in Abilify sales this year will come from the add-on anti-depressant market.
This is the commercial opportunity that Targacept is shooting for with TC-5214. And Targacept's drug could be an even bigger hit because its tolerability and side effect profile are likely to be superior to Abilify.
Targcept is currently seeking a large pharmaceutical partner for TC-524, which makes next week's data presentation even more important. Plans for phase III studies are underway.
"I think there is a lot of Big Pharma interest in this drug," said the aforementioned hedge fund analyst.
The danger with a high-flying stock like Targacept is that investor expectations run well ahead of the actual event, so when the data do come out (and even if they look good) investors take quick profits.
"With an effect size of two points or higher on the HAM-D and a clean safety profile, I think Targacept can ultimately be a $30-plus stock," said the analyst, who again, owns the stock.
But will Targacept see $30 soon after the Oct. 15 data presentation? Or, will the appreciation come only after a profit-taking dip in the stock price?
My bullish Targacept analyst didn't know the answer to that question, unfortunately.
Update
: Targacept closed this morning on a spot offering of 2.2 million shares at $21 a share. At that price, the offering grosses $46 million.
Why raise money now? Should this be a concern with the TC-5214 data presentation next week? I'm told the company wanted to take advantage of the recent strength in its stock price to bolster the balance sheet. Investor demand for the offering was high.
"This doesn't worry me at all, " said my bullish Targacept analyst. "We are not selling."
Targacept shares are down 11% to $20 in pre-market trading.
Research Firm: Geron's Stem-Cell Drug Has Safety Problems
Independent healthcare research shop SummerStreet Research Partners issued another bearish assessment Wednesday of
Geron
(GERN) - Get Geron Corporation Report
and its stem cell treatment for spinal cord injury. Recall that FDA placed Geron's spinal cord trial on a clinical hold in August due to the discovery of non-cancerous cysts in the spinal cords of animals treated with the stem cells.
SummerStreet held a conference call for investor clients Tuesday with an expert in stem cell research on animals.
In a report summarizing that call, SummerStreet said, "these cysts are not an uncommon complication of the stem cells and can lead to severe damage of the spinal cord as well as extensive pain. The most likely reason for the cysts is an immunological rejection of the stem cells and this could occur in humans even if Geron can avoid this in new animal models. Experts we have contacted believe that Geron prematurely moved into clinical trials and their current therapy is unlikely to work. We reiterate that the market remains too optimistic about Geron's stem cell therapy."
SummerStreet is the firm that in March
warned of potential safety issues
in with Geron's stem cell treatment for spinal cord injury.
Savient Raising Money
Wednesday night,
Savient Pharmaceuticals
(SVNT)
announced a follow-on offering of four million shares with a 600,000-share over-allotment. No price for the offering was announced, but Savient shares closed Wednesday at $15.07.
The FDA declined to approve Savient's gout drug Krystexxa in August. Since then, the company has been working to re-submit data to regulators in order to get the drug approved.
-- Reported by Adam Feuerstein in Boston
Adam Feuerstein writes regularly for TheStreet.com. In keeping with TSC's editorial policy, he doesn't own or short individual stocks, although he owns stock in TheStreet.com. He also doesn't invest in hedge funds or other private investment partnerships. Feuerstein appreciates your feedback;
to send him an email.