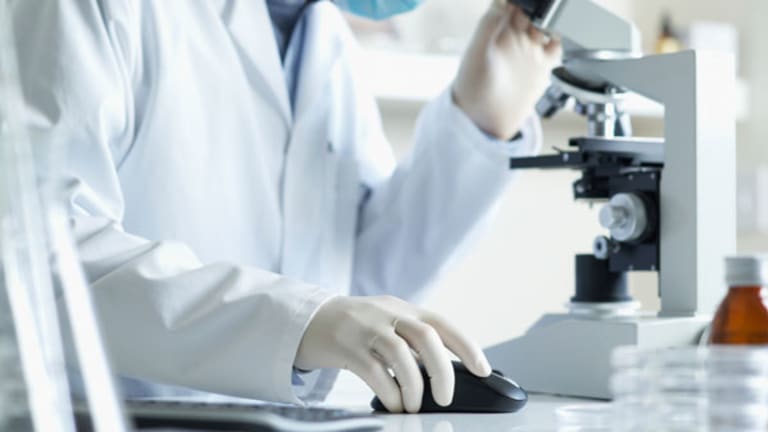 Takeout Rumors Lift Dendreon, Bio Stocks: BioBuzz
On a strong day for the sector, the buyout rumors are buzzing
On a strong day for the sector, the buyout rumors are buzzing
BOSTON, Mass. (
) --Takeover rumors are lifting a gaggle of biotech stocks today, including
Dendreon
(DNDN)
.
Dendreon is getting a $40 bid from some European Pharma giant.
GlaxoSmithKline
(GSK) - Get Report
wants to buy
Human Genome Sciences
( HGSI) -- again.
Roche
has its eye on
PDL BioPharma
(PDLI) - Get Report
. And
Bayer
hearts
Spectrum Pharmaceuticals
(SPPI) - Get Report
.
The rumors aren't original or new, but they're all being tossed around today -- a strong day for biotech stocks regardless of unsubstantiated takeout rumors.
Dendreon is up 14% to $27.22 in recent trading. The company is gathering investors and analysts together Sept. 24 in New York for an investor meeting.
Auxilium Shares Higher on FDA Drug Review
(At 11:01 AM EDT)
Auxilium Pharmaceuticals
(AUXL)
are on the rise Monday morning after a Food and Drug Administration review of the company's experimental drug Xiaflex that was posted to the
agency's Web site
didn't appear to raise any new safety issues.
Xiaflex is an injectable enzyme that doctors may use as an alternative to surgery to straighten permanently bent fingers caused by a condition known as Dupuytren's contracture.
Dupuytren's is a progressive disease in which collagen knots build up in the tendons of the hands, causing finger joints to contract. Xiaflex acts as a nonsurgical knife to break up the collagen knots and help straighten the bent fingers.
An FDA advisory committee meets Weds. Sept. 16 to review Xiaflex and vote on whether to recommend the treatment's approval. The FDA posted its review of Xiaflex in advance of the meeting.
The FDA review doesn't say specifically whether the agency believes Xiaflex should be approved or not, but it does ask the advisory panel to discuss how much training doctors will need with Xiaflex before treating patients.
Three patients treated in the pivotal studies with Xiaflex suffered tendon ruptures.
Auxilium shares were up 18% to $35.67 in recent trading.
Xoma to Repay Goldman Loan
(At 8:55 AM EDT)
Xoma
(XOMA) - Get Report
announced a plan Monday to repay a $44 million loan from
Goldman Sachs
, removing a balance sheet overhang that has concerned investors for months.
The company will tap into several sources of funds -- a buyout of future royalties owed by
Roche
, a stock sale and cash on hand in a restricted account -- to satisfy the Goldman obligation, the company said.
The Goldman loan got into trouble after Roche's psoriasis drug Raptiva was pulled from the market due to safety issues. Xoma was receiving royalties from Roche based on Raptiva sales, but with the drug no longer sold, Xoma lost about half of its licensing revenue. That pushed the Goldman loan into default, although the bank never called the loan due, giving Xoma time to repay.
Monday's news is not entirely positive. Xoma tried to renegotiate the Goldman loan terms but that effort was not successful. To repay the loan, the company does have to give up future royalties based on sales of Roche's eye drug Lucentis. The company was also forced to raise $12.3 million by selling about 16.3 million shares at 75 cents a share under an existing equity financing facility.
Xoma continues to receive royalties based on sales of the rheumatoid arthritis drug Cimzia, owned by
UCB
.
Xoma has enough cash to extend into the first quarter of 2010. The company is seeking a partner before the end of the yer to help fund development of its experimental diabetes drug XOMA-052.
Xoma shares closed Friday at 86 cents.
Cell Therapeutics CEO Sells Stock
(At 6:40 AM EDT)
Cell Therapeutics'
(CTIC) - Get Report
CEO Jim Bianco at an investor conference Wednesday, exchanged pleasantries and asked him how he was doing.
"Oh you know, surviving," he said.
Well, Bianco is selling himself short. A stock sale Friday shows him to be doing much better than just surviving.
Bianco sold just over 1.36 million shares of Cell Therapeutics stock on Friday at $1.43 a share, according to a Form 4 filed late Friday with the Securities and Exchange Commission. Gross proceeds: $1.95 million.
On Wednesday, Bianco made a pitch to institutional investors attending the conference in New York. The future of Cell Therapeutics was bright, he said. But if that's the case, why did Bianco sell 30% of his current stock holdings in the company just two days later?
Bianco's sale was a "personal financial decision," said company spokesman Dan Eramian, via email. "I understand he has made commitments to charities and schools hurt by the recession -- something he wanted to do."
Cell Therapeutics shares closed Friday at $1.42.
Osiris Holds News of CFO Exit
Osiris Therapeutics
(OSIR) - Get Report
CFO Richard Hunt resigned last week on the same day that the company announced the
failure of two pivotal studies
involving its stem cell drug Prochymal.
Hunt exited Osiris to "pursue new professional opportunities" on Tues. Sept. 8, yet Osiris held the news until late Friday afternoon, disclosing his departure in an 8-K filed with the Securities and Exchange Commission.
Way to keep the bad news under wraps, guys! (Why does the image of rats fleeing a sinking ship come to mind?)
Hunt was with Osiris for just 14 months, so his departure on the same day that Prochymal blew up is another large red flag flapping in the breeze.
Osiris shares closed Friday at $7.94
Regeneron Drug Fails Pancreatic Cancer Study
Regeneron Pharmaceuticals
(REGN) - Get Report
halted a late-stage study of its cancer drug aflibercept after independent data monitors concluded the drug would not be effective in prolonging the lives of pancreatic cancer patients, the company announced late Friday.
The failure of aflibercept in pancreatic cancer was widely expected. The drug works similarly to
Roche/Genentech's
Avastin, which also failed its own late-stage trial in pancreatic cancer.
Regeneron and partner
Sanofi-Aventis
(SNY) - Get Report
continue to enroll patients in phase III studies of aflibercept in colon, lung and prostate cancer.
Theravance Antibiotic Gets FDA Approval
An antibiotic from
Theravance
(THRX)
and
Astellas
received FDA approval Friday. The drug, known as Vibativ, is a once-daily injectable antibiotic for the treatment of MRSA and other gram-positive skin infections.
-- Reported by Adam Feuerstein in Boston
Adam Feuerstein writes regularly for TheStreet.com. In keeping with TSC's editorial policy, he doesn't own or short individual stocks, although he owns stock in TheStreet.com. He also doesn't invest in hedge funds or other private investment partnerships. Feuerstein appreciates your feedback;
to send him an email.