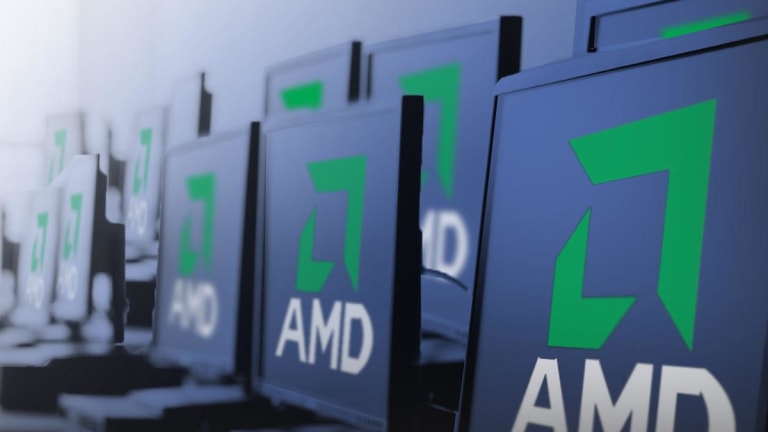 Why Now Is the Time to Take Profits in AMD, Applied Materials, Micron and Synopsys
Chip stocks like AMD and Applied Materials that have had substantial gains for the year are not the place to park your money when Texas Instruments tells you the trade situation is getting worse for semis. Take profits while you can.
Half of the computer-chip market was in substantial retreat Wednesday morning, and the other half that's held up reasonably well may be in for some pain of their own in short order. 
Therefore, watch out, holders of Advanced Micro Devices (AMD) - Get Free Report , Applied Materials (AMAT) - Get Free Report , Micron Technology (MU) - Get Free Report , and Synopsys (SNPS) - Get Free Report  -- you may want to take profits sooner rather than later. 
Shares of Texas Instruments (TXN) - Get Free Report were down by 6.7% at $119.93 after the company missed with its September-quarter earnings report on Tuesday evening, offering an outlook for this quarter's revenue substantially below consensus. TI's fall prompted a sell-off in similar names that sell a broad portfolio of chips into markets that are sensitive to trade. They include Analog Devices (ADI) - Get Free Report , On Semiconductor (ON) - Get Free Report , Microchip (MCHP) - Get Free Report , and Maxim Integrated (MXIM) - Get Free Report , all of whom's shares were down from 3% to 5% Wednesday, more than the 2% drop in the iShares Philadelphia Semiconductor Index (SOXX) - Get Free Report .
It makes sense to see TI's peers break down, but the stigma of trade worries could very well spread to names perceived as relatively more immune, including AMD.
Here's the pattern that's playing out: TI management has been warning for several quarters now that they are going through a down cycle in the chip market. This most recent quarter was the fourth in a row of year-on-year declines. Based on past comments by TI's chief financial officer, Rafael Lizardi, declines of this sort that reflect broad industry weakness usually last about four to five quarters, so you would expect a bounce back in another quarter. 
Therfore, there should be a light at the end of the tunnel, rather than an oncoming freight train. But something more is going on now because of the U.S.-China trade battle. 
The ban on chips to China's telecom giant Huawei announced by the U.S. Commerce Department this past May is having effects that are still being felt by chip suppliers. When Bernstein chip analyst Stacy Rasgon pressed Lizardi on Tuesday night's earnings call about why there doesn't seem to be any upswing in view, Lizardi confessed that "customers are just far more cautious than they were certainly a year ago, but even 90 days ago."
Lizardi went on to say that those customers "mention the trade tensions that we know have been happening and have been kind of accumulating over the last three or four quarters."
"And the consistency of that breadth of weakness supports that this is a macro situation that is driving the further weakness that we're seeing," he added.
Things have gone beyond what appeared in late 2018 to be rather typical cooling in the semiconductor market to a matter instead of great uncertainty in the semiconductor market because of trade battles. This new concern hit as TI shares had been up about 38% for the year. The stock had been acting as if things would soon pass. 
A weakness in markets for chips for autos and communications can very well spread to other electronics  markets, and that can hit stocks that have done especially well this year, such as AMD. 
AMD stock was down just a half a percent on Wednesday, and is up about 76% this year. The company has been riding a wave of goodwill among investors because it is making progress against Intel in server microprocessor sales. That progress is real, but AMD is certainly not immune should a slowdown in electronics broadly speaking spread to sales of computer systems for data centers and telecommunications infrastructure, which it certainly could.
The same goes for Micron. TheStreet advised at the end of May that the sell-off in Micron was overdone, and its shares are up about 33% since that recommendation. Micron's market for memory chips remains fragile, however, and the TI warning means things could quickly turn worse for that market.
Similarly, shares of Applied Materials, the world's largest vendor of equipment to make semiconductors, are down a mere 2% this morning, and the stock is up about 57% year to date. Synopsys, a maker of software programs that lay out the circuits of a chip as a blueprint for manufacturing them, actually saw its stock rise 1.5% on Wednesday morning. Clearly, Synopsys, which reported a healthy quarterly outlook in late August, is not immediately exposed to a breakdown in the immediate sales trends of existing chips because companies need to design new products whatever their current rate of sales. 
But in a broader sell-off of chip stocks, Synopsys would not be completely immune. Even if business holds up decently, the shares would suffer guilt by association.  The stock is up 60% this year -- that's room for profit taking. 
The next shoe or two to drop will come next week, when On Semi reports results on Monday, Oct. 28, followed by Microchip's and AMD's reports on Tuesday, and, and then Maxim's results on Nov. 5. The drama will continue through mid-November, with Applied Materials reporting on Nov. 14. 
If things suddenly take a turn for the better in trade talks, terrific. But stocks that have already seen substantial gains for the year are not the place to park while waiting out a situation that could also get uglier. 
Save 57% during our Halloween Sale. Don't let this market haunt you; join Jim Cramer's Investment Club, Action Alerts PLUS. Click here to sign up!
Tiernan Ray neither trades nor owns any shares of any companies discussed in this article.