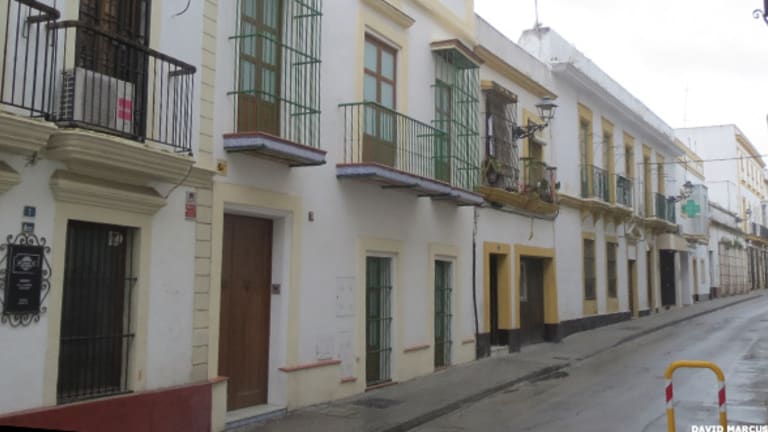 Take a Tapas Crawl Through El Puerto de Santa Maria, Spain
Join us on a trip through the most delicious tapas spots in El Puerto de Santa Maria, Spain.
NEW YORK (TheStreet) -- Tapas are one of the great Spanish contributions to world cuisine. They are both delicious and humble, presenting Spain's gastronomic riches -- hams, cheeses, beef from the northwest part of the country, seafood from the Mediterranean and the Atlantic -- in a casual format that is often a prelude to dinner.
Spaniards wash their tapas down with modest beers and wines and with sherry, a fortified wine that comes from Jerez, Sanlucar and El Puerto de Santa Maria, three towns about an hour and a halfwest of Gibraltar. The crisp, saline character of Fino and Manzanilla sherry is perfect for tapas. Below, we take you on a tapas crawl through El Puerto, whose entrancing streets are reminiscent of Havana. 
It helps to start with great product, which southern Spain has in abundance. Cadiz, 30 minutes south of El Puerto, has a market that teems with all kinds of seafood that the natives purchase to prepare at home. They expect similar quality when they go out.
As the ferry from Cadiz pulls into El Puerto, you can see the sherry bodega of Gutierrez Colosia, where the family ages its wares. The owner, Juan Carlos Gutierez, has a fondness for baby shrimp sautéed with garlic in olive oil. He, his wife Carmen and I went through three plates of them one night on top of some hake and beef. That was enough for me for dinner, but Carmen provided me with a game plan for another tapas crawl.
I began with the cold tuna with peppers and a sherry at Bar Nuevo Echate Paya, a small bar in the old part of El Puerto, for a mere 4.80 euros. Both the fish and the wine were clean and refreshing after an early evening walk through El Puerto.
Local products notwithstanding, signs at tapas bars around El Puerto advertised specials from all over Spain, including special anchovies fished only in the spring from Cantabria, a region just west of Bilbao on Spain's northern Atlantic coast. They were delicious, with a beautiful precision to the saltiness and a rich, almost creamy texture. Don Bocarte anchovies, available in the United States, are $15 for 1.7 ounces, and they aren't much cheaper in the home country. I paid 2 euros per anchovy -- money well spent.
I continued around the corner from Echate at Er Beti, with some olives, a tomato -- I figured I needed a vegetable -- and some grilled chorizo, or sausage. The chorizo was of very good quality, though the fries were the evening's one disappointing foodstuff. The white flakes on top of the tomato? Garlic. A whole lot of garlic.

The garlic no doubt explains the machine I saw in the men's room at Er Beti. Tapas may be a late-night pastime, but for revelers with romance on their minds, that kind of spice -- not to mention the anchovies -- calls for a toothbrush.
After a brief stroll to revive my appetite, I headed to La Esquinita, which is next door to Er Beti. I sat at the bar and perused a menu heavy on forms of seafood whose Spanish names I did not know. Fortunately, I am an adventurous eater.
I began with some fried ortiguillas, which are sea anemones marinated in vinegar and fried in olive oil. They have a texture like clams and taste a little like liver. My guess is that Juan Carlos would eat them with a glass of amontillado sherry, whose concentrated nuttiness would pair quite nicely with the ortiguillas.
These fried baby squid -- puntillitas, in Spanish -- stared up at me as I squirted them with lemon and then worked my way through them. That's a media ración, a half portion, I was amazed to learn when it came out. The damage at La Esquinita came to 13 euros with tip.
Had I been Spanish, I would have finished with one of the whole grilled fish at La Esquinita. Carmen also suggested a place to go for a post-prandial gin and tonic at midnight or 1 a.m. That was not a challenge I was prepared to undertake.