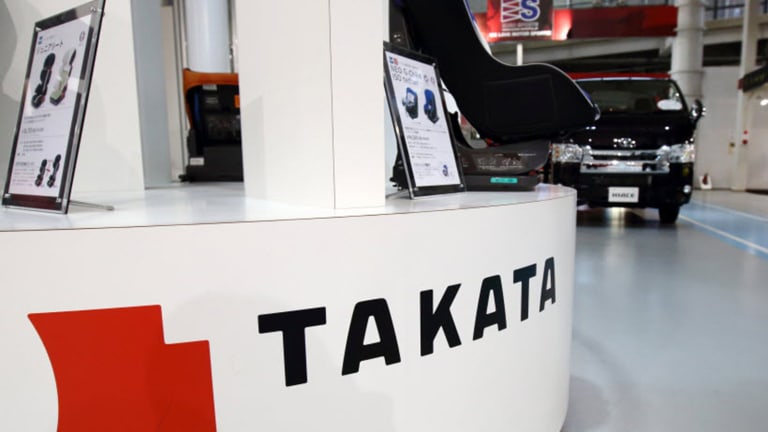 Takata Chairman Signals Resignation to Take Responsibility for Airbag Recalls
Chairman Shigehisa Takada implies his resignation for first time.
Chairman Shigehisa Takada implies his resignation for first time.
The chairman and president of troubled Japanese airbag maker Takata said he would step down once he was ready to hand over management, after apologizing for the troubles caused by the company's airbag inflators. He spoke to shareholders at a general annual meeting held in Tokyo on Tuesday, June 28.
This was the first time Shigehisa Takada, who has been at the helm of the company founded by his grandfather since 2007, announced publicly of his intention to resign.
Takata shares spiked 15% at the opening of the afternoon trading when the meeting ended, and closed the day up 2.2%.
The Tokyo-based company, which also manufactures seat belts, steering wheels, and child seats, has booked net losses for two consecutive years. It supplies its products to automakers such as Honda (HMC) - Get Report , Toyota (TM) - Get Report  and Ford (F) - Get Report .
On May 11, the company reported a net loss of Y13.0 billion ($118 million) for the year ended March 31, 2016, after booking Y44.2 billion in extraordinary losses associated with recalls, as well as lawsuits in the U.S.
The company has reportedly been in talks with private equity firm KKR and other investors, which would result in control being taken away from the founding Takada family, which holds about 60% of the stock.
As of March 2015, 52.1% of Takata shares were owned by TKJ, a Takada family investment vehicle, 2.9% by Chairman and CEO Shigehisa Takada, and 2.1% by his mother Akiko Takada.