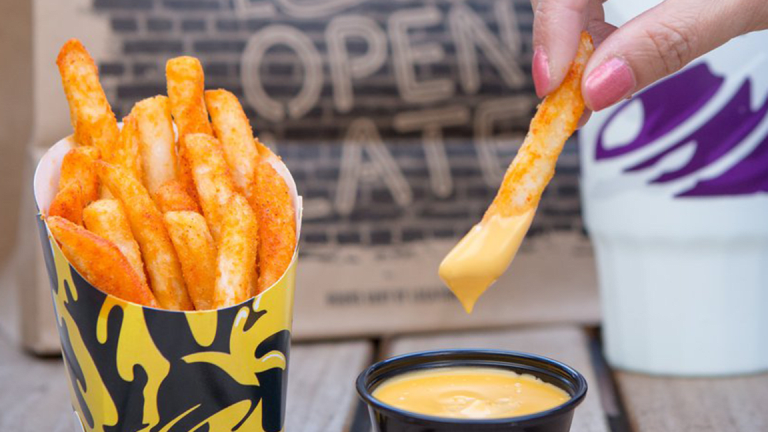 Taco Bell Wants to Eat McDonald's Lunch By Offering Fries
Nacho Fries, that is. Here is what Taco Bell is coming to the table with.
Ronald, better watch your back.
Taco Bell, known for being a late-night munchies stop and owned by Yum! Brands Inc. (YUM) - Get Report , will soon offer its own take on a McDonald's Corporation (MCD) - Get Report  classic: fries.
Come Thursday, Jan. 25, Taco Bell will offer Nacho Fries for $1. The new menu item features thick-cut, seasoned fries and a side of nacho cheese. The price, however, will be temporary. The fries will also be available as a side to any Supreme item and the Nachos Bell Grande.
The Nacho Fries rollout is among the first of 20 new $1 items Taco Bell will unveil this year. Other $1 offerings include the Spicy Tostada, Shredded Chicken Mini Quesadilla and Beefy Fritos Burritos. The fries comes at the heels of the $1 Stacker, which is a folded quesadilla with melted cheese and beef inside.
In its Dec. 5 announcement of the dollar menu, the Irvine, Calif.-based chain was clear about its intention to take on McDonald's. "What sets Taco Bell's $1 menu even further apart from national competitors is that $1 = $1," the company said in the release, very obviously throwing shade at McDonald's own revamped dollar menu that features $2 and $3 items.
For $1, for instance, you can buy a McChicken or cheeseburger at Mcdonald's. For $2, there is the Sausage McGriddles and two-piece Buttermilk Crispy Tenders, and the Sausage McMuffin with Egg and Triple Cheeseburger for $3. Oddly enough, McDonald's new value menu doesn't include fries.
Taco Bell may be a tough competitor, but McDonald's still leads the way in menu innovation. It was McDonald's, after all, that was the first fast food eatery to offer breakfast items in 1972.
Yum! shares are up 0.23% Monday, Jan. 22, trading at $84. McDonald's shares are down slightly — 0.1% — trading at $175.91.
More of What's Trending on TheStreet: