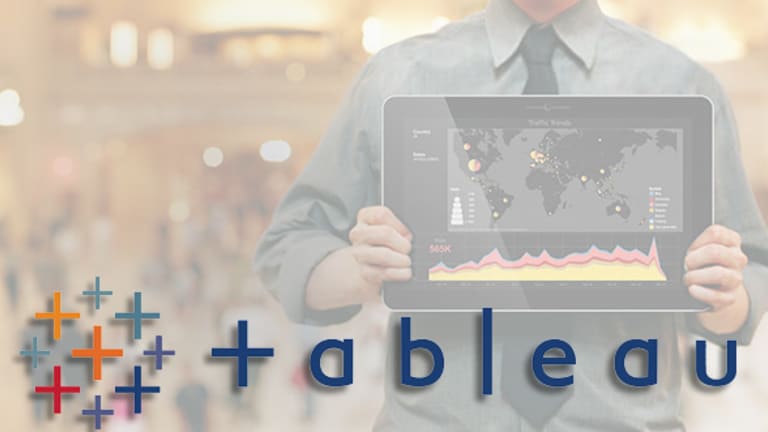 Tableau Software: Visualize a Share Price in the $60s
The analytical software company has regained its focus.
Analytical software maker Tableau Software (DATA) reported blowout fourth-quarter 2016 earnings Thursday night and guided higher for the first quarter. The stock jumped on the news and is up 17% in Friday trading.
At the end of October, I thought Tableau was ready to pop. Up until last night, however, the shares were down nearly 40% in the latest one-year period.
The company posted fourth quarter earnings of $0.26 per share, $0.13 better than the consensus estimate. Revenue jumped 24%, year to year, to $250.6 million, and beat the $230.3 million estimate.
During the quarter, Tableau added more than 4,000 new customers and closed 589 transactions greater than $100,000, an increase of 42% year over year. License revenue grew 14% to $152.2 million. Maintenance and service revenue advanced 41% to $98.4 million.
For full-year 2016, total revenue grew 27% to $826.9 million. License revenue advanced 14% to $481.7 million. Over the course of the year, the company added 15,000 new customers and closed 1,549 transactions greater than $100,000, a 30% rise year over year.
Fully diluted non-GAAP net income per share was $0.43.
Tableau has been struggling with the transition from the sale of software licenses to the cloud. But the company seems to have its cloud service ironed out and Tableau Online is now available to deploy via Amazon Web Services.
Looking at Tableau's income statement, it's clear software doesn't sell itself nowadays. For 2016, including stock-based compensation, sales and marketing expenses was up 34% to $476.5 million. Total operating expenses rose 37% to $867.4 million.
These higher expenses 'wrecked' the bottom line. Tableau reported a much wider net loss of $144.5 million and a GAAP net loss per share of $1.92.
Besides recently struggling with the transition to the cloud, Tableau has faced increased competition from Microsoft's (MSFT) Power BI analytics software. Power BI carries a lower price ($9.99/month) than Tableau and that has caused some enterprise customers to restrict Tableau to power users.
In addition, in the past, Tableau has been very inflexible on price (especially on large deals), which has turned some customers off.
Despite increasing competition from Microsoft, Salesforce (CRM) , and Qlik Technologies (QLIK) , Tableau is the clear leader in the business analytics market. I think this quarter demonstrated the company has regained its focus.
The stock should be able to get into the $60s. I can visualize the stock going higher than $60, but the company will have to continue its strong execution and reduce its expenses.
This article is commentary by an independent contributor. At the time of publication, the author held no positions in the stocks mentioned.