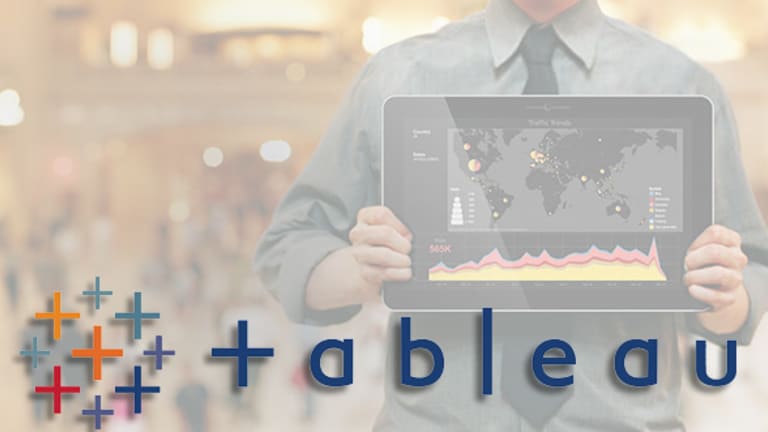 Tableau Prepares for Next Act With a New CEO and an Ambitious Revenue Goal
Founder Christian Chabot wants to join Adobe, Salesforce.com and other enterprise software "hall of famers" with more than ten digits in annual sales.
The change in leadership at Tableau Software (DATA) - Get Tableau Software, Inc. Class A Report got a hearty welcome in the markets on Tuesday, as founder, Chairman and CEO Christian Chabot announced a change in leadership. Amazon (AMZN) - Get Amazon.com, Inc. Report cloud veteran Adam Selipsky will become CEO of the company, which is slowly building up its foothold in the cloud, while Chabot will remain Chairman.
Shares of the data analysis and visualization company gained $7.01, or 12.8%, to $61.88 in Tuesday trading, pushing its market cap to $4.6 billion, after Chabot outlined the script for Selipsky. On Wednesday morning, however, shares were down slightly to $60.59.
"[G]reat software companies come in three acts," Chabot told investors in a late-Monday call. "You might call Act One zero to $100 million; Act Two, $1 million to $1 billion; and Act Three, the road beyond."
Those in the third act include "hall of famers like" Adobe Systems (ADBE) - Get Adobe Inc. Report , Intuit (INTU) - Get Intuit Inc. (INTU) Report , Salesforce.com (CRM) - Get salesforce.com, inc. Report and Autodesk (ADSK) - Get Autodesk, Inc. Report he said, a group that Tableau intends to join. Wall Street expects Tableau to generate $835 million in 2016 sales, according to FactSet.
Selipsky had been with multi-billion-dollar-generating Amazon Web Services since it was a start-up, Chabot added, and would lead Tableau into its third act.
A number of software companies have set their sights on getting to $1 billion in sales. The ten-digit mark may imply a proven model and a positive outlook for margins. And, of course, it sounds cool. Zendesk (ZEN) - Get Zendesk, Inc. Report aims to get there in 2020, while Splunk (SPLK) - Get Splunk Inc. Report is targeting next fiscal year. Workday  (WDAY) - Get Workday, Inc. (WDAY) Report recently passed the mark and has set $3 billion in sales as its new goal.
"I think $1 billion is more of a milestone that signals stability to the market than anything else," Morningstar Inc. analyst Rodney Nelson wrote in an email. "It's also a level where you're generally going to see inflection in the business model in terms of cash flow and profitability, particularly for companies selling software with the subscription model."
At $1 billion in yearly sales, he added, subscription revenues have likely caught up with the high sales and marketing spending that are typical of the race to grab customers in fast-growing software niches. The trend leads to gains in cash flow.
"Workday is a great example of this inflection around the $1 billion mark," Nelson wrote. The company burned $15 million in fiscal year 2014, when sales were $469 million. It hit $778 million in sales in fiscal year 2015, and broke even in terms of free cash flow. And the company produced $125 million in free cash flow in fiscal year 2016, when revenues hit $1.16 billion.
Workday is not an "apples to apples" comparison for Tableau, however, Nelson noted. The companies' products, pricing power and competition vary.
"The biggest problem for [Tableau] is that their customers have sort of shifted to the cloud-based version much faster than they anticipated, so revenue growth cratered because of the ratable nature of those contracts" with payments broken down into incremental amounts, rather than large up-front license payments, Nelson added.
Of course, old-fashioned competitiveness plays into revenue targets.
Salesforce.com Chairman and CEO Marc Benioff has targeted $10 billion in sales, and Oracle Corp. Executive Chairman Larry Ellison has said that his company has a fighting chance to beat rival Benioff to $10 billion in cloud sales.
Canaccord Genuity Inc. analyst Richard Davis suggested during a Zendesk presentation that the company race HubSpot (HUBS) - Get HubSpot, Inc. Report and Shopify (SHOP) - Get Shopify, Inc. Class A Report to $1 billion in sales.
For an up-and-coming software company, turning the odometer over to $1,000,000,000 has a certain coolness factor.
At a conference in June, Bank of America analyst Kash Rangan advised Splunk CFO David Conte, "Go for $1 billion this year. It sounds really cool."
"It does sound cool," Conte agreed.