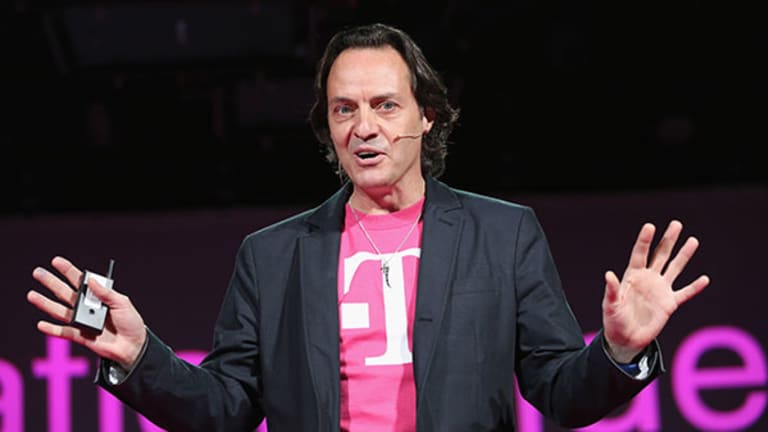 T-Mobile Is Dominating, Says Its Always Animated CEO
T-Mobile is fresh off a solid fourth quarter.
Exuberant and always animated, T-Mobile (TMUS) - Get T-Mobile US, Inc. Report CEO John Legere joined TheStreet's Jim Cramer in San Francisco on CNBC's "Squawk Alley" Tuesday to discuss the company's fourth quarter earnings results.
"We just announced Q4 and the end of 2016 and what's important is we are the only wireless carrier who had double-digit service revenue growth, overall growth, customer growth," Legere said. 
For the fourth quarter, T-Mobile reported earnings of 45 cents a share, topping Wall Street's projections for 28 cents a share. Revenue came in at $10.2 billion, beating estimates of $9.86 billion. The company grew its service revenue 11% year-over-year. 
"The whole industry is declining; nobody has grown service revenue for over three years but, we are double-digit service revenue growth, 23% year-over-year total revenue growth, 12% adjusted EBITDA growth," Legere explained.
But the "real story" as Legere put it, was the way T-Mobile has differentiated itself from its counterparts over the past three years.
"For three years, we have dominated service revenue growth and customer growth," Legere said. "For example, on the post-paid phone net side we had 933,000 in Q4. We had 3.3 million in 2016. The industry, all of us, including us, had 3.2 million. So, yes they lost."
Legere continued to note other metrics in which T-Mobile has outpaced the competitors as well as the industry during the past three years. Specifically, pointing to the company's customer additions and with the pre-paid side of the business.
Furthermore, "we have similar churn to the big guys, which they said we would never get," Legere stated.
Shares of T-Mobile were higher during Tuesday afternoon trading.