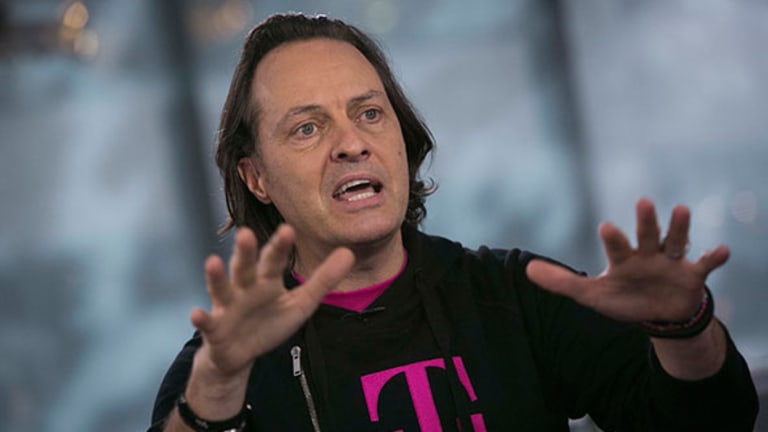 T-Mobile Continues Going After Verizon Customers With iPhone and Pixel Payoff Offer
The pitched battle for wireless customers among T-Mobile, Sprint, Verizon and AT&T shows no signs of abating.
T-Mobile (TMUS)  is continuing to try to lure Verizon (VZ) customers away with aggressive promotions -- in this case, offering to pay the unpaid phone payments of customers with either an Apple (AAPL) iPhone or aPixel phone from Alphabet's (GOOGL) Google if they switch carriers. 
The limited time offer is being branded as #GetOutoftheRed in reference to Verizon's nickname "Big Red" and plays on the expression for being in debt. The promo starts May 31 and applies to owners of an iPhone 6S, SE or 7 model or any of Google's Pixel phones. Customers previously had to buy a new phone and transfer photos, contacts and apps to it when they switched carriers. "All that hassle -- gone!" the announcement says. 
While customers can keep their phone after switching to T-Mobile, they do have to enroll in a $15-per-month phone insurance plan. AT&T (T) and Sprint (S) customers that switch can also get the rest of their qualifying phones paid for, but they will still have to buy a new phone when they join T-Mobile because it's harder to switch phones from those companies to a new carrier. 
T-Mobile chief operating officer Mike Sievert told Fortune that the company wants to show customers that they aren't stuck with a carrier just because they bought a phone from them. "There's no such thing as a Verizon iPhone, there's no such thing as a Verizon Google Pixel," Sievert explained. "These are globally applicable technologies that work on all of the networks. People think they're stuck because they have to switch phones when they switch carriers and it's just not the case."
T-Mobile's stock didn't seem to be reacting strongly to the news, with shares trading down slightly to $67.30 in early morning trading on Wednesday. The stock is trading up about 17% YTD and up a stunning 60% in the past year. 
This announcement is just the latest development in the war for customers between the "Big Four" wireless carriers -- T-Mobile, Verizon, AT&T and Sprint. Earlier this year, all four companies started offering unlimited data plans in order to stay competitive. No plan is truly unlimited, however, as download speeds will slow when customers use a certain amount of data.
Now that having an unlimited data offering isn't special, T-Mobile decided to also raise the threshold for when download rates will slow down for a customer to 32 GB from the previous 30 GB. That puts it one step ahead of Verizon and AT&T's 22 GB threshold and Sprint's 23 GB threshold. 
T-Mobile also noted that this was the first of three big announcements coming this summer. The company's colorful CEO John Legere also took time in the announcement to needle his rival. "To kick off summer, we're going BIG right out of the gate and throwing a lifeline to millions of Verizon customers," T-Mobile CEO John Legere said in a statement. "So, now is the best time ever to #GetOutoftheRed!"
Read More Trending Articles:
With Sears on Its Deathbed These 3 Things Are Must Watch